The owner of this 2018 BMW M5 in Snapper Rocks Blue wanted his brand new pride and joy to receive the best start in life so booked it in for our New Car Preparation & Protection Detail along with fitment of Xpel Ultimate Plus Paint Protection Film to some areas of the car.
Each project starts with an intense decontamination of the entire car. We need to ensure that every surface is perfectly clean and that no loose contaminant will migrate in to the installation areas. We do this through several washes using Gtechniq W4 Citrus Foam, G-Wash Shampoo, W6 Iron and General Fallout Remover and our Clay Bar process. The initial cleaning and prep is extremely important as any contaminant remaining will show up in the final finish.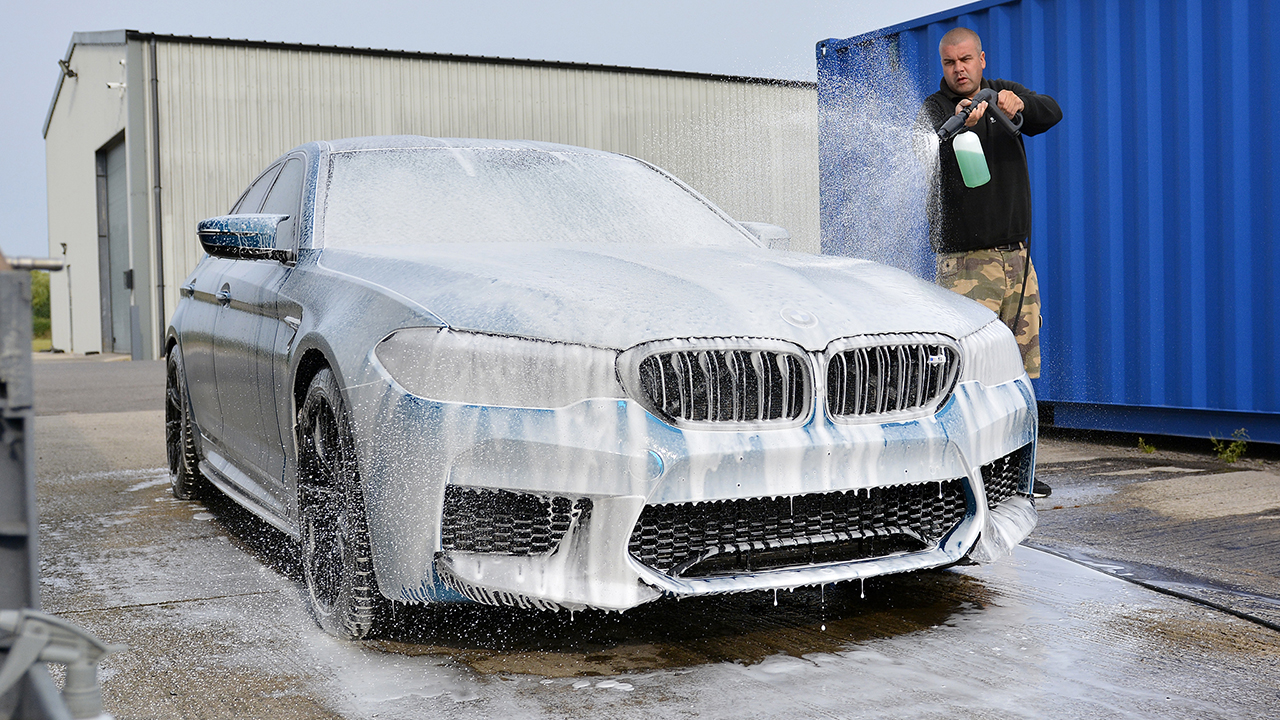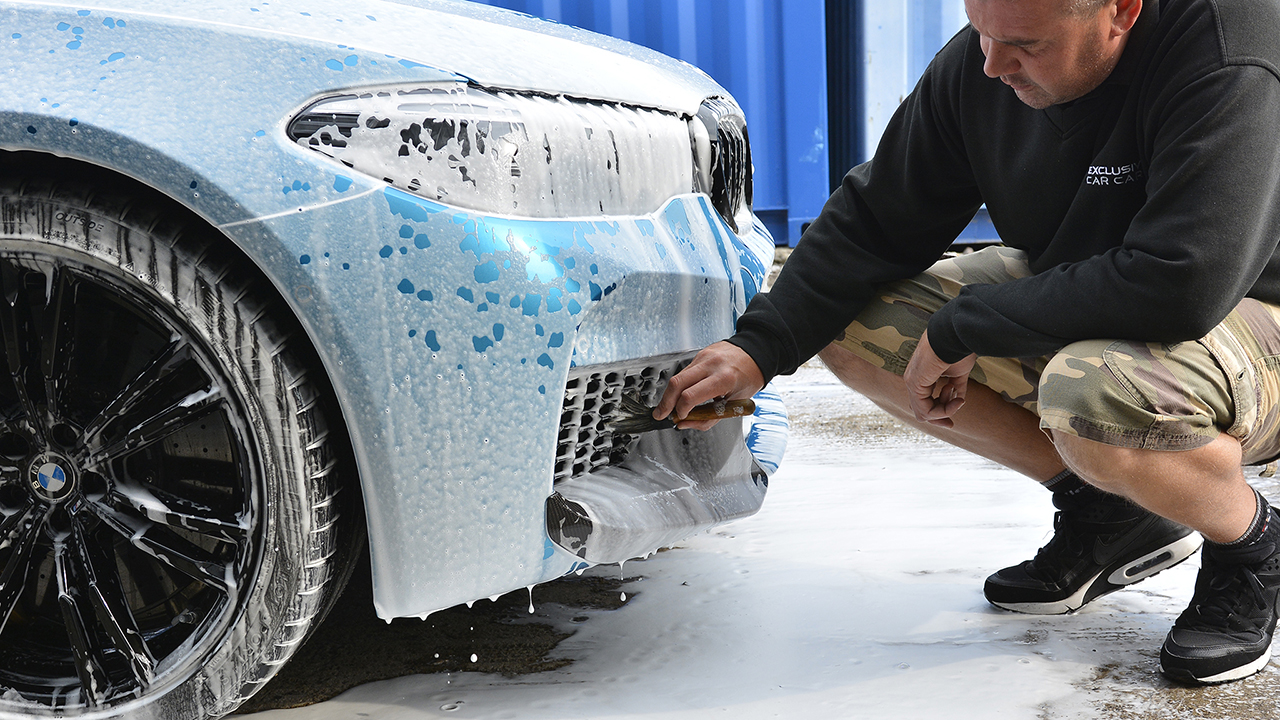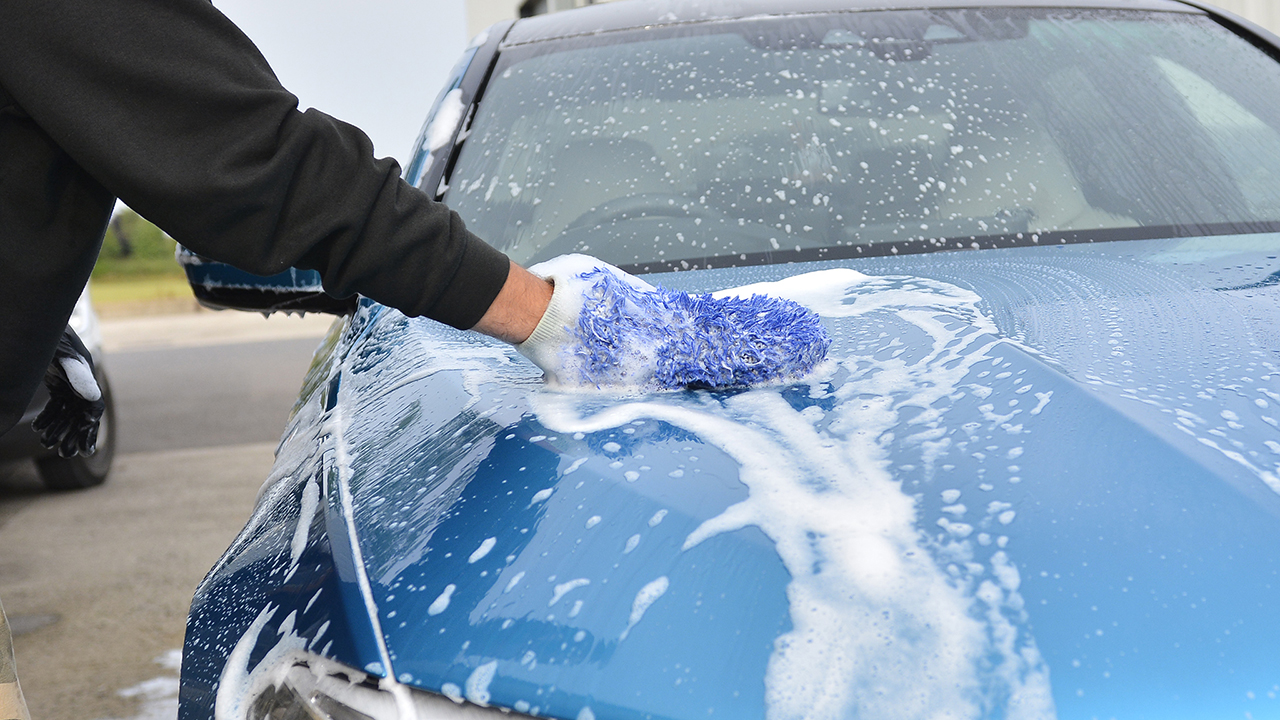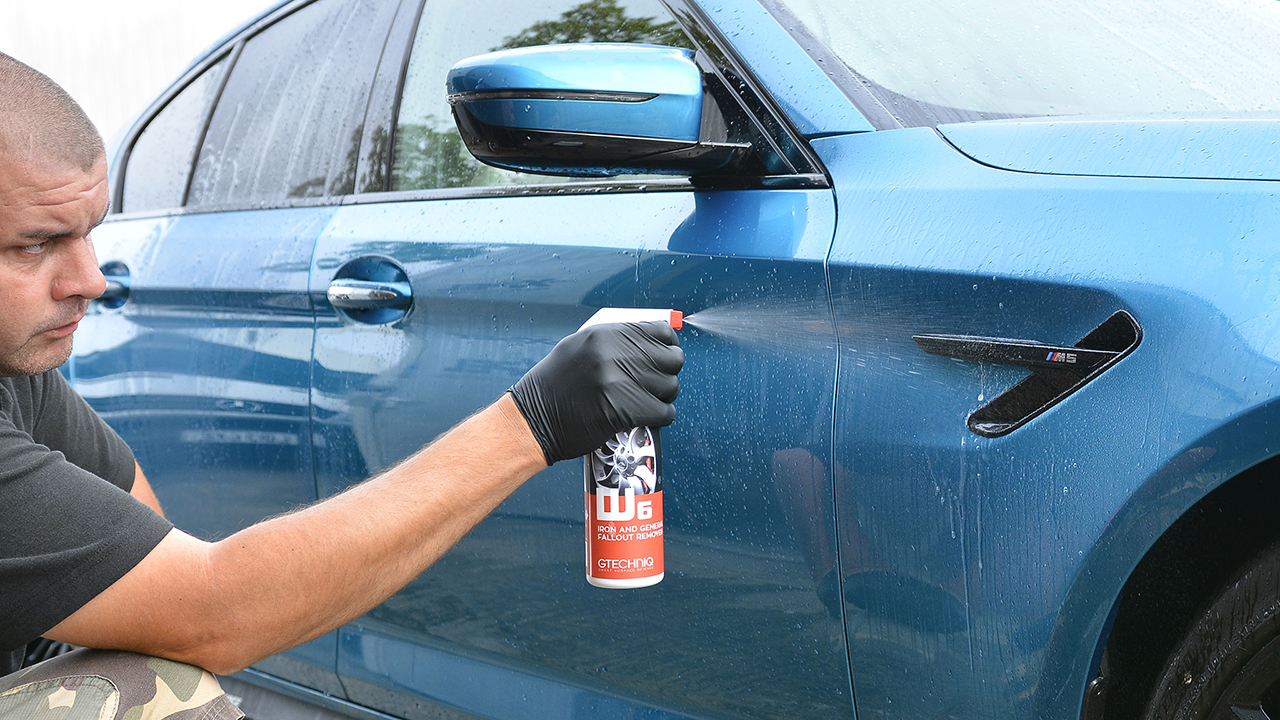 Once the paint and the rest of the car are completely clean, we can evaluate the paint. Even a brand new cars finish can be improved through fine polishing and refinement of the clear coat. You'd be surprised at what your brand new car goes through before you take possession.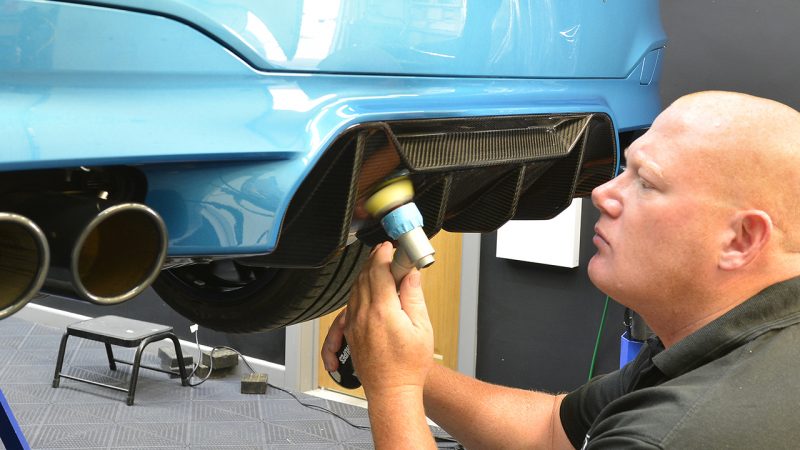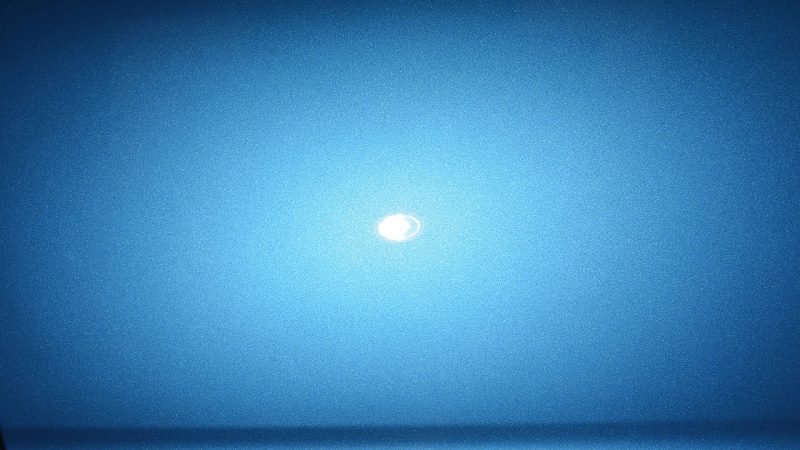 With the Snapper Rocks Blue paintwork refined and looking it's best, it's time to keep it looking that way!!
Protecting BMW M5 with Xpel Ultimate Plus Paint Protection Film
Xpel Ultimate Paint Protection Film, is an 8.5 mm thick dual layer urethane that is designed to absorb the impact of road debris and keep it from chipping and damaging the paint. If you want a worry free driving experience, so your car can be driven hard without absolutely ruining the paintwork then PPF is for you. Two very important things go in to every install. First is that we install the film as safely as possible in order to preserve the factory finish. We ensure this by using the XPEL DAP Software and our 60″ Graphtec Plotter to pre-design and pre-cut every area of the car before it hits the paint. The software gives us access to perfectly scanned factory fitment of each body panel. We can then go in and custom manipulate the design. We extend edges, delete side markers, and custom design each pattern just as you would "by hand" but with zero chance of cutting through the film with a razor and scoring the paint.
The customer chose our Full Frontal PPF Package which would see the front bumper, headlights, side mirrors, bonnet and front wings covered in film. Below are a few images from the installation process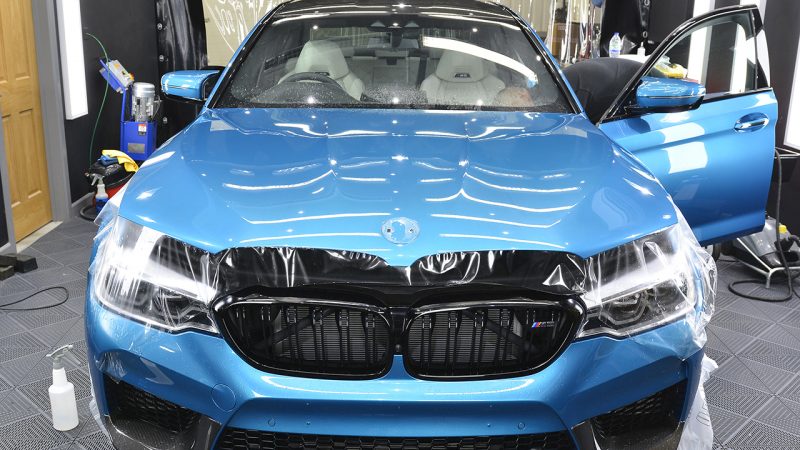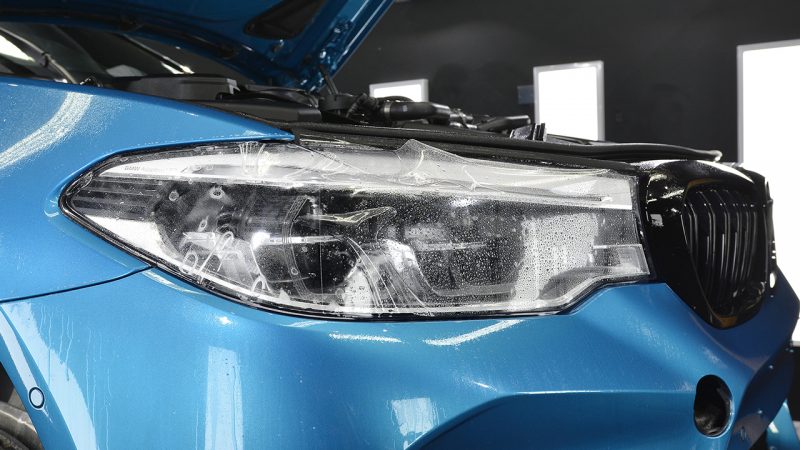 After the film is installed and had time to settle we move on to coating the exterior of the car. These coatings are applied in multiple layers using separate base coat and top coat chemistry for the absolute best in durability, gloss, and protection.
Gtechniq Protective Coatings
The remaining paintwork and paint protection film was protected with Gtechniq Crystal Serum Ultra. Once cured Crystal Serum Ultra is virtually impervious to harsh wash chemicals, industrial and environmental fallout. This coating is backed by manufactures 9 year warranty and is only available through their network of accredited detailers.
After Crystal Serum Ultra had cured Gtechniq EXOv4 Coat was applied on top (including the paint protection film). This top layer sealant adds an extra level of slickness whilst increasing the hydrophobic properties of the final finish.
These Coatings are designed to last years, where a traditional wax or sealant will last a matter of months. They are also significantly more capable in terms of UV and chemical protection than any wax or sealant. So water spots, bug guts, and exposure to the sun will not damage and degrade the paint and paint protection film.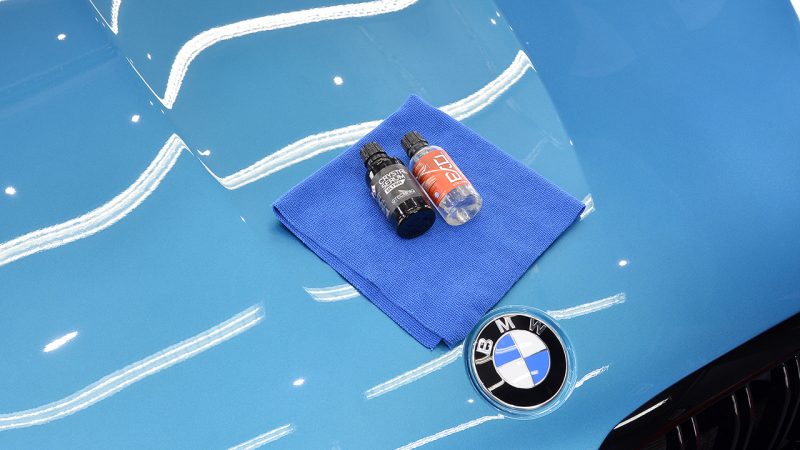 The glass was treated with G1 ClearVision Smart Glass. This coating forms a hydrophobic barrier which causes rain water to roll in to beads on contact which improves visibility in wet weather.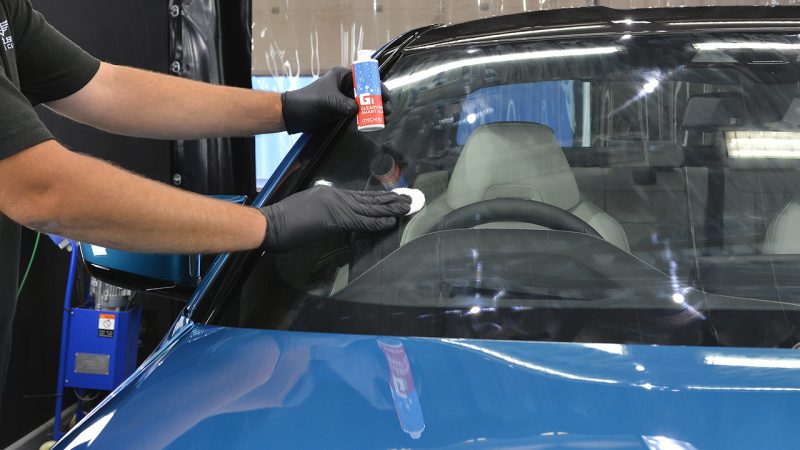 The wheels, brake calipers and exhaust tips were coated with Gtechniq C5 Wheel Armour.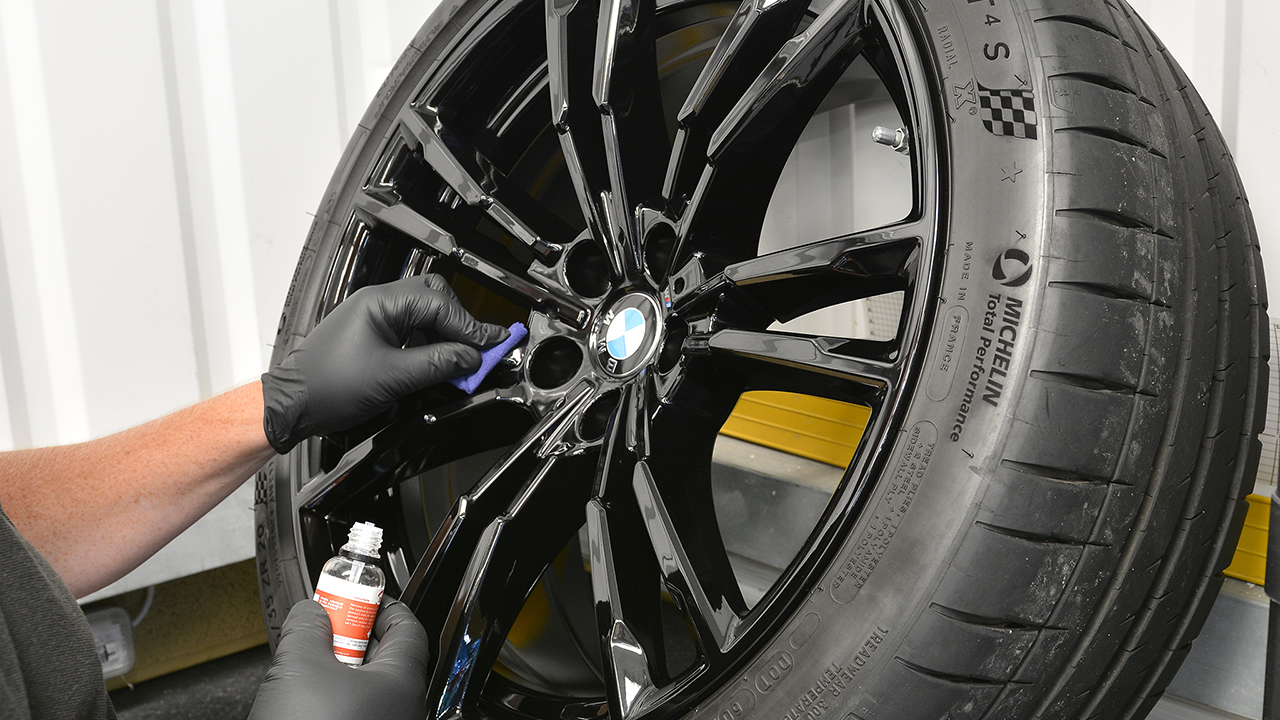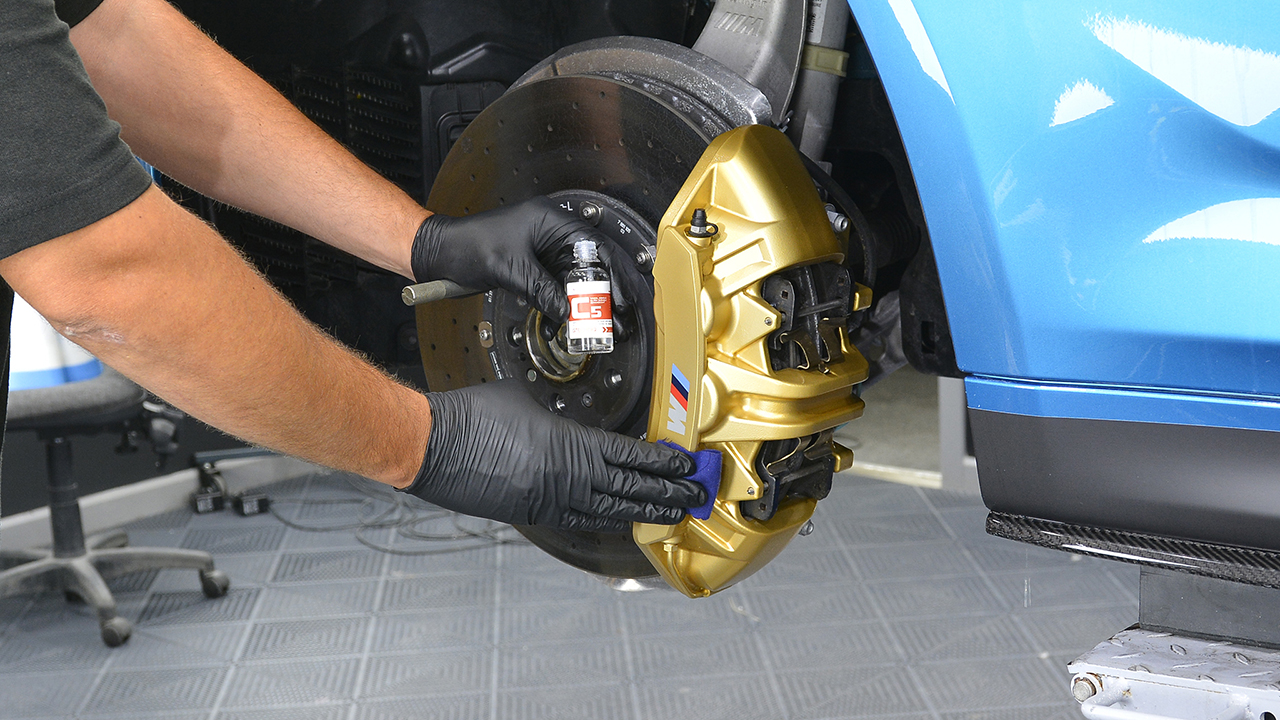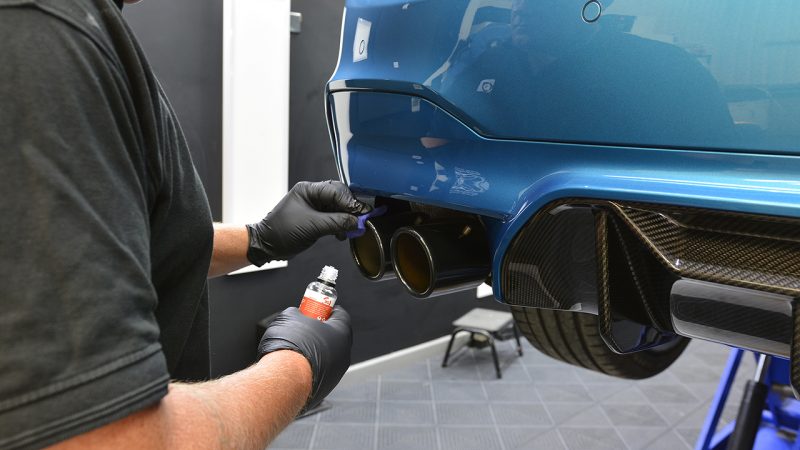 The interior surfaces were treated with Gtechniq I1 Smart Fabric, L1 Leather Guard and C6 Matte Dash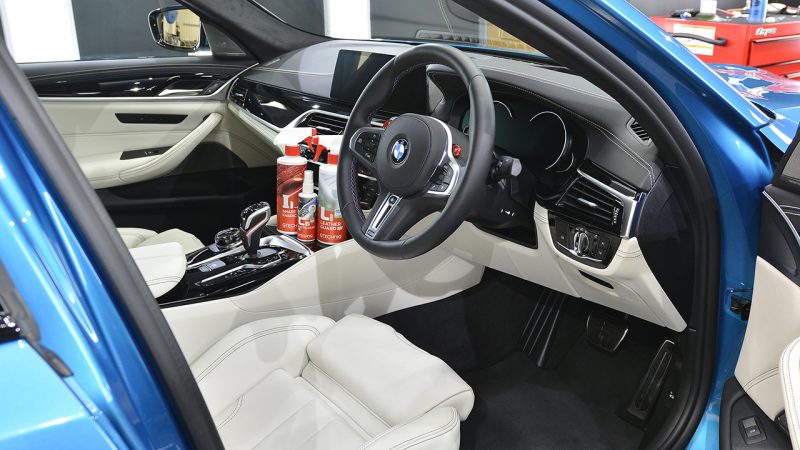 And the end result after 3 days of work.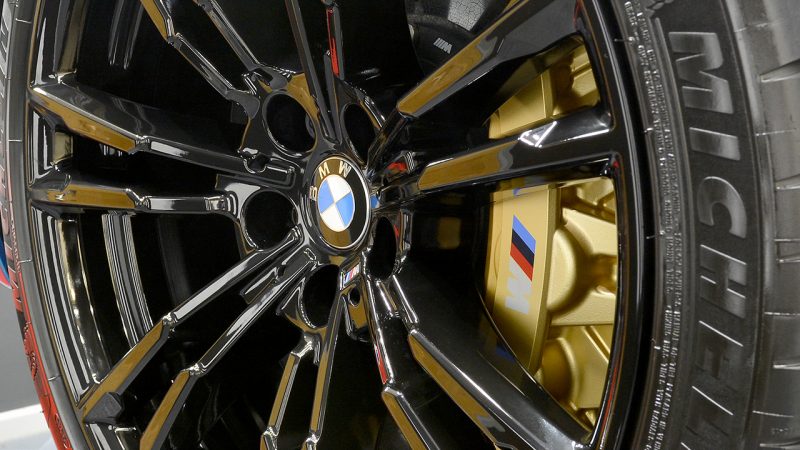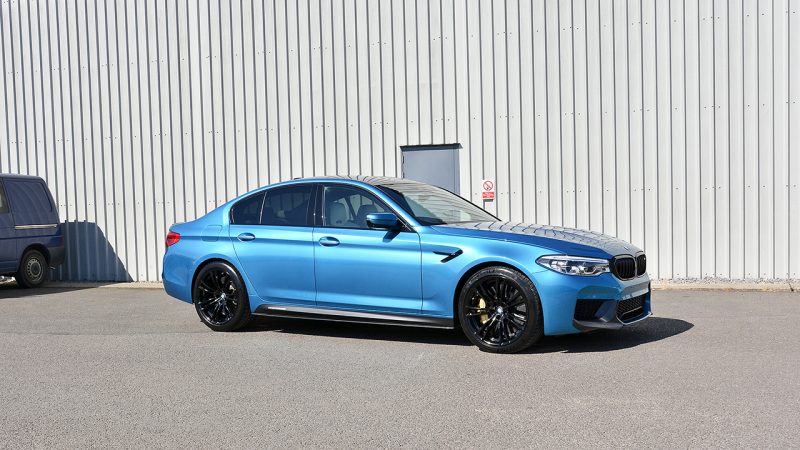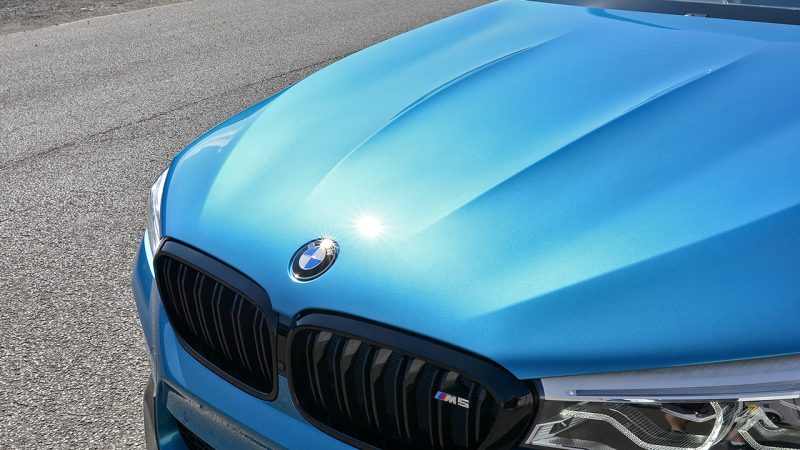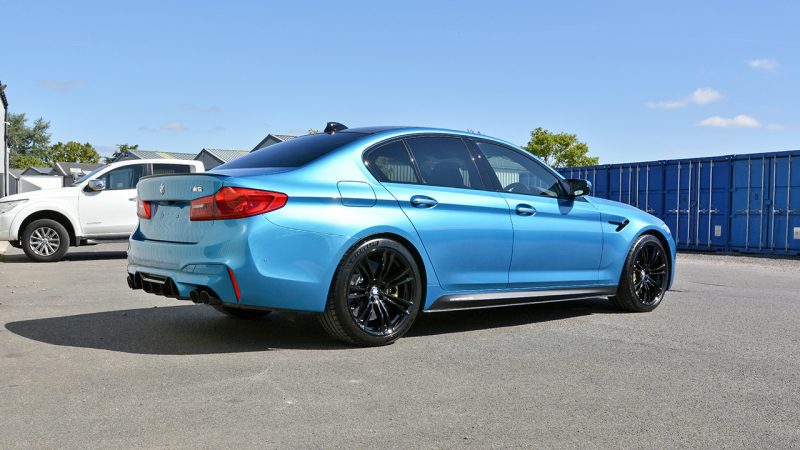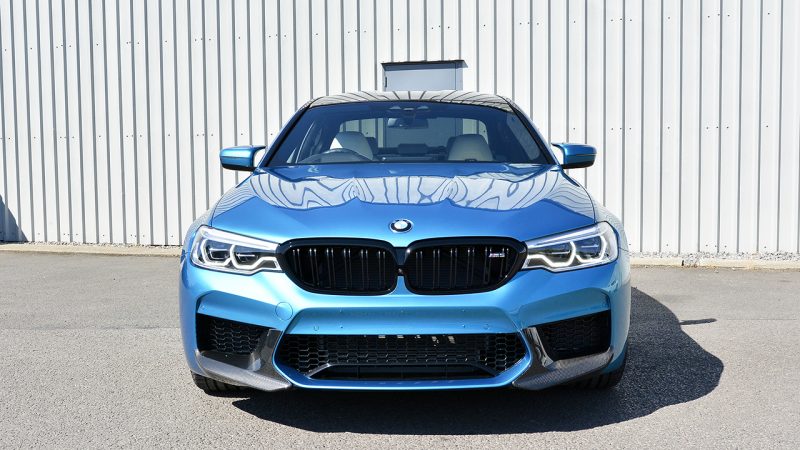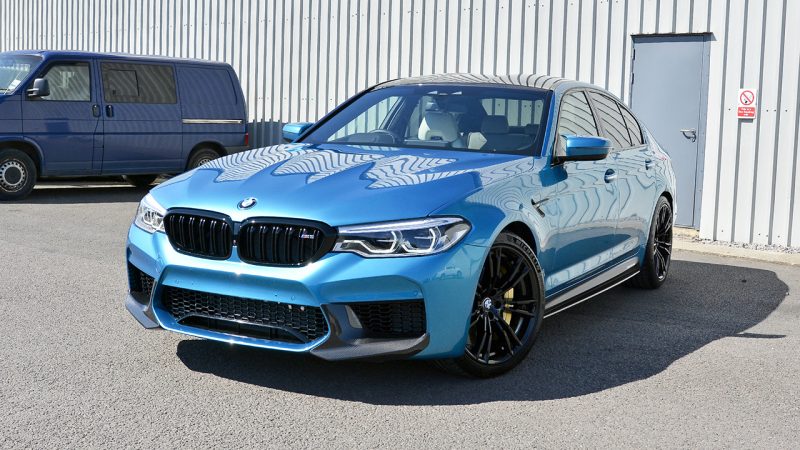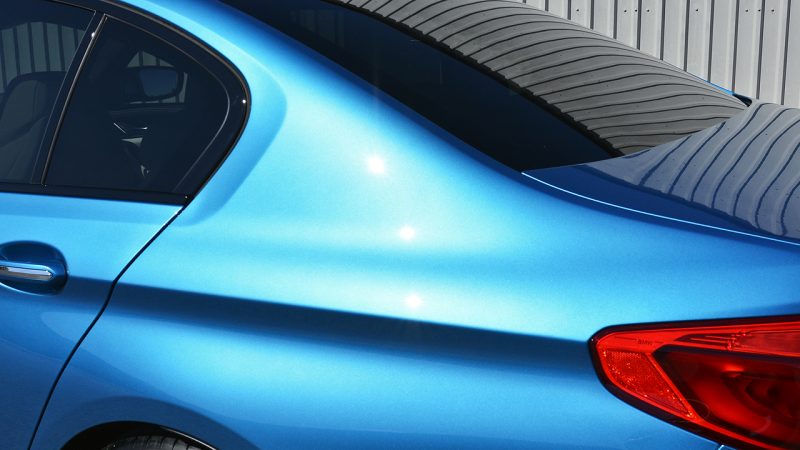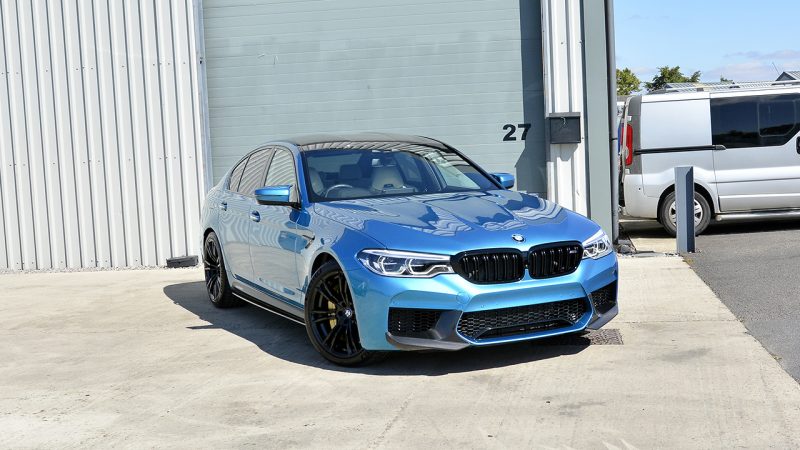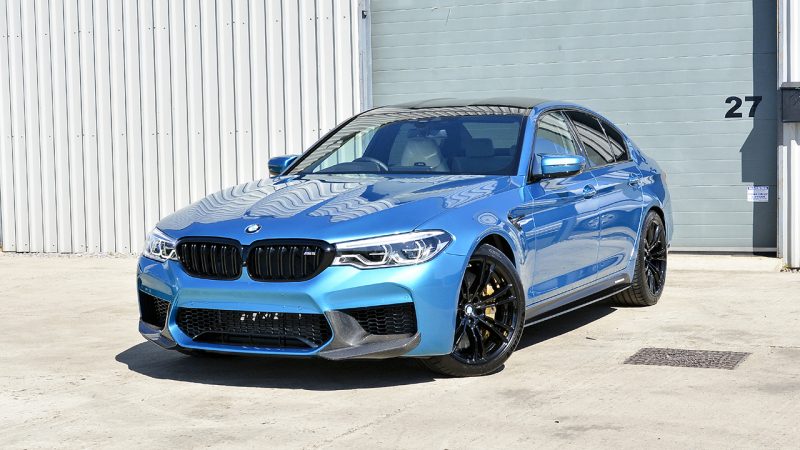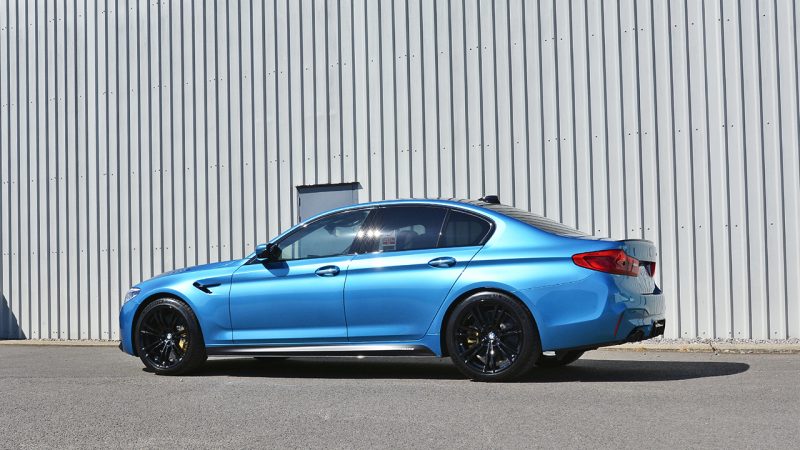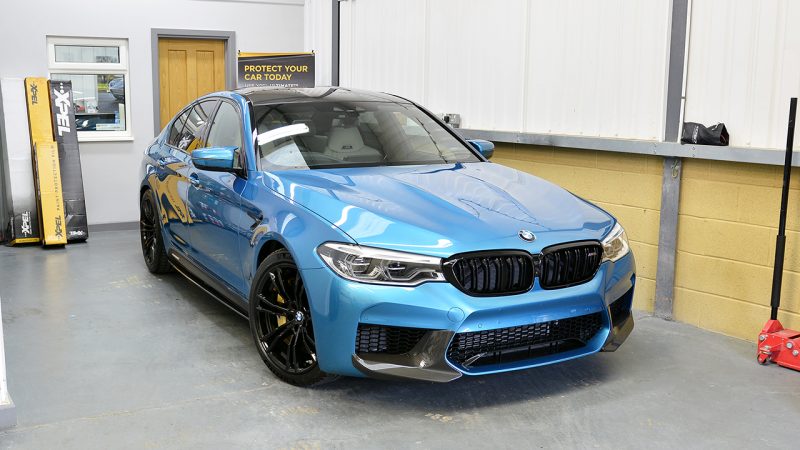 If you'd like a similar treatment carried out on your new BMW give us a call today! We can provide paint protection for any car, it doesn't matter if this is a BMW or Bugatti or if it has matte or gloss paintwork, we have a solution to protect your pride and joy. Call us on 01225 571161 or email us for a quote at justin@exclusivecarcare.co.uk