DEEP CLEAN & CERAMIC PROTECTION
More and more manufacturers are now offering matte and satin paint finishes, such as BMW Frozen finishes and the Mercedes-Benz Designo Magno matte paint line. Unfortunately, as fashionable and good looking as these finishes are, there's are a few drawbacks when trying to keep up on the finishes appearance.
Satin and matte paints are susceptible to staining from greasy fingerprints, bugs, traffic film, bird droppings, conventional car shampoos, waxes and sealants, which can ruin the appearance by degrading the matte satin effect. Due to the paint's high surface area, it can not be polished using standard methods as practised on usual car paint finishes. In fact, there is no solution yet on the market to correct stains and scratches, meaning the only solution to keep the finish in top order is to protect from day one!
Using various professional, premium grade products that are specifically designed for satin matte finishes. It is now possible to clean these finishes and offer durable protection through a specially formulated wax, ceramic coating or Xpel Stealth Paint Protection Film (PPF).
We have the solution to keep up the matte/satin appearance, without affecting its unique looking finish.
Pricing: from £380 + VAT
Duration: 1 -2 days
Wheel arches & wheels cleaned
Multi-stage wash using 2 bucket method
Clay bar & Fallout Remover used to remove bonded contaminants
Paintwork wiped down with isopropyl alcohol (panel wipe)
Finished with Gyeon Quartz Q² Matte Ceramic Coating (upgrades available)
Wheel faces protected with spray sealant (full wheel ceramic protection upgrade available)
Interior wiped down and vacuumed (deep clean & condition upgrade available)
Interior & exterior glass cleaned
Tyres cleaned and dressed
Exterior plastics dressed
Stainless steel/chrome polished & sealed
BUILD A CERAMIC PROTECTION PACKAGE
Add and remove options to create a personalised quote for your budget. Once you're happy with your selections, fill out the form with your details, send it, and we will get in touch shortly. Price given is subject to VAT.Paintwork is deep cleansed and chemically decontaminated followed by a isopropyl alcohol wipe down to ensure coatings form a perfect bond with your car's paintwork.
Optional Extra's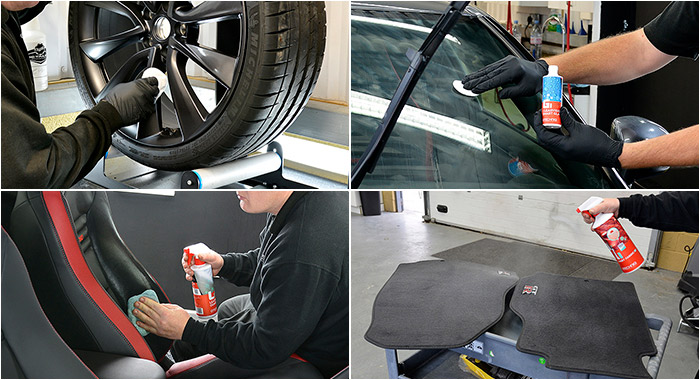 Total Surface Protection Bundle
This bundle includes treatments for the Wheels, Glass, and Interior Leather/Fabric surfaces and is 20% more cost effective than buying each treatment listed below individually, we will also include an ultra-durable coating for your exhaust tips, head lights and tail lights.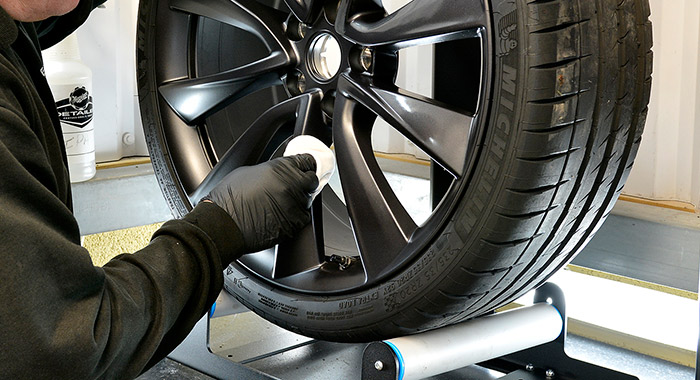 Ceramic Wheel Treatment
This wheel treatment uses state-of-the-art nanotechnology-based coatings to significantly reduce contaminants ability to adhere to the wheel surface. Brake dust, dirt, water, oils and grime are repelled, making wheels easier to keep clean during the weekly wash and negating the requirement for harsh wash chemicals. This treatment last approx 12 months.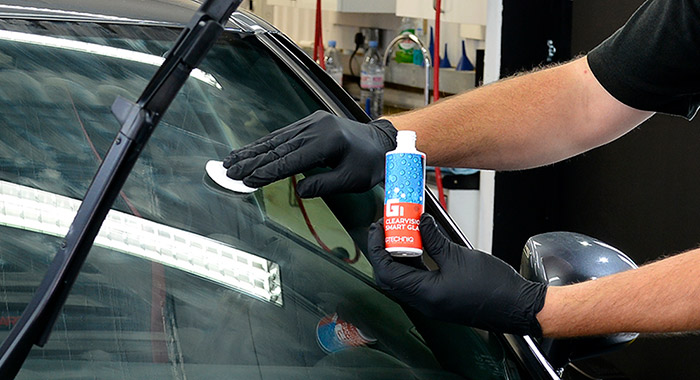 Windscreen & Glass Treatment
Water displacing glass and windscreen treatment to enhance visibility in wet driving conditions, reducing fatigue and increasing safety. Thanks to this repellent you will not need the use of the windscreen wipers when travelling over 50 mph. Keeps windscreens cleaner longer & makes bugs & ice easy to remove. This treatment lasts approx 20,000 miles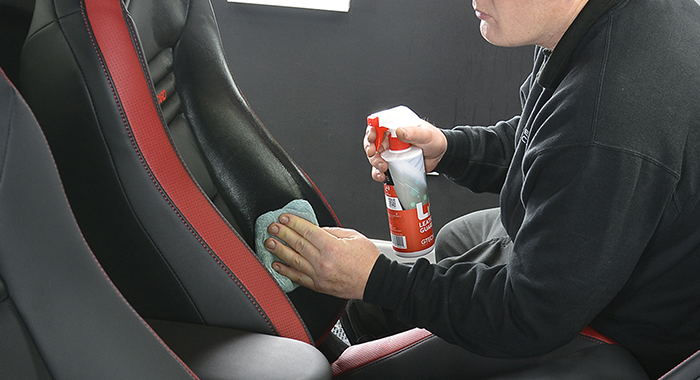 Interior Leather/Fabric Treatment
All leather and/or fabric surfaces (seats, dash, door cards etc) cleaned and then protected with an advanced quartz coating specially formulated for automotive interior surfaces (these coatings will not change or alter the factory finish). Repels dirt and prevents discolouration, protects against liquids and UV rays.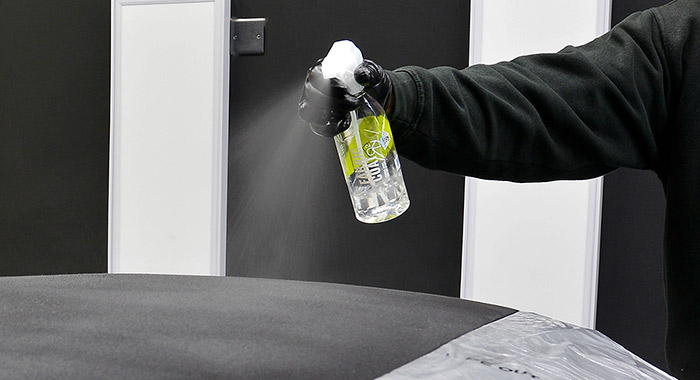 Convertible Roof Treatment
Fabric convertible roofs require cleaning and treating in order to prevent the growth of mildew, the build-up of dirt and UV fading! This treatment provides long-lasting protection for fabric soft tops, encasing the fibres in a protective water and dirt repellent coating forcing contaminants to bead and run off the material.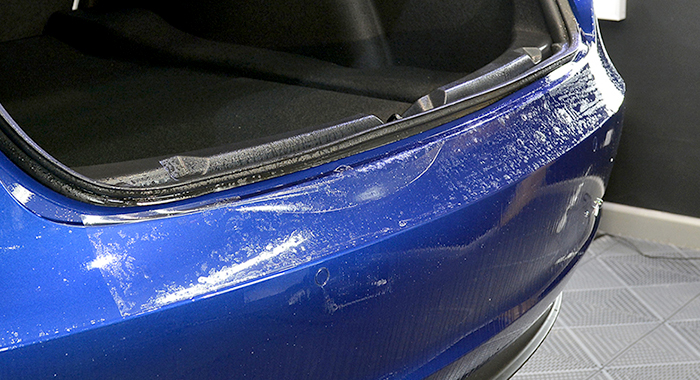 Luggage Area Protection
Clear Invisible paint protection for top edge of rear bumper to protect against chips & scrapes caused by loading items in to your boot.
XPEL STEALTH PROTECTION FILM
Xpel Stealth paint protection film (PPF) is specifically formulated for preserving flat factory paintwork such as matte, magno, frozen or frosted.
This film offers powerful protection against stone chips, bugs, salt, road debris, vandalism and premature degradation of your paintwork.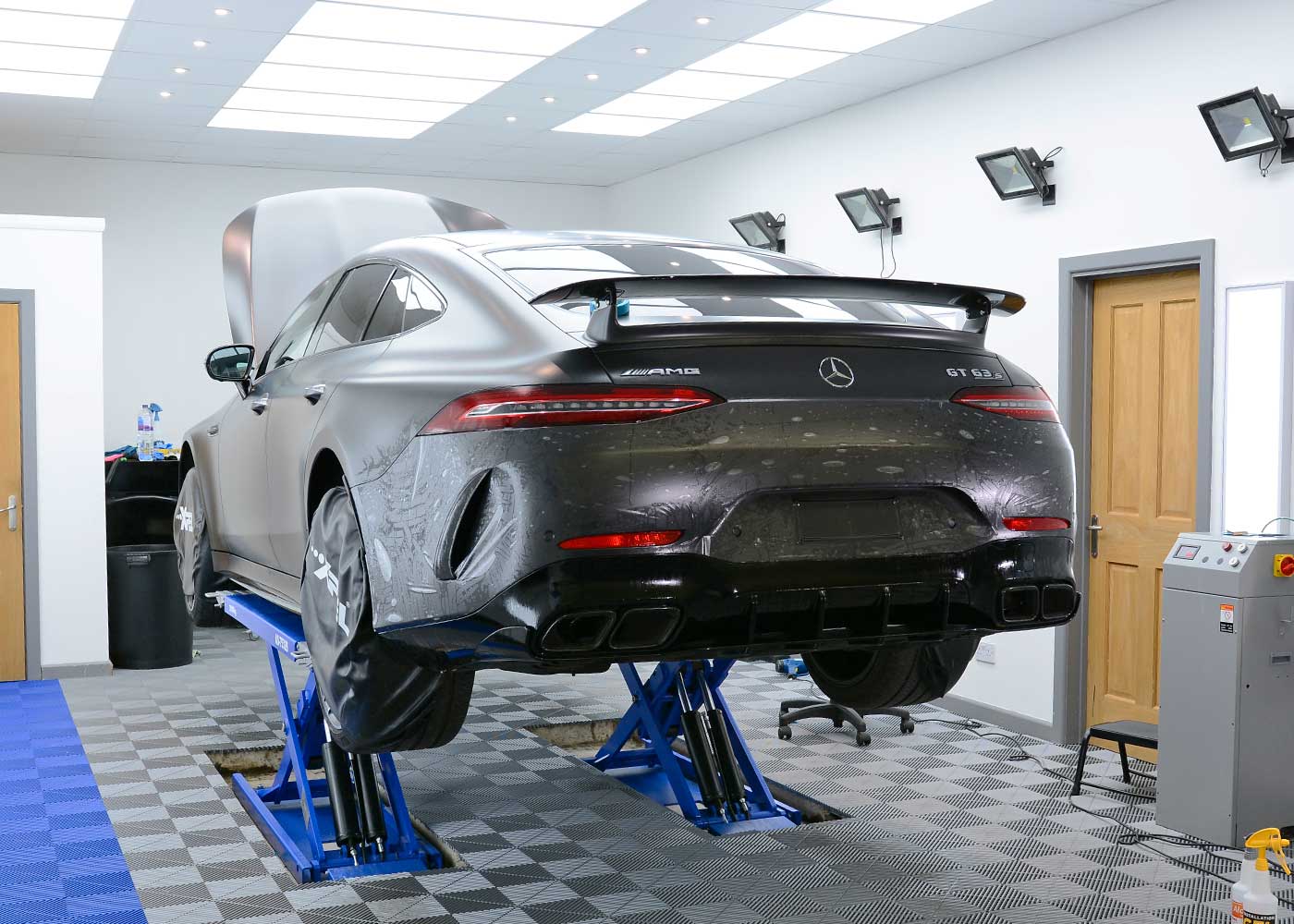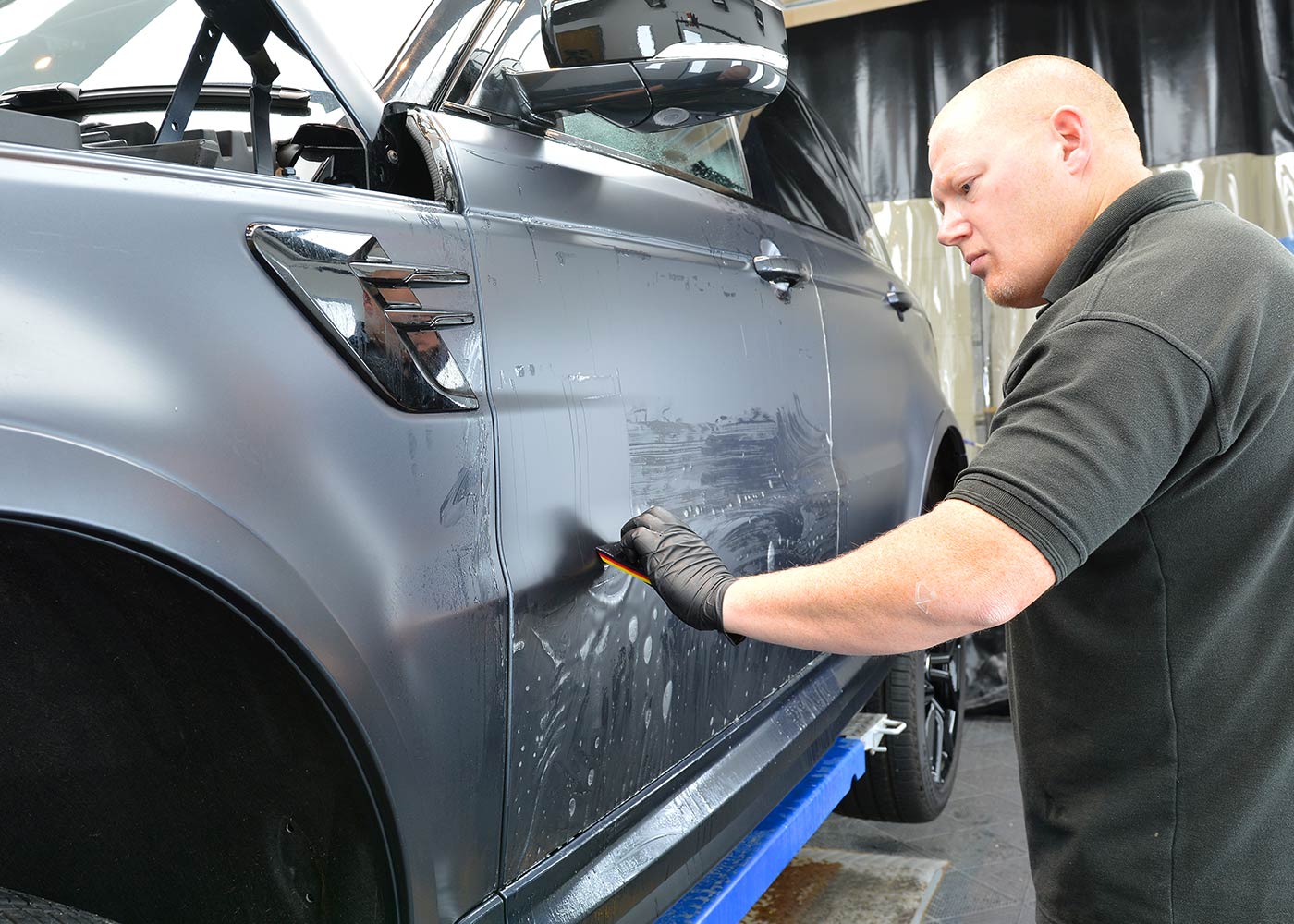 The packages you see below are the most commonly requested installation options using XPEL Paint Protection Film, if you are looking for a bespoke PPF package please let us know as we are happy to accommodate this and come up with a package to suit your requirements.
Bumper Package
The Bumper Package consists of coverage to the front bumper, headlights, and side mirrors. This is a great package for anyone seeking a basic level of protection to prevent stone chips to the most common areas. Price from £395 + VAT
High Impact Package
This package consists of coverage to the front bumper, headlights, side skirts, luggage area and side mirrors. This is a great package for anyone seeking a basic level of protection to prevent stone chips to the most common areas. Price from £795 + VAT
Standard Package
The standard PPF package consists of coverage to the bonnet, front bumper, headlights, and wing mirrors. This is a great package for anyone seeking a basic level of protection to prevent stone chips to the most common areas. Price from £895 + VAT
Full Frontal Package
A great option for anyone wanting substantial protection from stone chips and road debris. The Full Frontal Package consists of coverage to the bonnet, front bumper, headlights, front wings, & wing mirrors. Price from £1095 + VAT

Performance Package
Any daily driven or track driven vehicle should have this coverage. The Performance Package consists of full coverage to the bonnet, front bumper, headlights, side skirts, rear bumper sections, front wings, wing mirrors, A-Pillars & leading edge of roof. Price from £1495 + VAT
Full Coverage Package
Our most extensive PPF package is the ideal solution for customers seeking complete peace of mind. Benefits of complete coverage include protection to doors and rear quarter panels.
Price from £3195 + VAT

Request A Quote To Have XPEL Stealth Applied
WHATS THE DIFFERENCES BETWEEN PAINT PROTECTION FILM AND CERAMIC PROTECTION?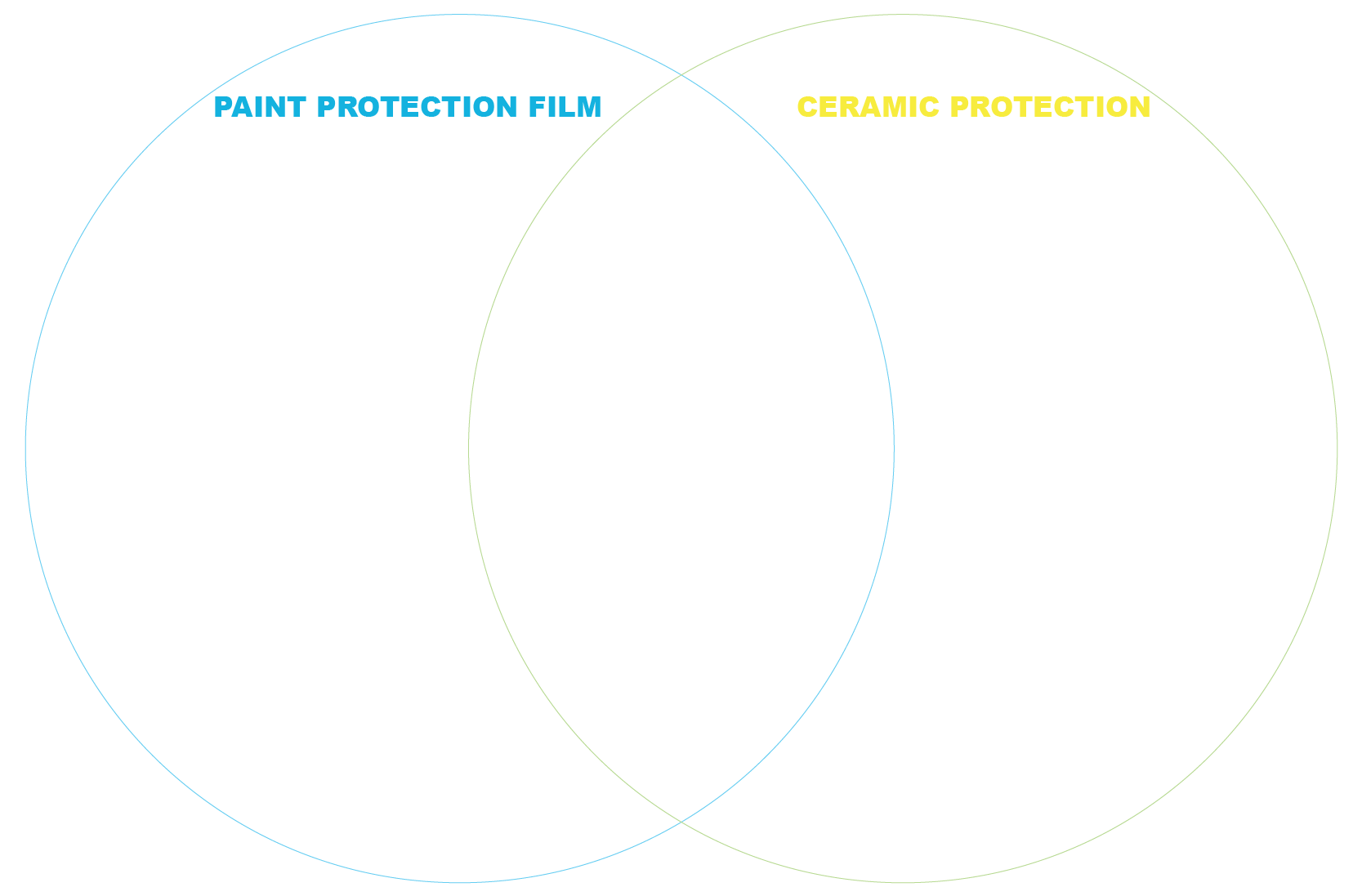 FREQUENTLY ASKED QUESTIONS
What are the main benefits of having a ceramic coating applied?

Cleaning Car Is Much Easier
One of the most significant features of a ceramic coating is that it is hydrophobic, it repels water. This means that dirt will have a more difficult time bonding to your vehicle's paint, and when you wash your car, contaminants can be removed with less effort.

Protection From Chemical Stains & Etching
Another danger for your car is chemical staining from naturally acidic contaminants. A ceramic coating can keep some contaminants from bonding to your vehicle's paint by creating a chemically resistant surface. The result is that your vehicle will be more resistant to staining and etching, provided the contaminant is removed in a timely manner.

Protection From UV Damage
If a vehicle is often exposed to the sun, its paint will begin to oxidise, resulting in dulled and faded paint. A layer of ceramic coating protects a vehicle's paint from the sun's ultraviolet rays, thereby reducing the amount of oxidisation.

Enhanced Level Of Gloss
A good ceramic coating enhances your car's paint and clear coat's reflective properties, adding to the paintwork's depth and clarity.

Will a ceramic coating prevent stone chips and scratches?

No, a ceramic coating will not prevent stone chips. If you are looking to prevent stone chips & minor abrasions from damaging your cars paintwork, you would need Paint Protection Film.

Though a ceramic coating can repel some small surface scratches, a coated vehicle will not be completely resistant to the risk of swirl marks, marring or scratches. Improper car washing techniques or automated car washes will still create swirl marks on your vehicle's surface.

How long does a ceramic coating last?

Ceramic coatings for automotive paintwork lasts between 2 – 5 years dependent on which coating is applied. Proper maintenance and care is key to getting the maximum performance and durability with any coating applied.

Ceramic coatings designed for wheels, glass, and interior surfaces last approximately 12 – 18 months.

What brands of ceramic coatings do you use?

Through relentless testing, we found that the Gtechniq, Gyeon Quartz & Titan brands of coatings met our strict criteria for performance, looks, and durability.

We are very particular with our coating brands, and we value their marketing strategies just as much as we do their performance. Many coating companies significantly overstate (over-hype) things like hardness levels, durability, and chemical resistance, hoping that unknowing detailers and consumers will follow along. On the other hand, we wish to have long-lasting relationships with our clientele and therefore chose not to work with companies that promote unrealistic performance.
PPF – PAINT PROTECTION FILM
What are the main benefits of having PPF applied?

The primary objective is to protect your vehicle from the elements. Whilst it will not stop a large stone from high speed damaging your vehicle, it will keep it protected from general stone chips and wear and tear from daily driving. This is good news for aesthetic reasons and aids the value of your vehicle by keeping it original and as new as possible. If the PPF remains undamaged, the paint beneath will look good as new if you ever decide to remove the film.

Enhanced Finish
The film is available in a gloss or matte finish. In fact, if you have a high gloss paint finish you can apply a matte film on top – to instantly create a brilliant and customized exterior look and appeal.

Superior Protection 
Protective films are infused with layers of material, each of them providing roadblocks for harmful contaminants or chemicals to penetrate. It also provides superior stain resistance and reduces paint damage due to stone chips.

Self-Healing Of Swirl Marks & Surface Scratches
The film uses a special polymer in its clear coat that flows even though it is cured. This allows the clear coat to find its natural level again after being disturbed on the surface.

Does the film have a warranty?

The film comes with a 10-year warranty and will cover defects such as yellowing, staining, cracking, blistering and delaminating.

The warranty does not extend coverage to damage caused by normal wear and tear, road debris impact, accidents, collisions, or intentional damage of any kind.

Can PPF be removed without damage?

The majority of factory paint jobs are properly cured and prepped, and it's extremely rare to have any issues with paint damage when removing PPF from OEM finishes.

On the other hand, if a car has had paint repairs/re-sprayed, then there is a high chance the film will lift the clear coat when removing it.

Can you protect matte/satin paintwork with paint protection film?

Yes, we use Xpel Stealth which is specifically designed for satin/matte paintwork such as BMW Frozen finishes and the Mercedes-Benz Designo Magno matte paint line.