Here we have a truly iconic collectors piece; the Ferrari 360 Challenge Stradale. Ferrari's attempt at a hardcore, no nonsense version of the 360, it was loved by all at its release and the love for it has only got stronger over the years. Stripped off all its comforts, the interior was offered with bare floors and Carbon fiber race seats, almost like a modern day F40. The engine produces 425bhp and the noise that explodes from the tailpipes has got to be one of the greatest noises ever to come from a road car! With a weight reduction of 110kg over a standard 360, a faster gearbox, revised suspension and ceramic brakes, this all adds up to make the Challenge Stradale a fantastic drivers car. Values of the Challenge Stradale has shot up in recent years, with very good low mileage examples now being sold for more than £200,000.
As this was a new purchase for the owner he asked me to spend whatever time necessary on the car to bring it up as good a standard as possible so I fully inspected every square inch of the car to find all of the defects, I then set about restoring the 360 CS up to a level that it deserves.
The engine bay was cleaned with Bilt Hamber Surfex HD and the carbon fiber parts were removed and given a light machine polish before being coated with Gtechniq Crystal Serum.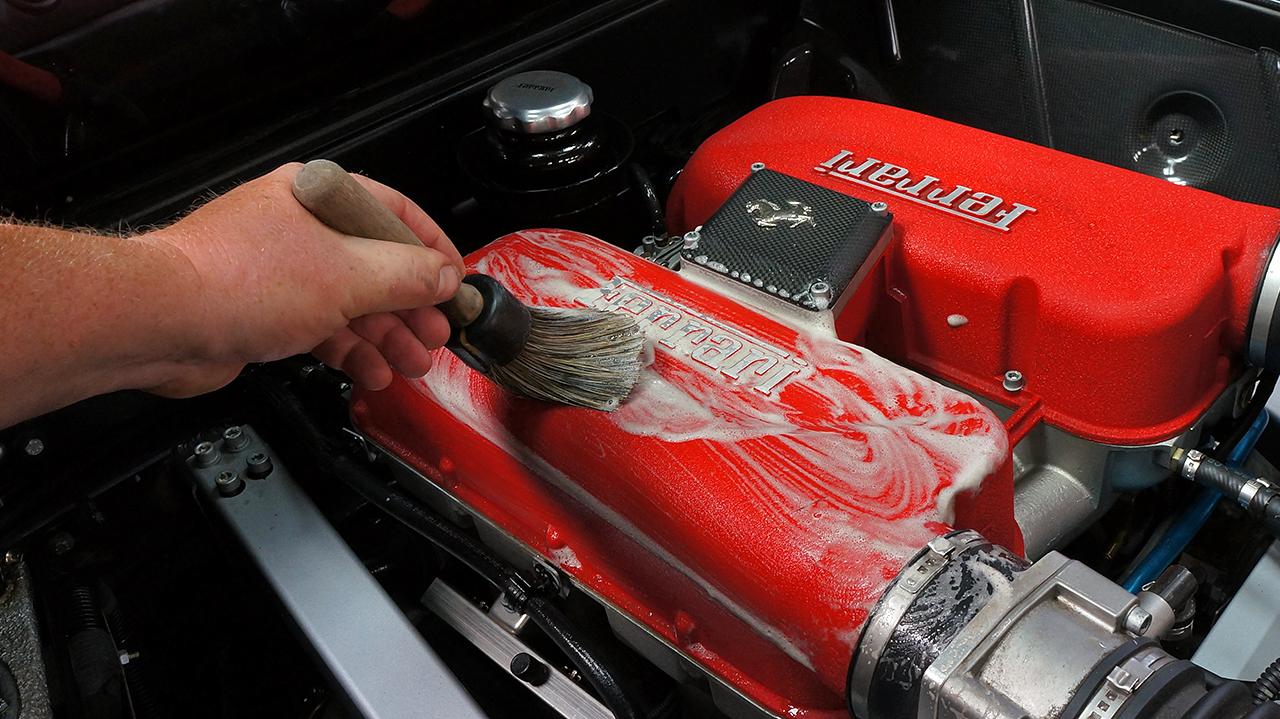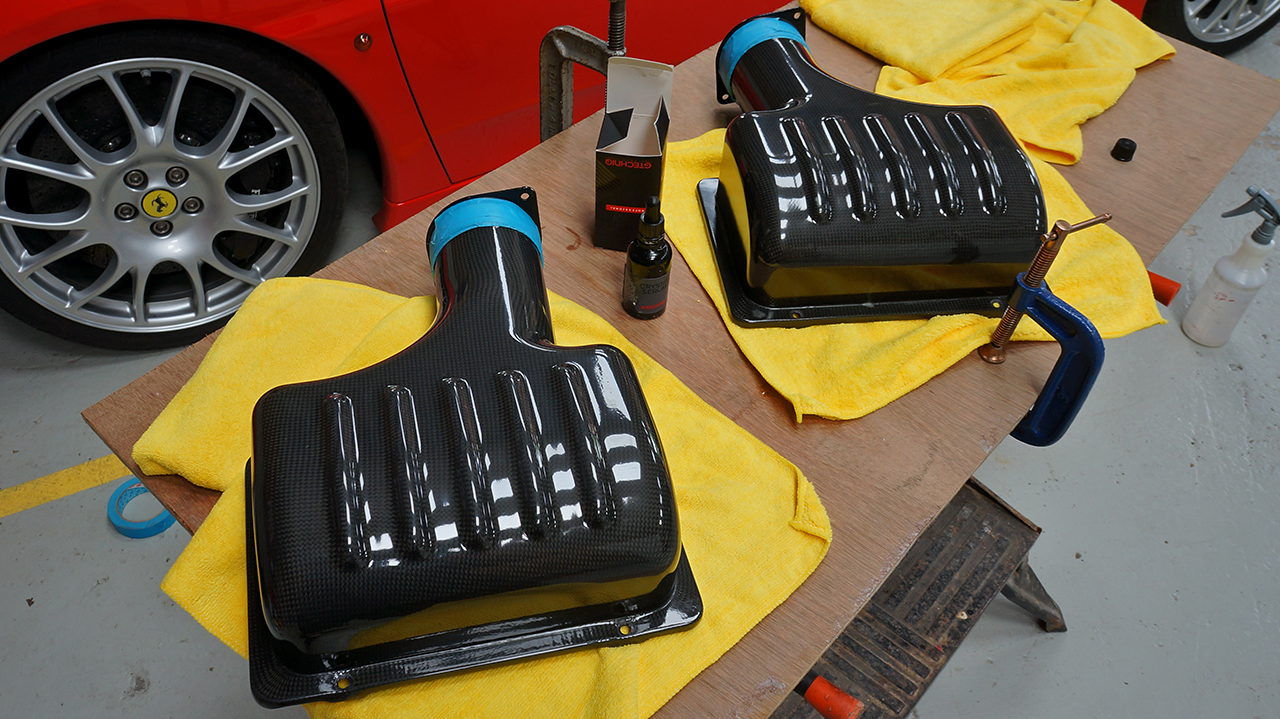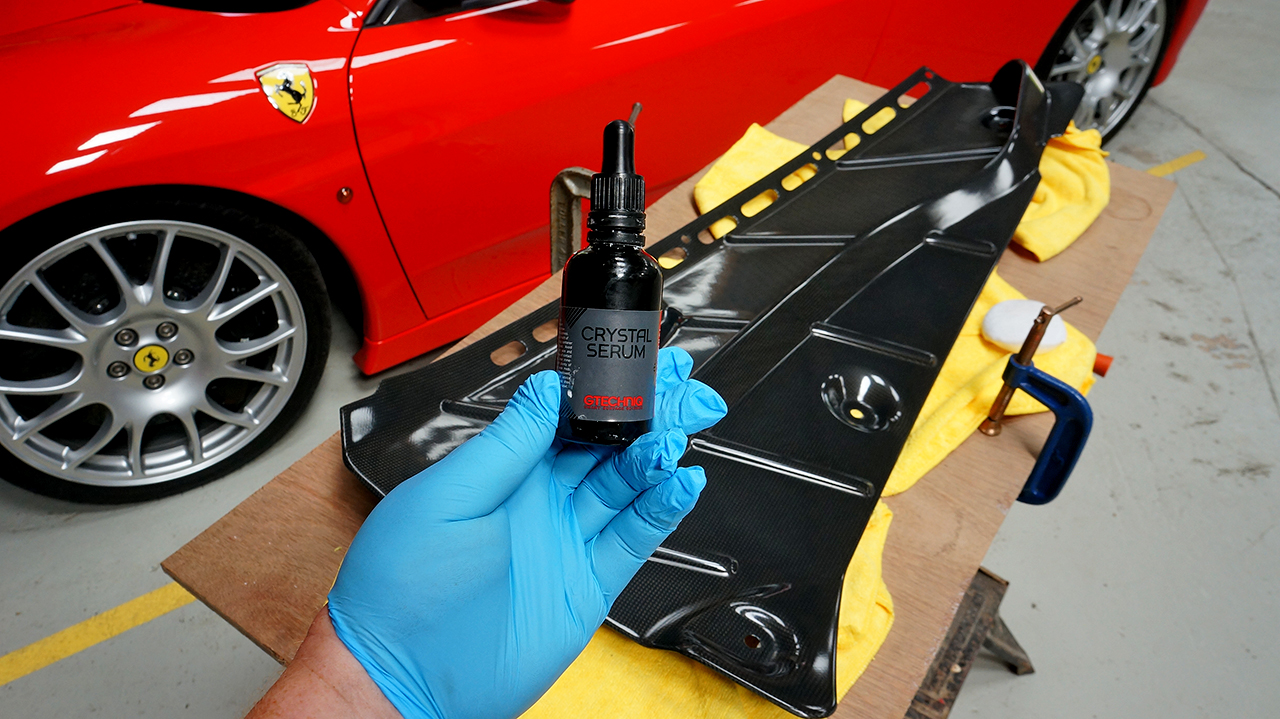 A fair amount of dirt had accumulated behind the carbon side panels so these areas were carefully cleaned before re-fitting the side panels back into the engine bay.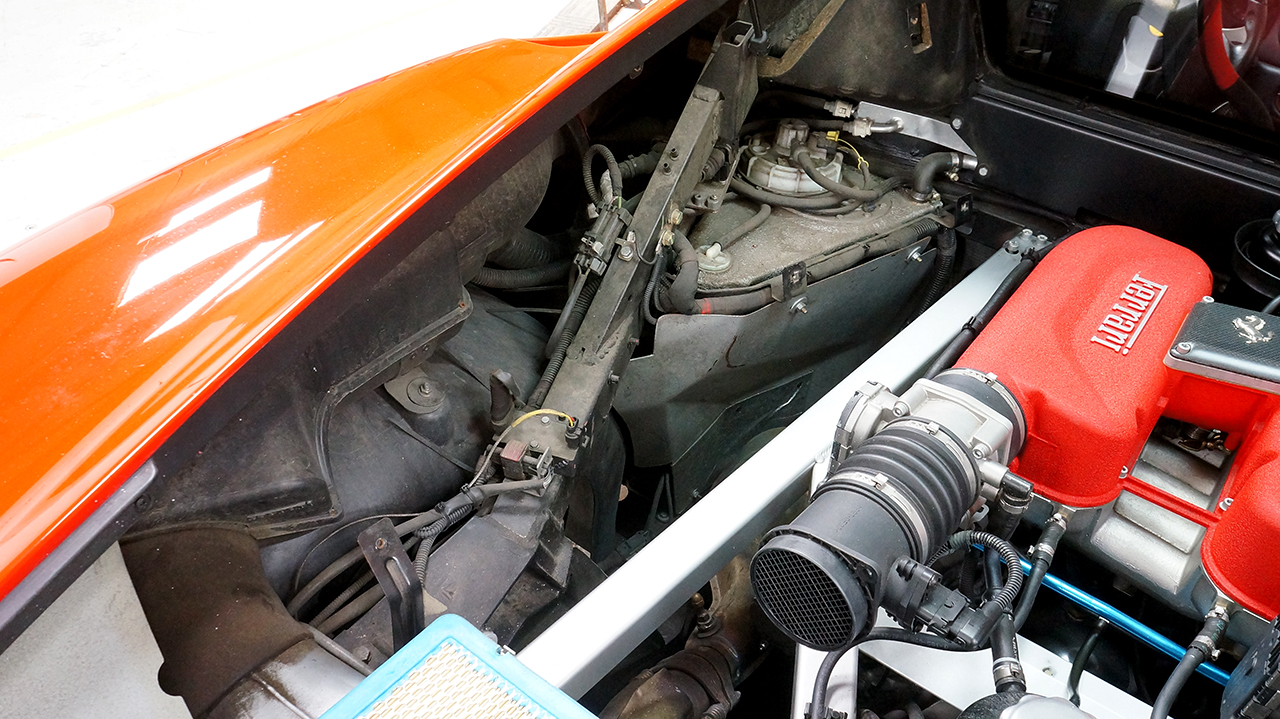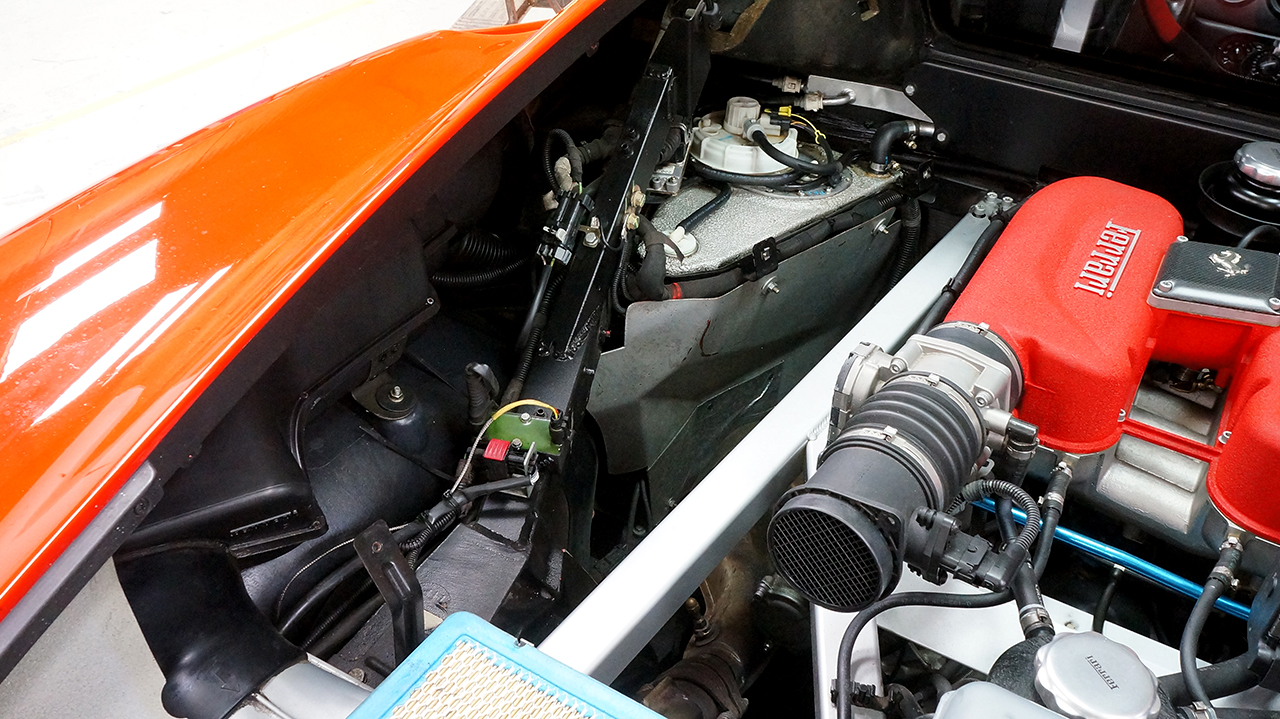 The brake calipers were in need of a refurb due to the lacquer peeling away  so this was a perfect opportunity for them to be changed to a different colour as the black calipers look lost behind the wheels. A technician from Bob Houghton Ferrari was called in to remove the calipers.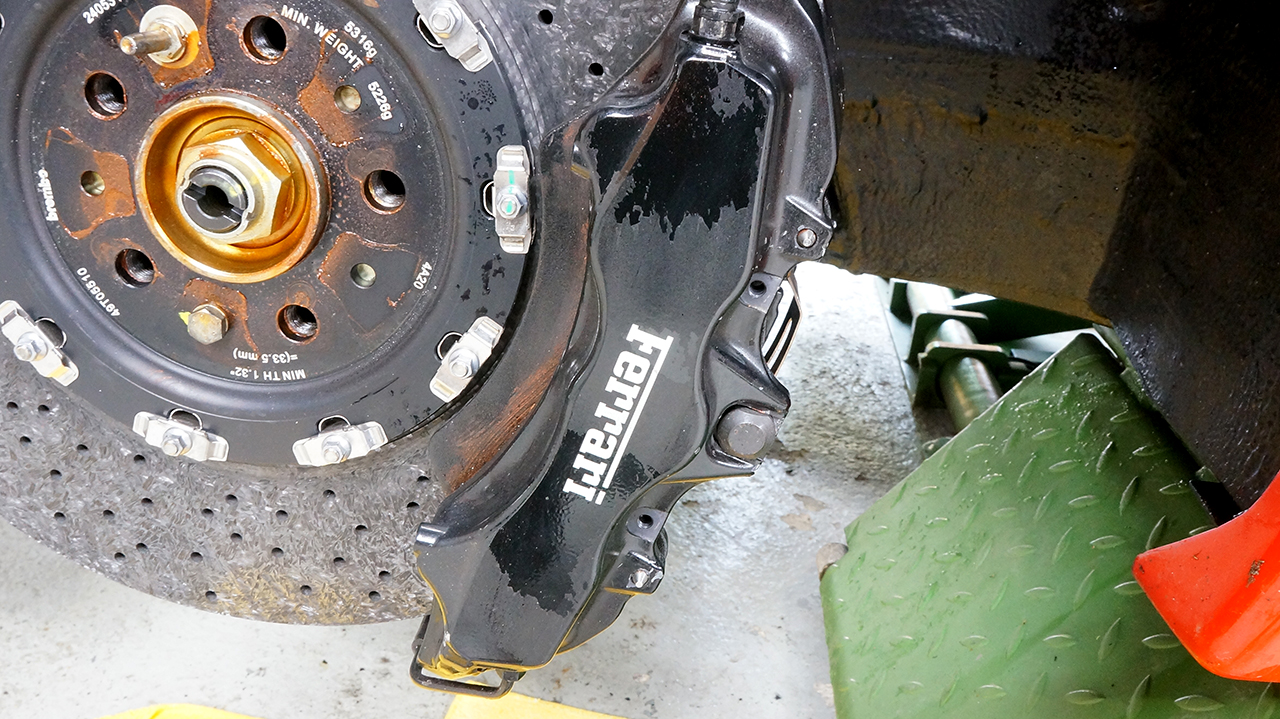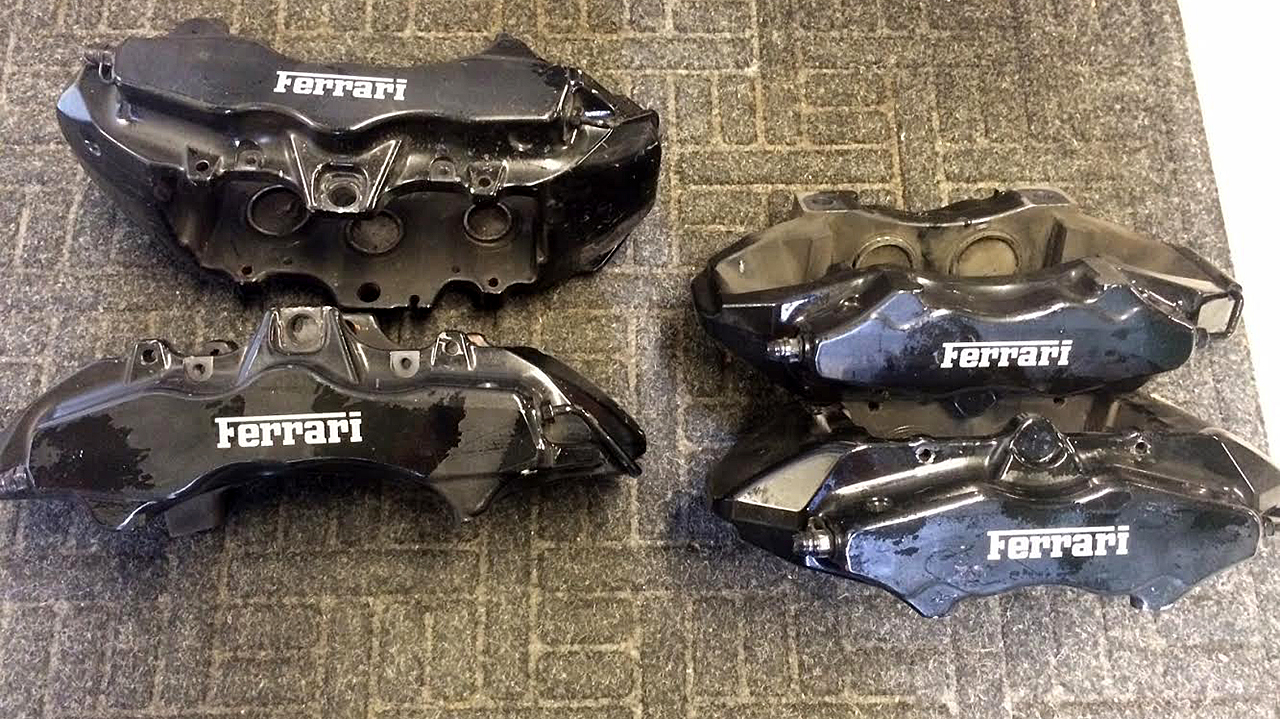 The owner of the car choose to have the calipers painted yellow which contrasts nicely against the Rosso Scuderia paintwork and do not look lost behind the wheels. New pistons & seals were fitted.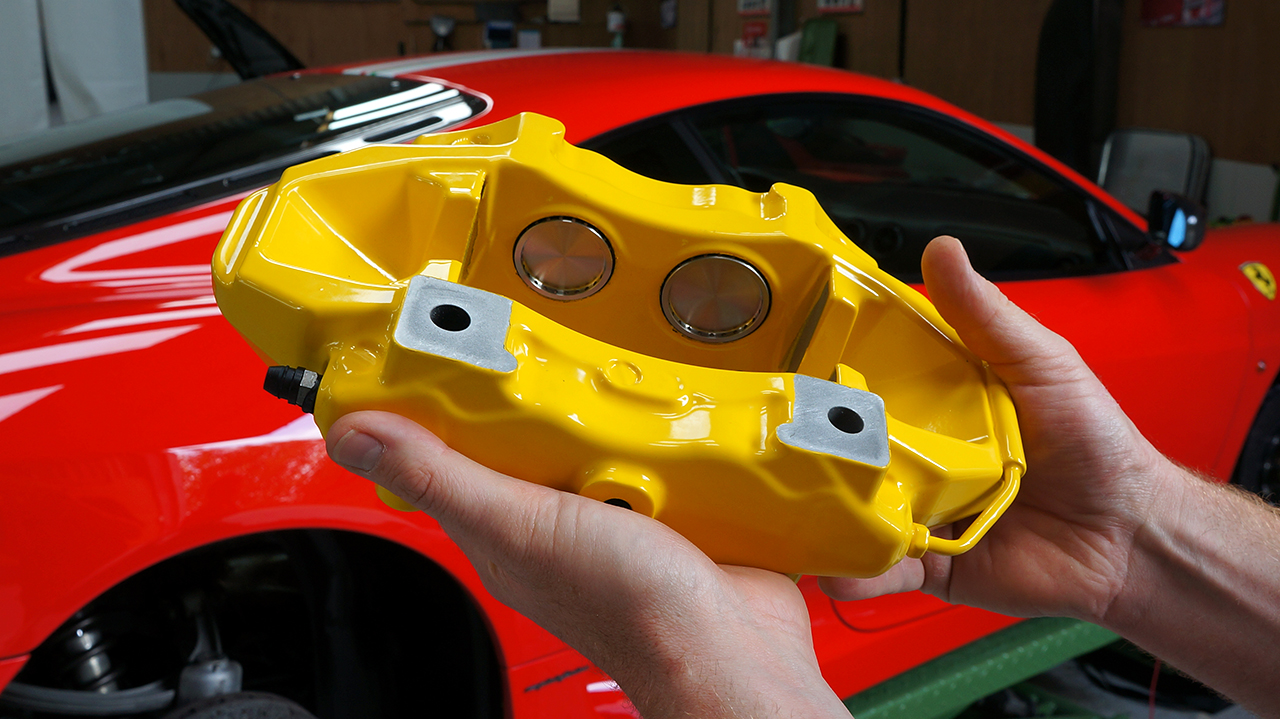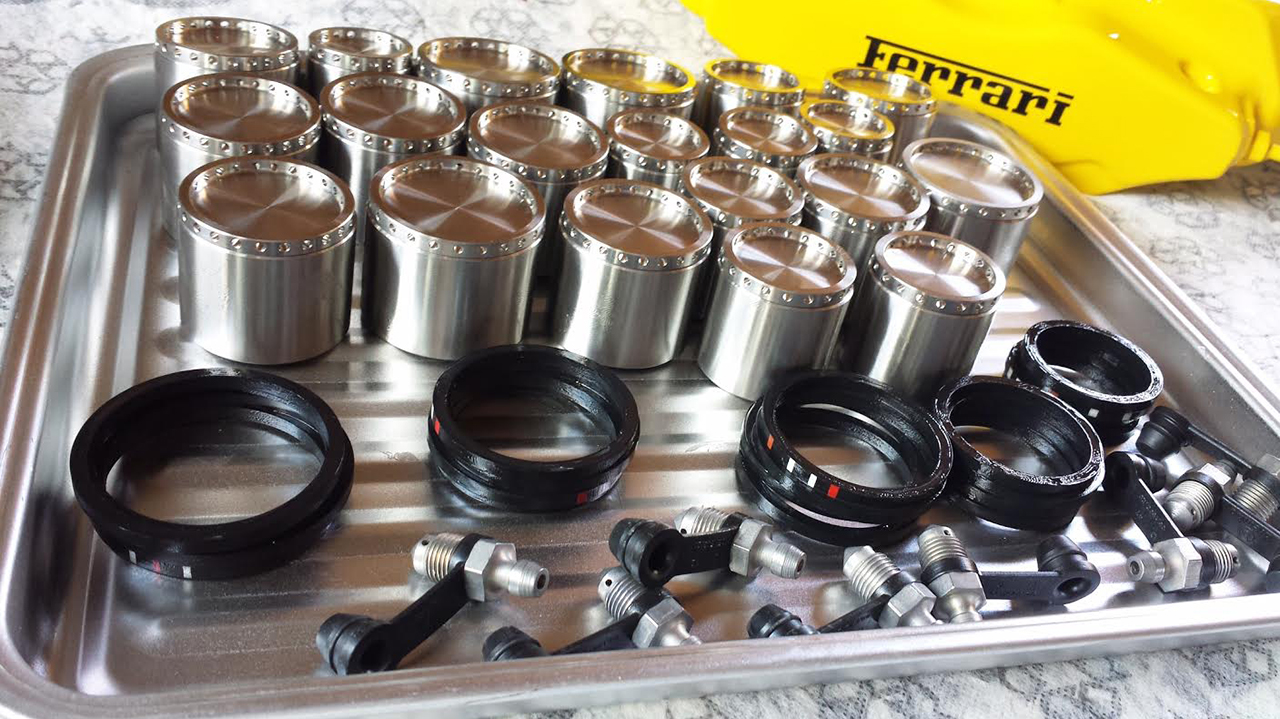 The wheels were cleaned and then protected with Gtechniq C5 Alloy Wheel Armour which provides a barrier against brake dust and road grime build up. The tyres were dressed with Gyeon Q2 Tire to leave a long-lasting, satin sheen.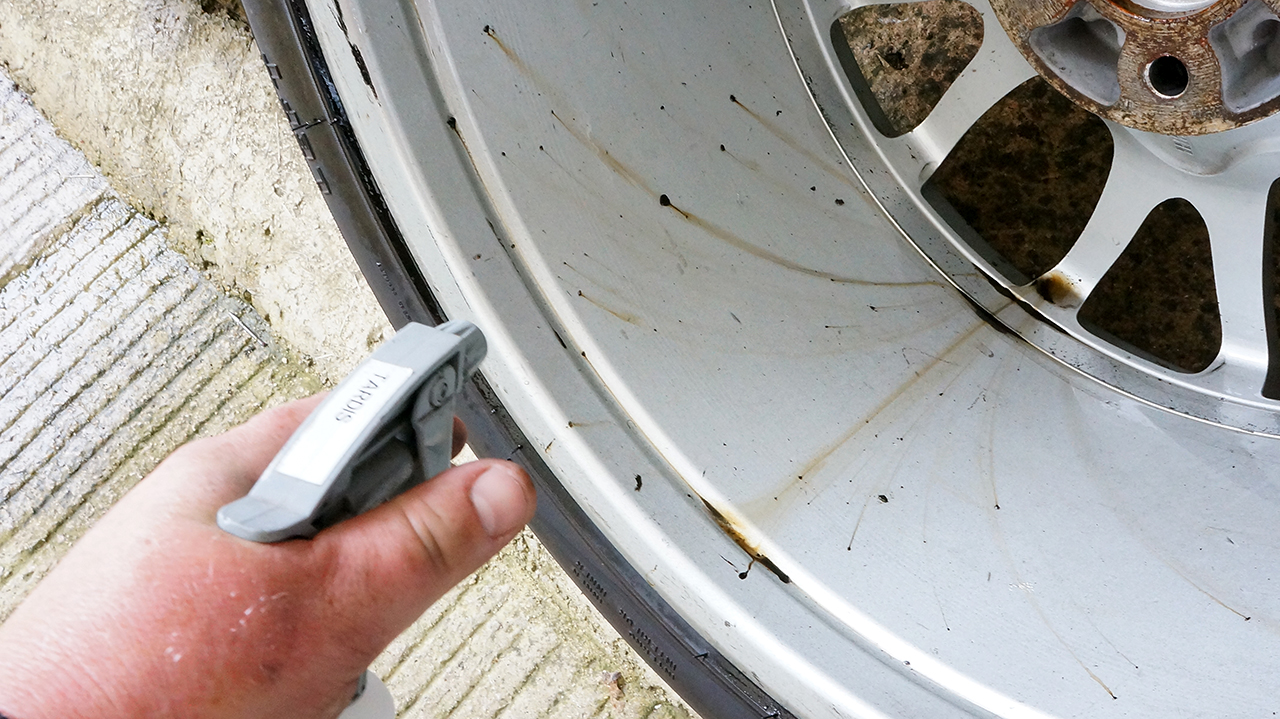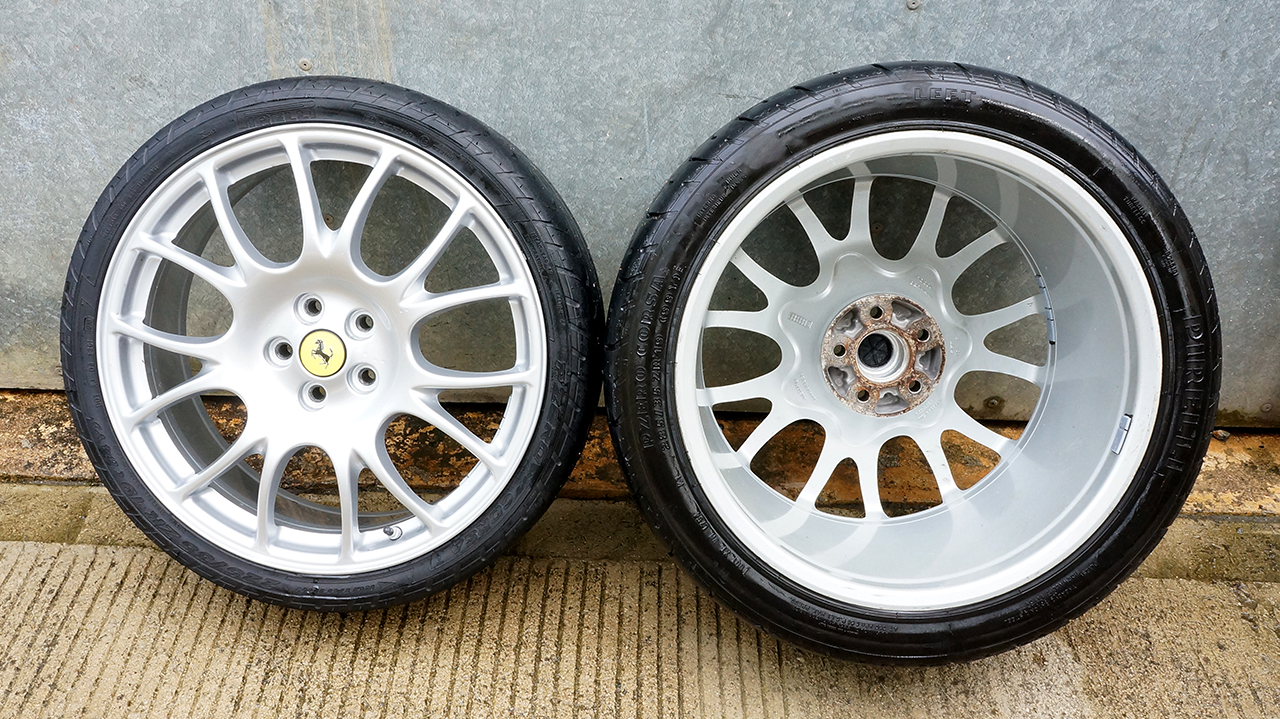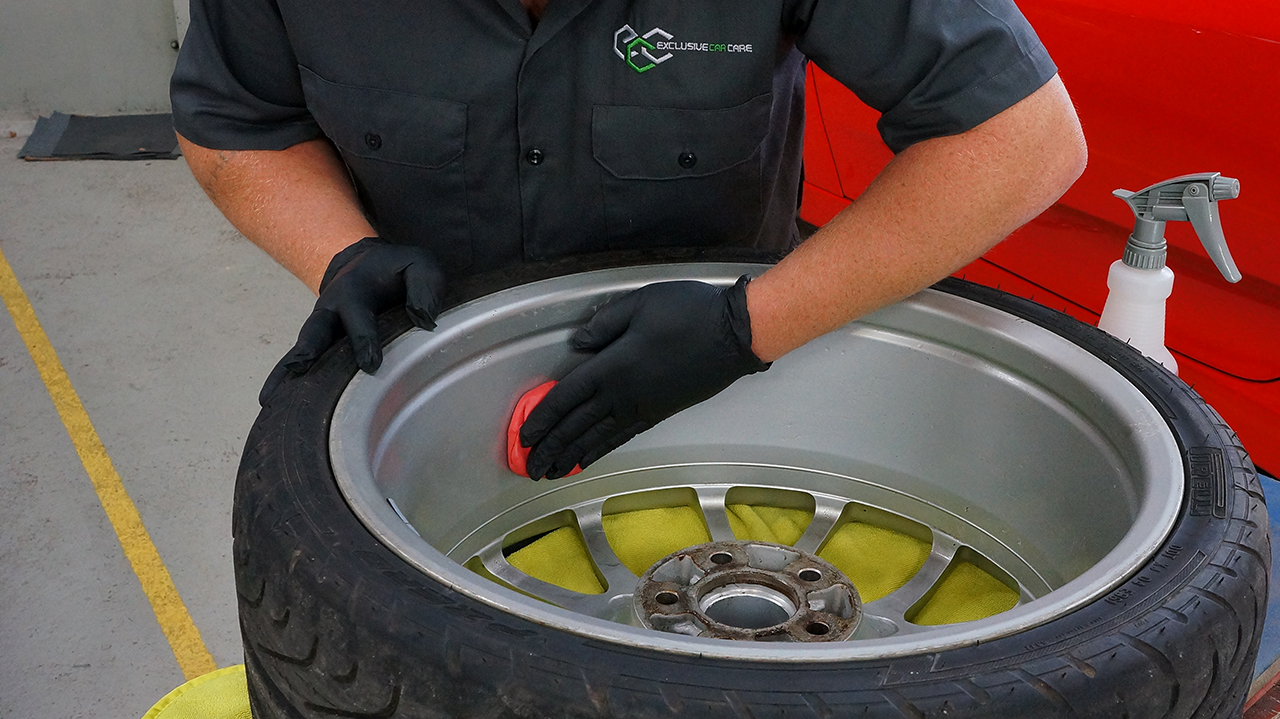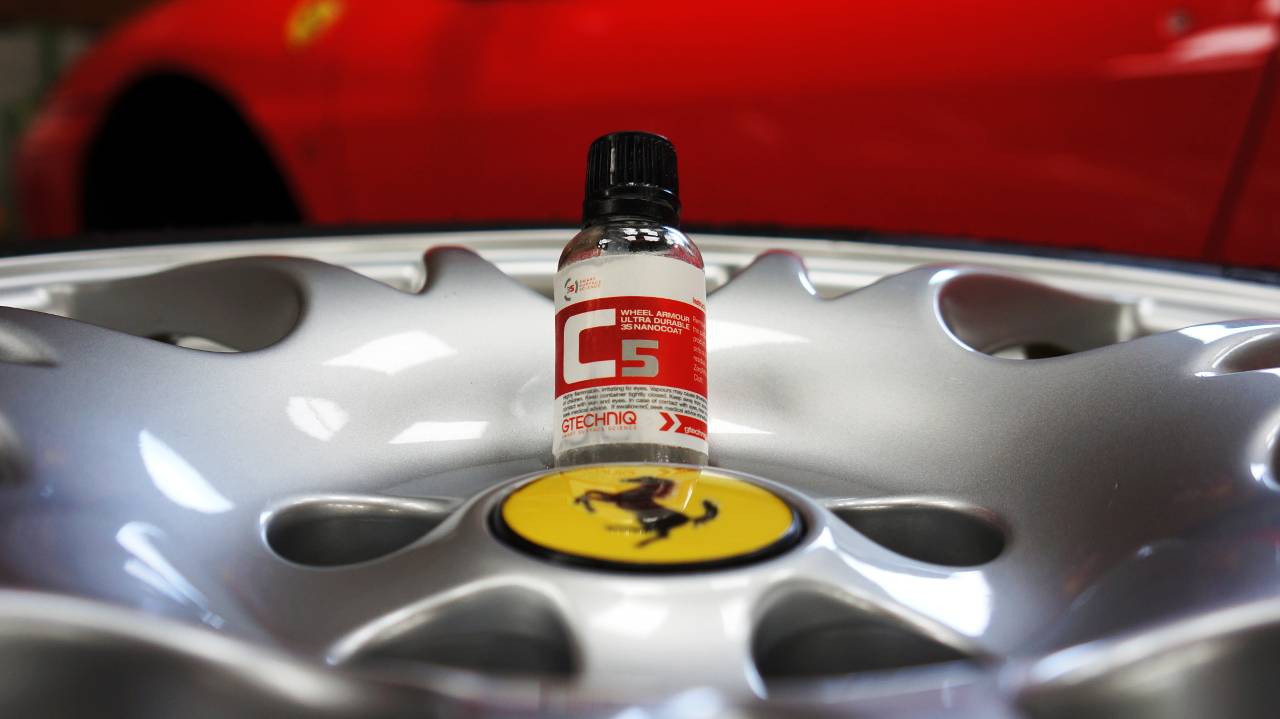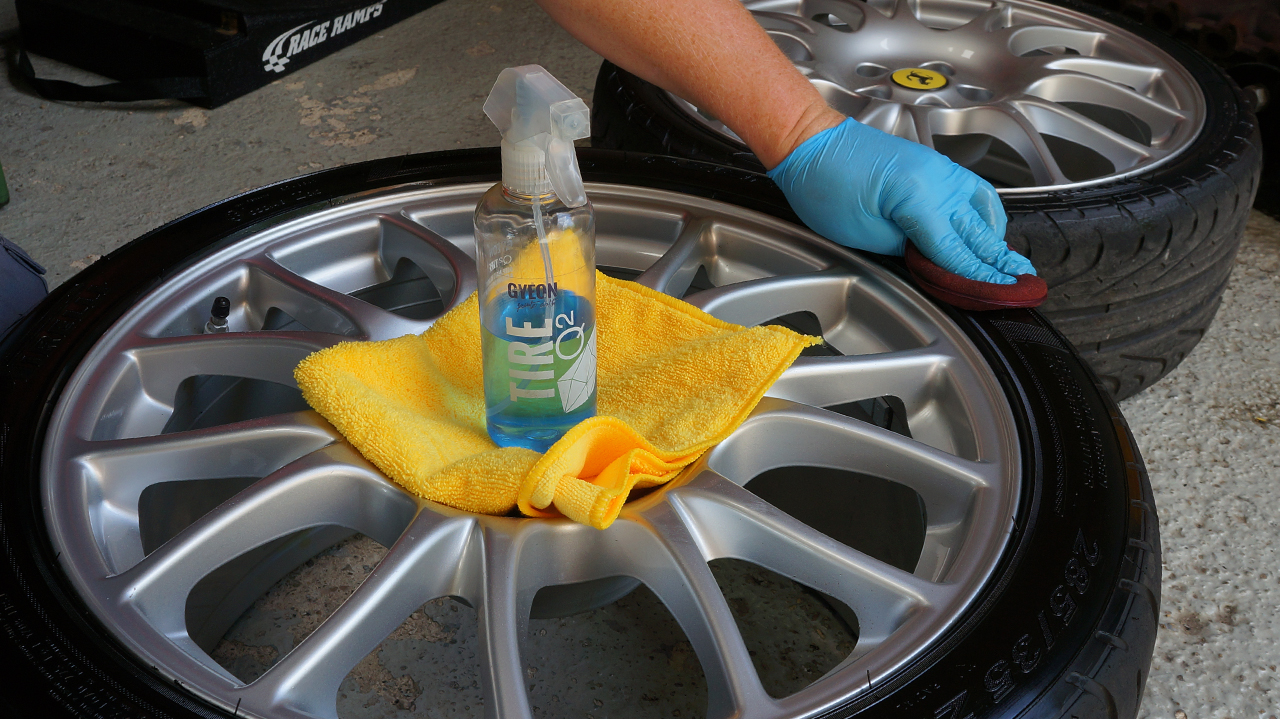 With the wheels completed I then concentrated on getting the wheel arches & suspension cleaned, this was done with a Karcher Steamer.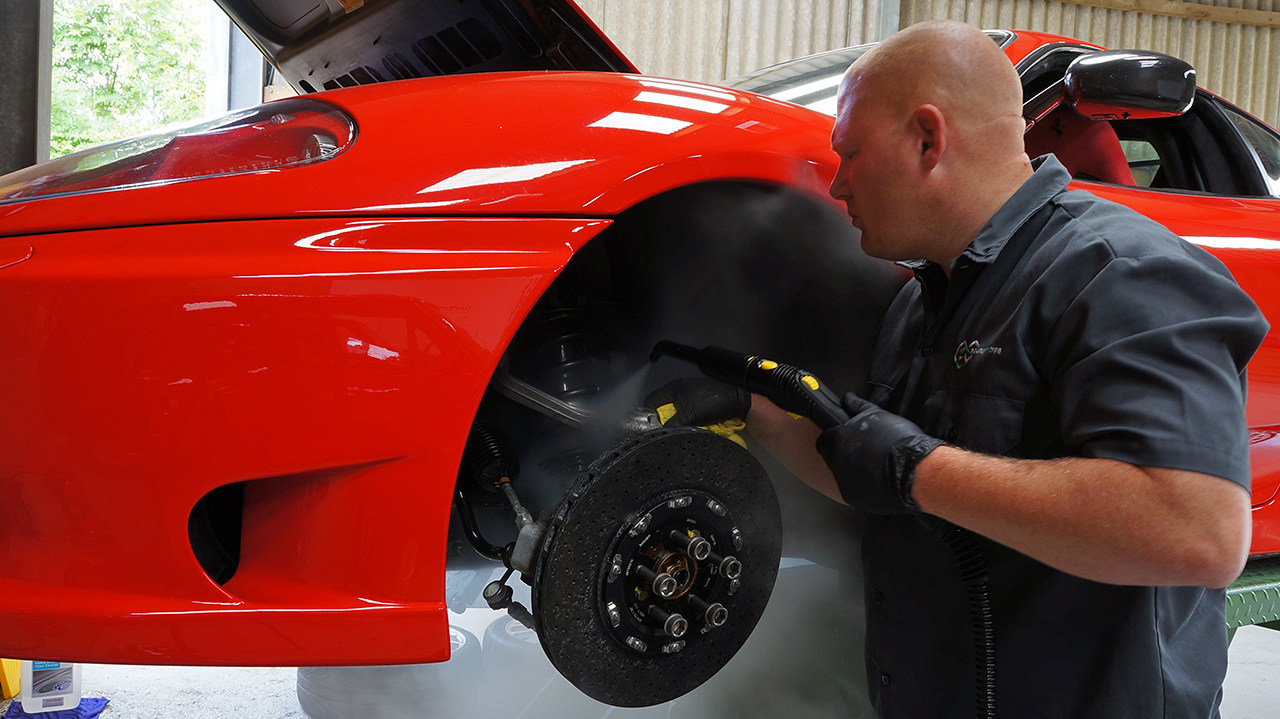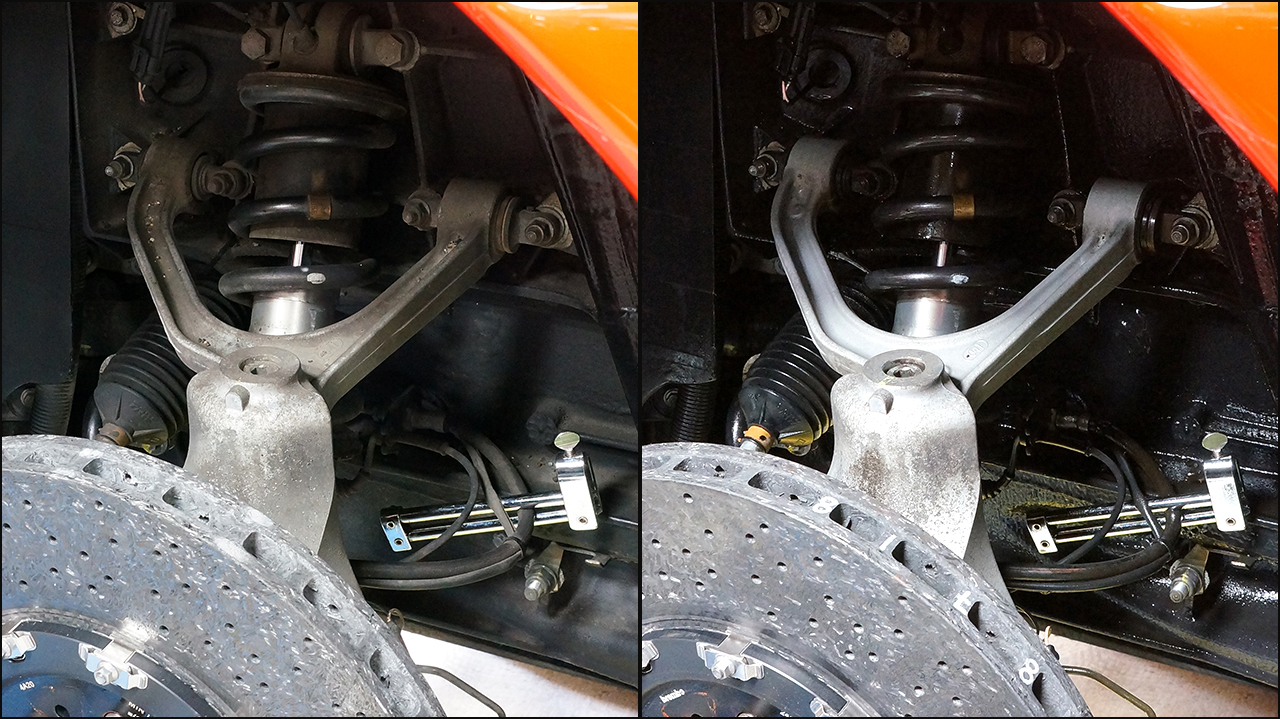 Exhaust tailpipes needed some serious attention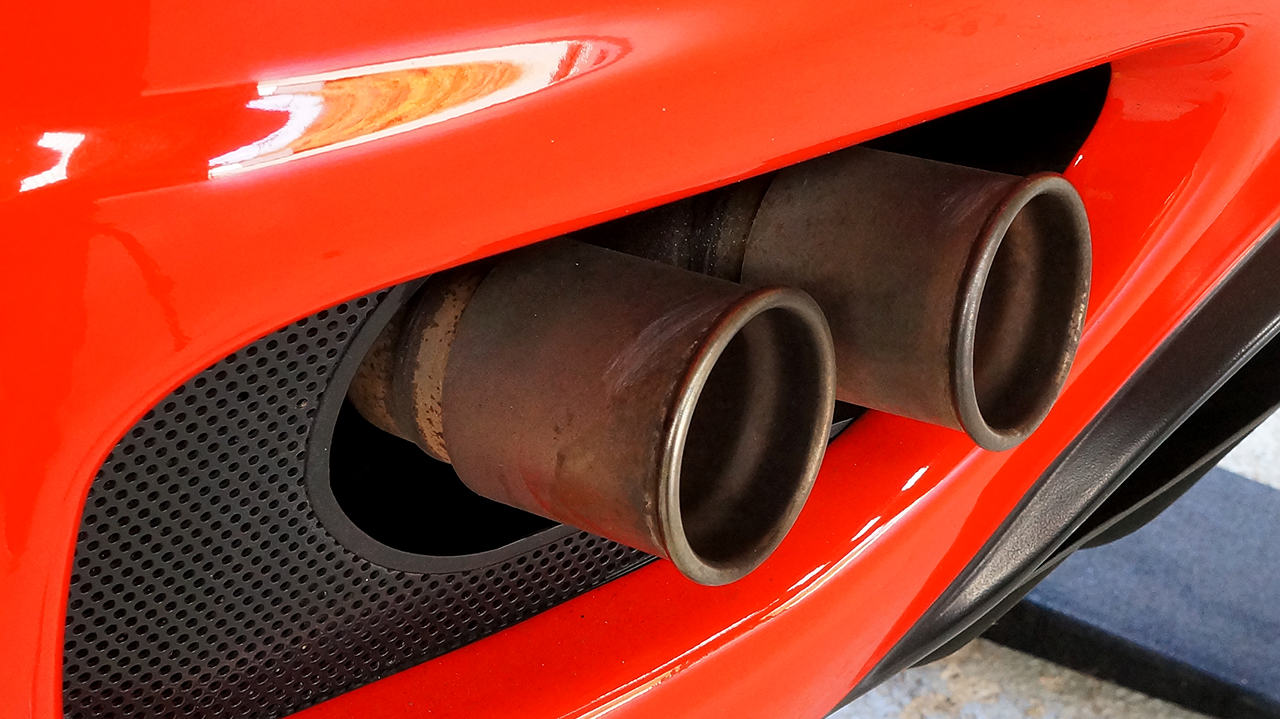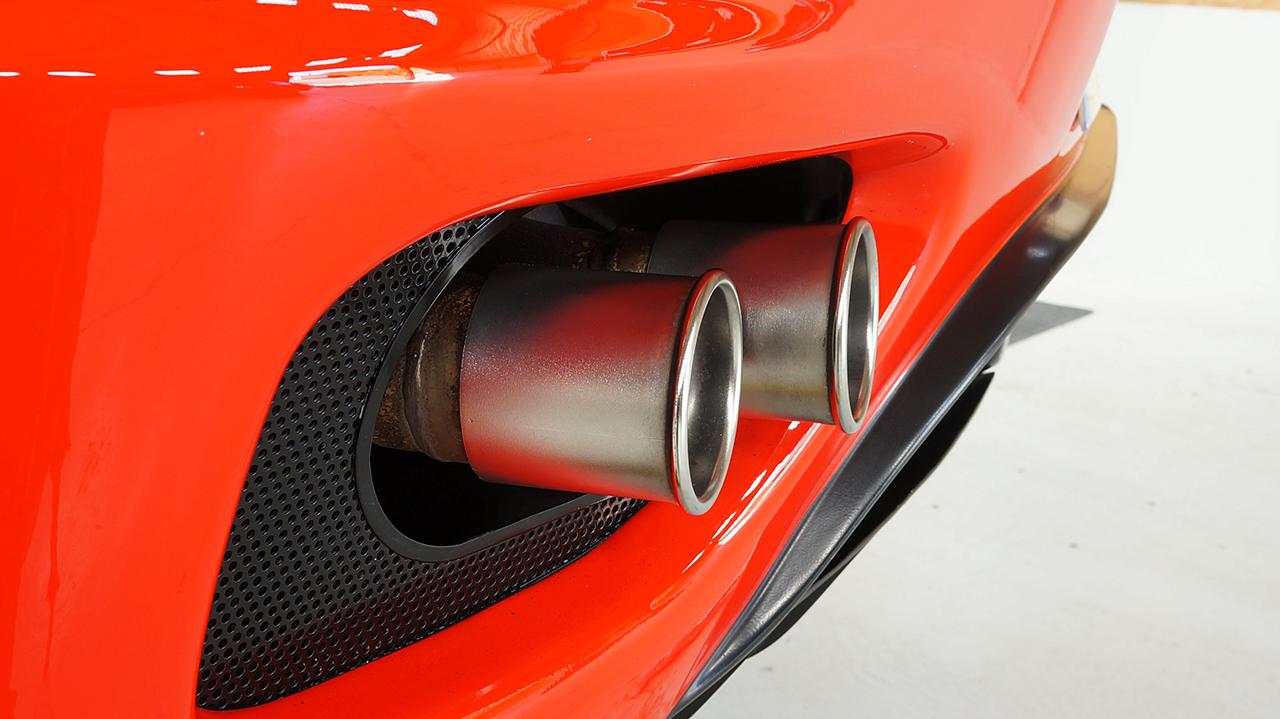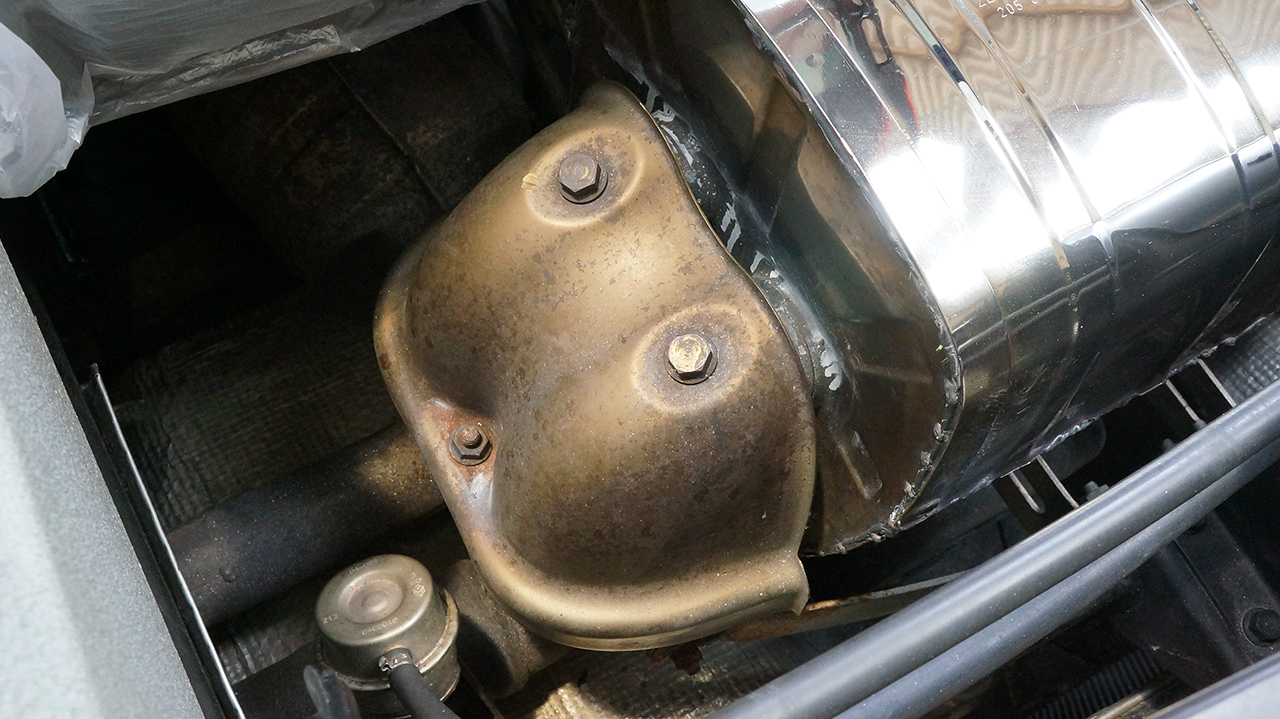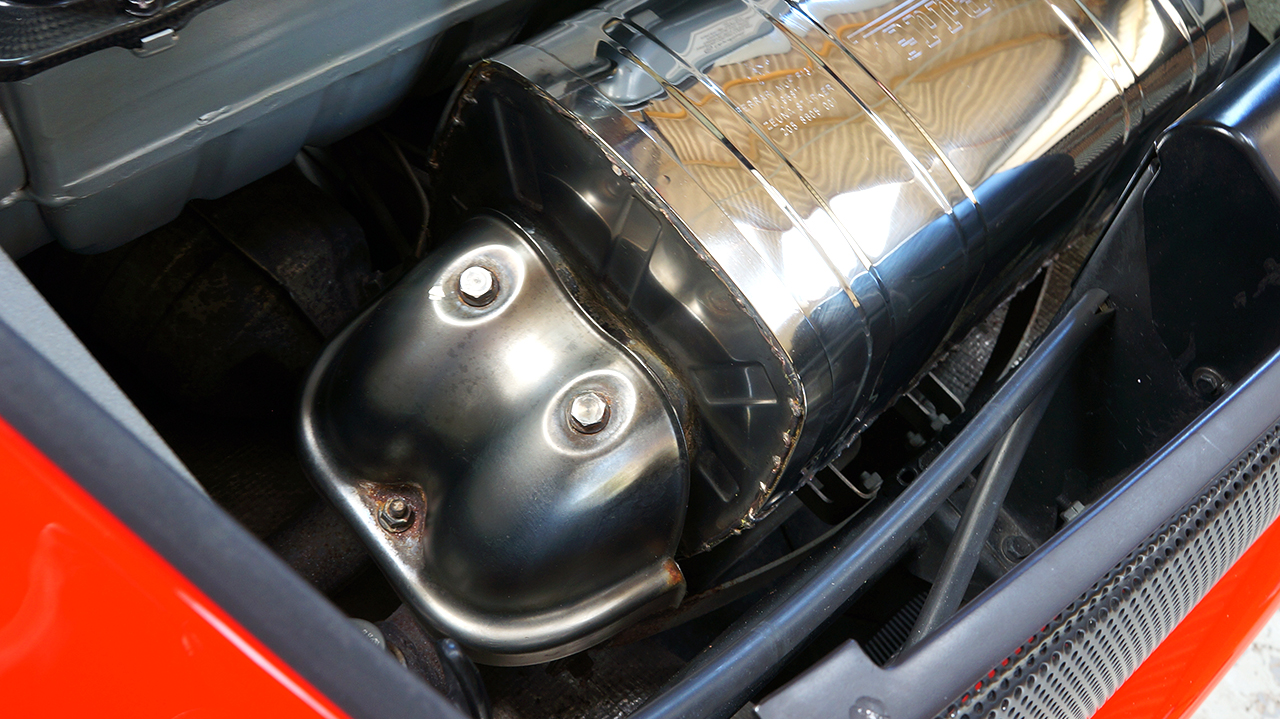 The interior was in need of a thorough cleaning so the seats were removed so that the entire cabin could be attended too. The seats were cleaned with RaceGlaze Alcantera Cleaner and the carbon fiber backs were treated with Werkstatt Prime which has excellent cleaning and light polishing properties but also lays down a coat of sealant protection. Some of the bobbling on the bolsters was also carefully removed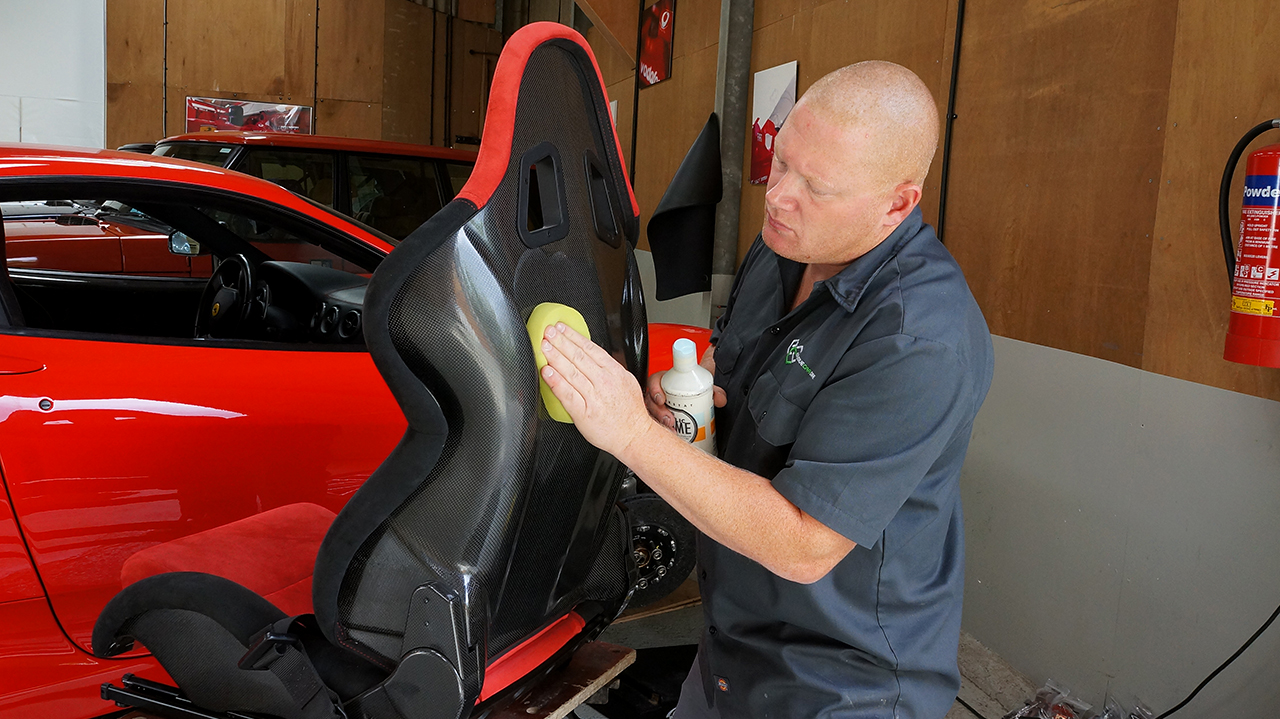 All the leather was cleaned with Swissvax Leather Cleaner and then conditioned with Swissvax Leather Milk.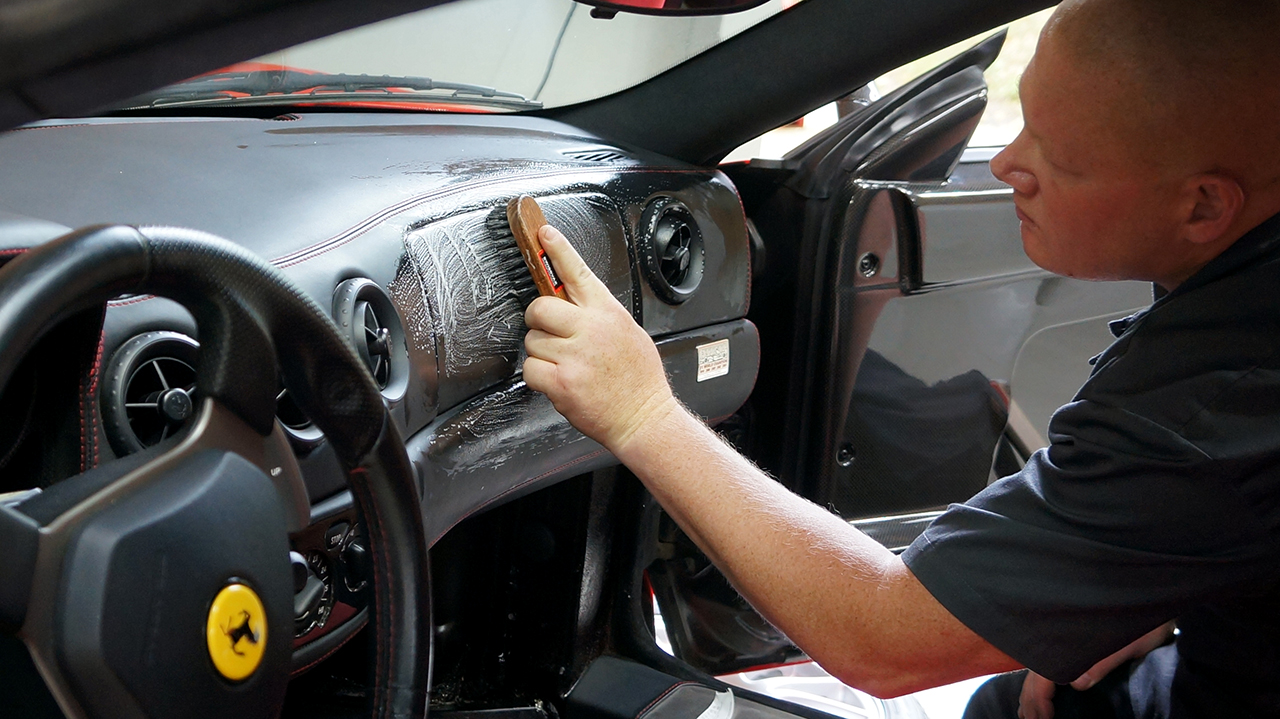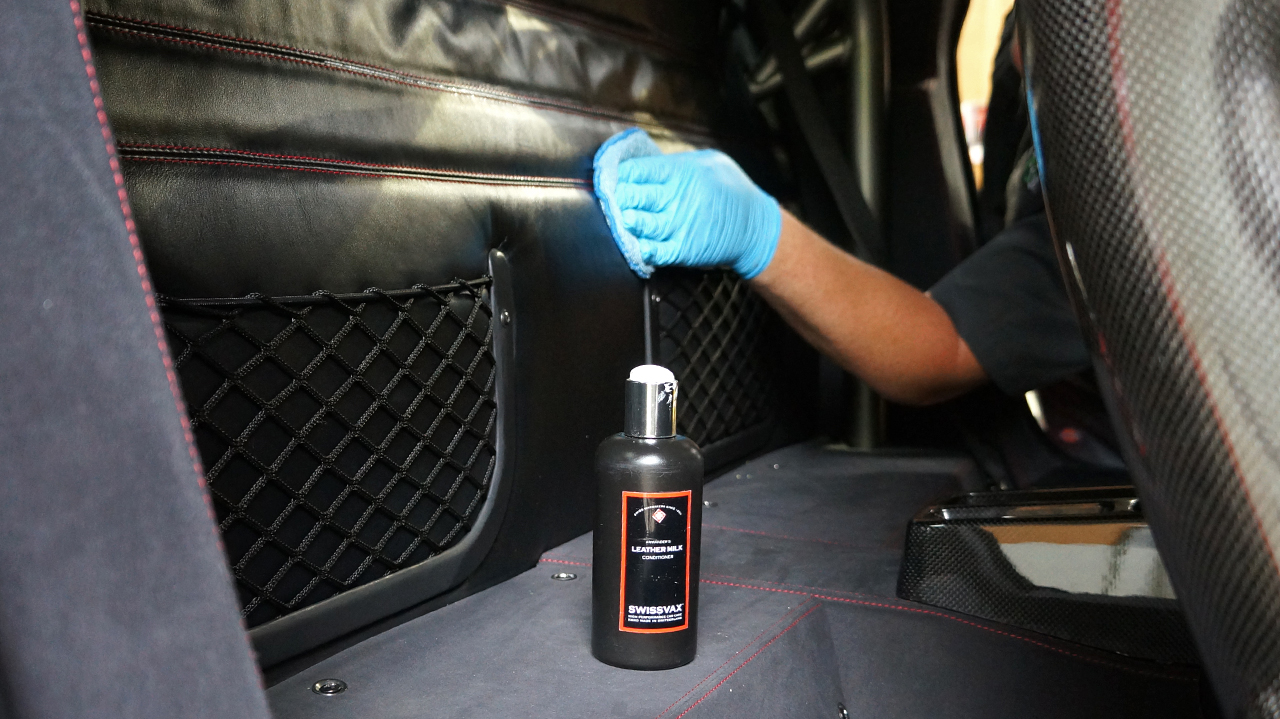 Rubber seals were conditioned with Swissvax Seal Feed, a conditioner specially formulated to rejuvenate and protect natural rubber.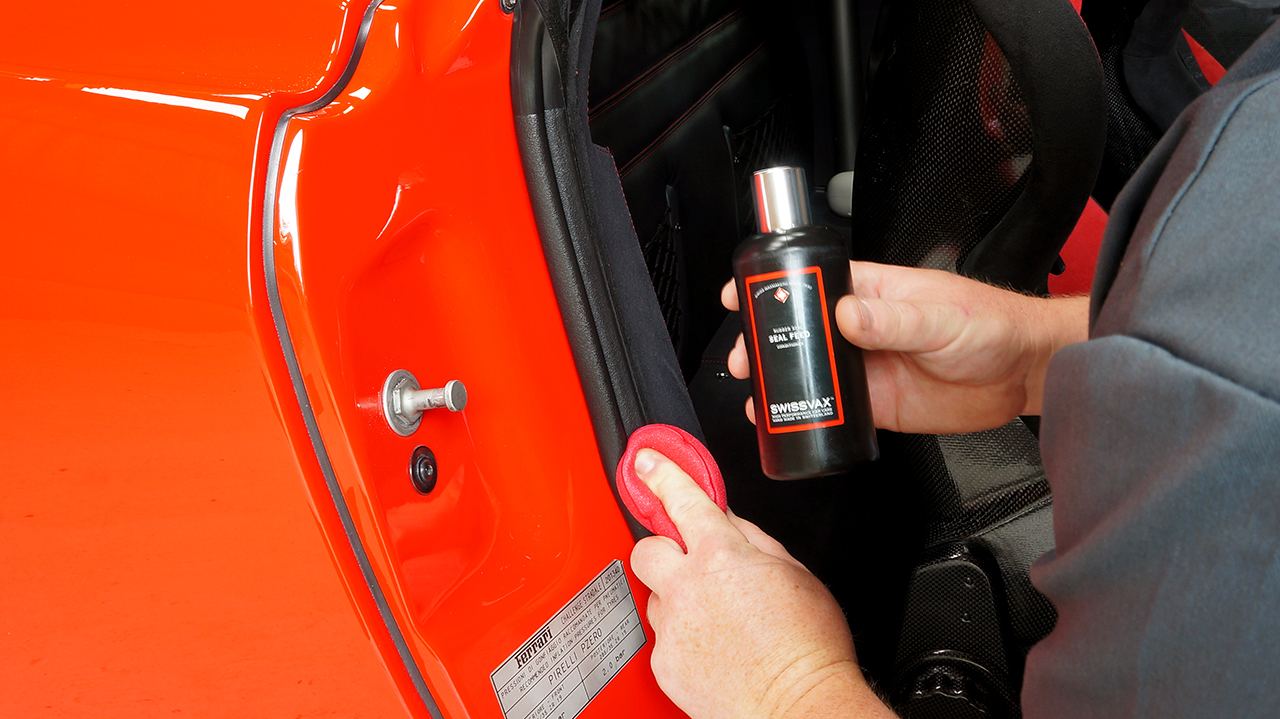 The carbon fiber door cards were given a light polish to restore some clarity and lustre which were then treated to a coat of Swissvax Carnauba Wax.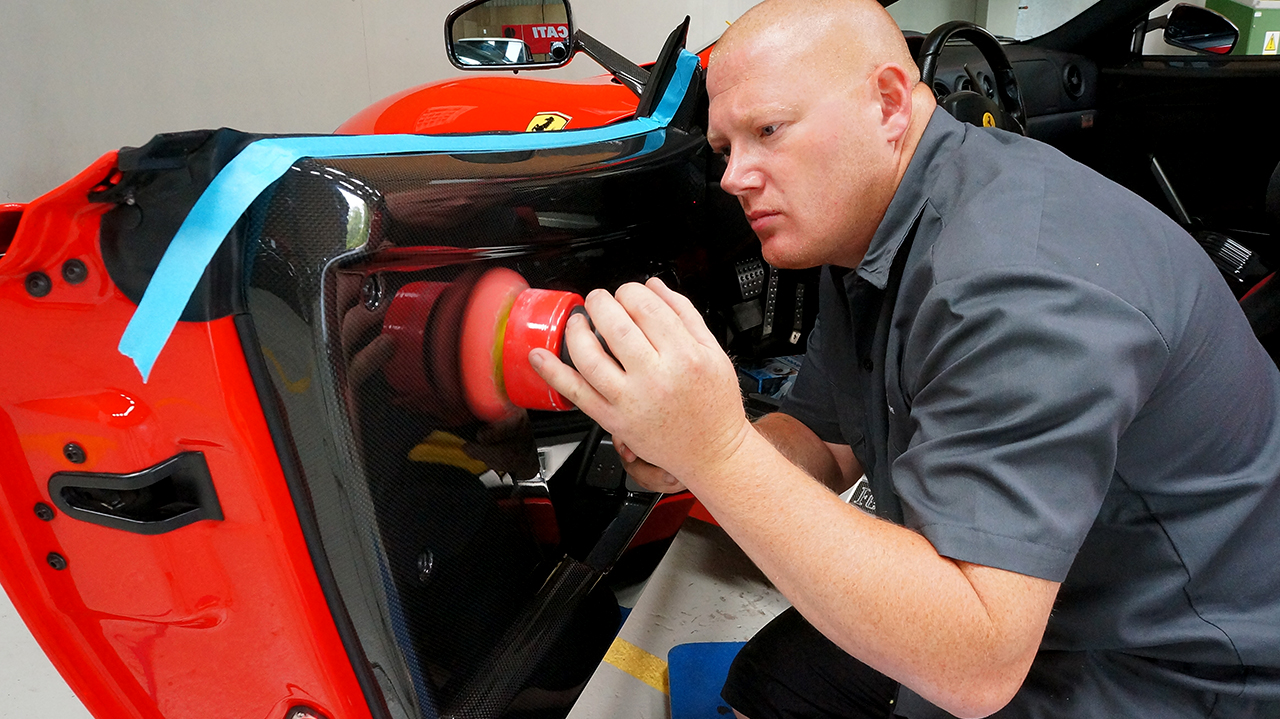 How the door cards looked before being polished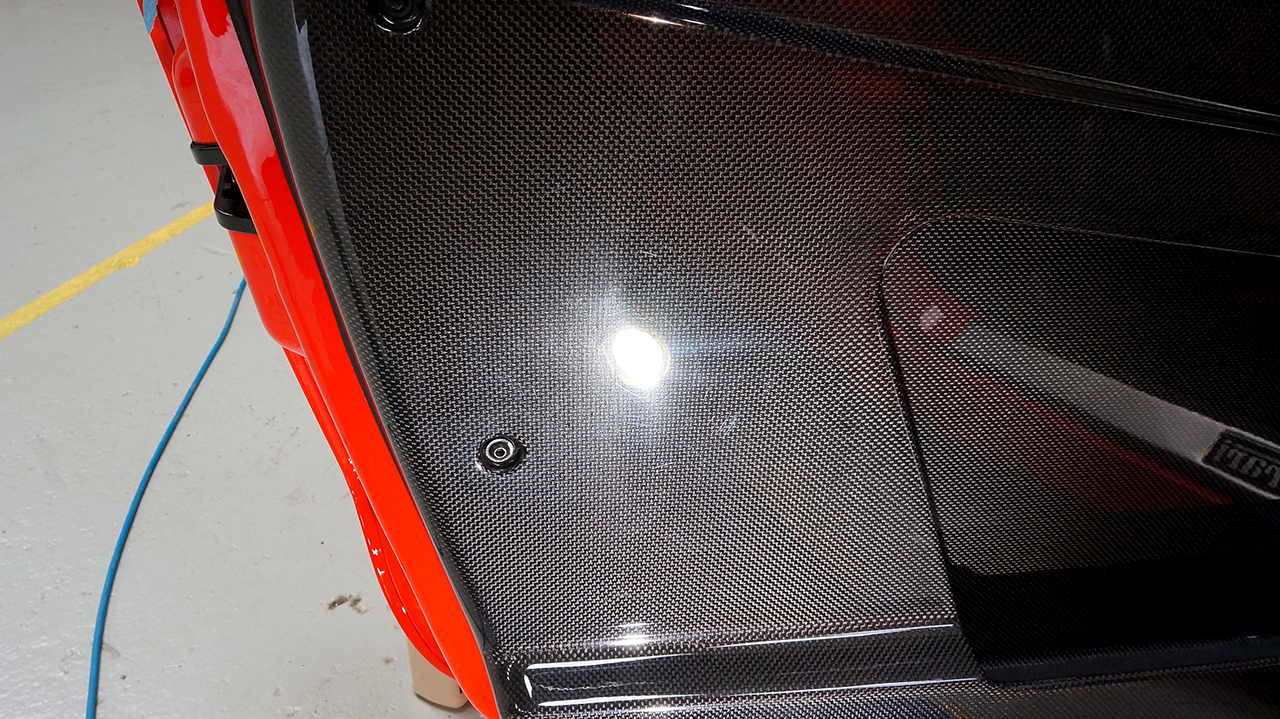 And after… clarity restored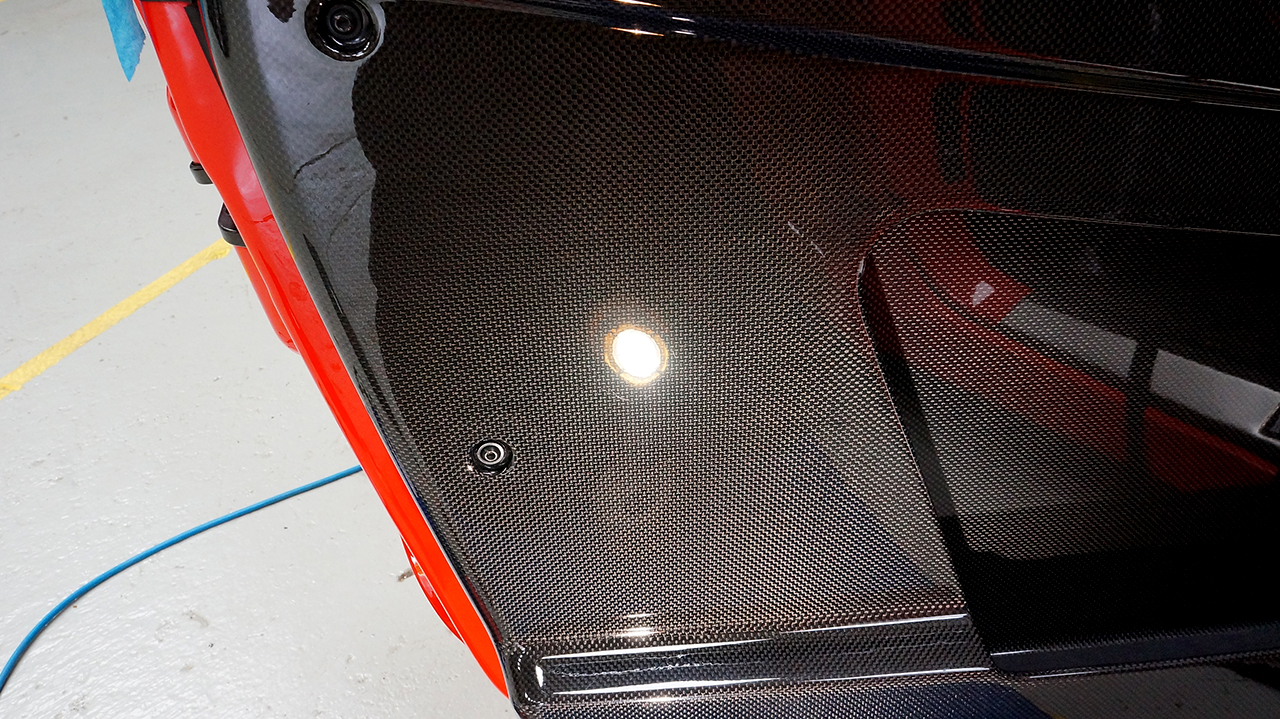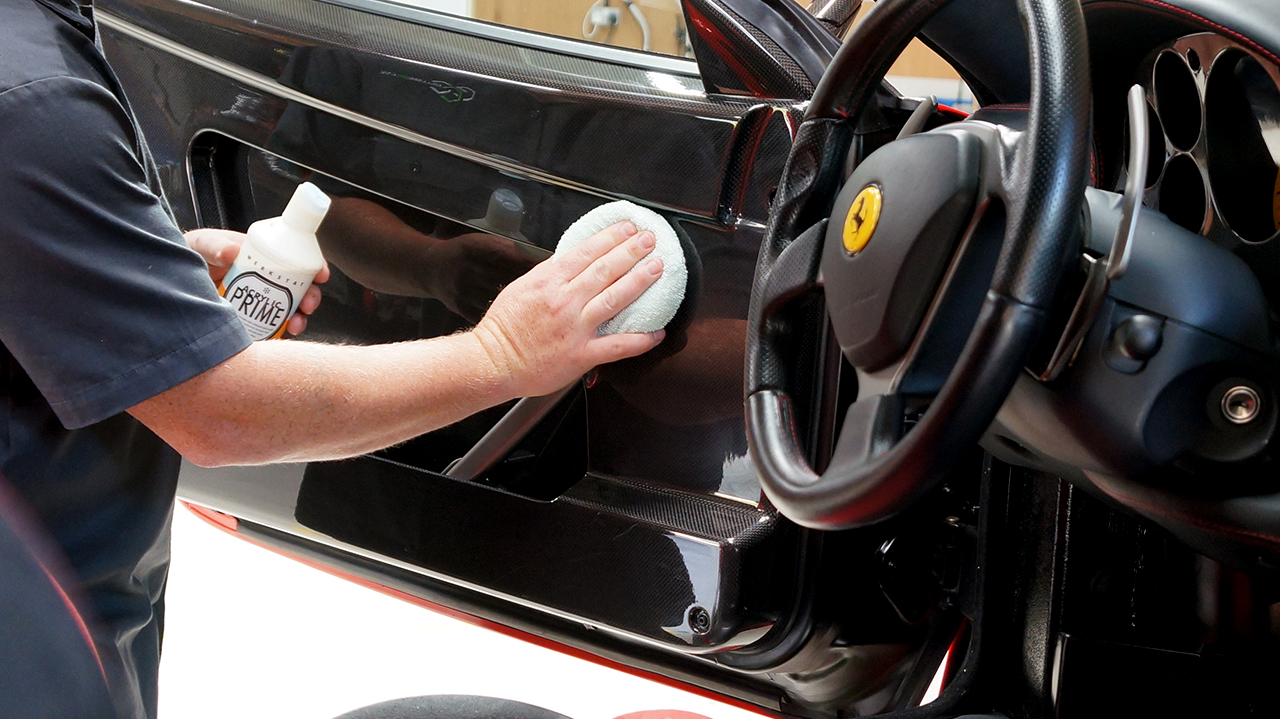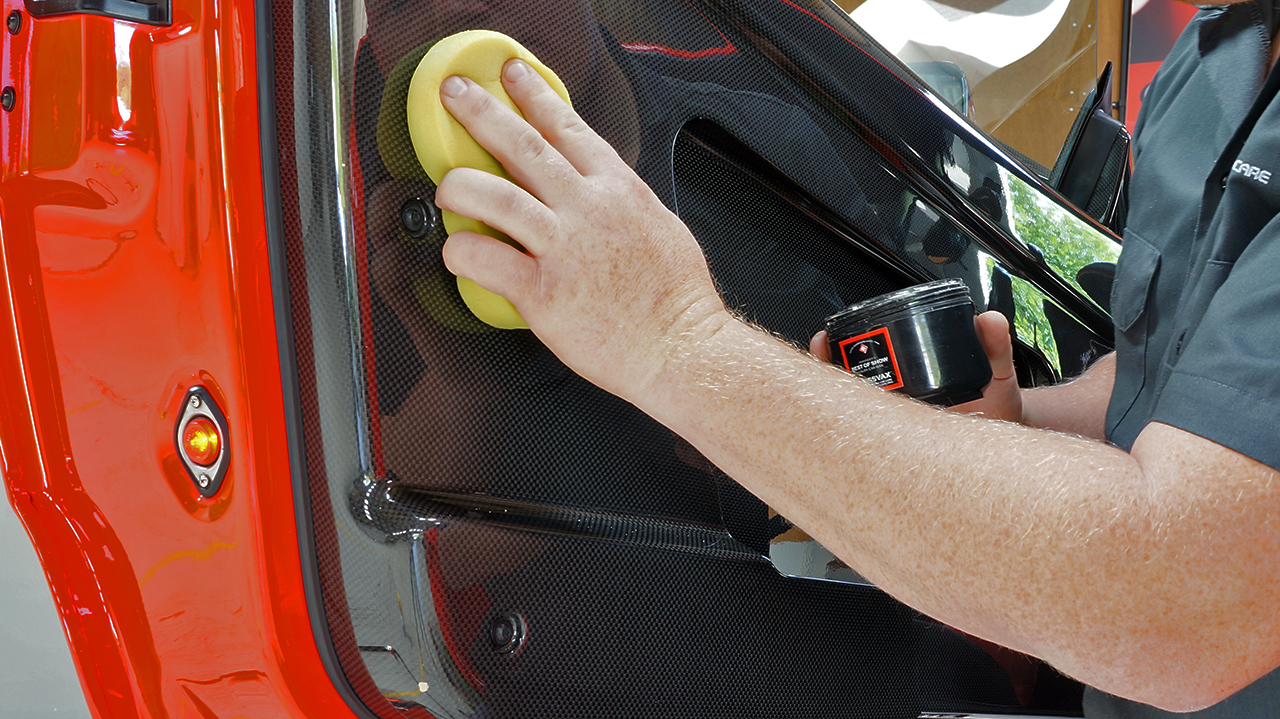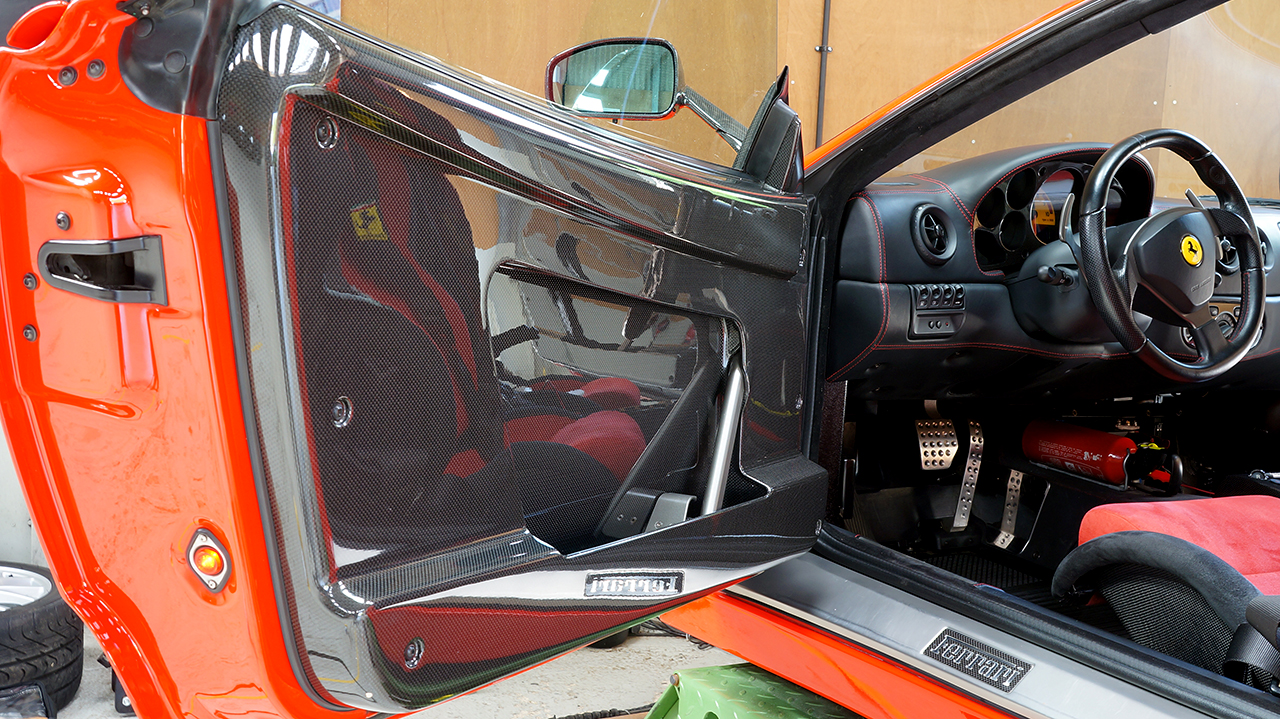 Before starting the machine polishing stages some stone chips were touched in, and this was carried out using ChipEx Paint Chip Repair Kit. Each kit is hand-made to the original manufacturers colour formulation using the vehicle's original paint code.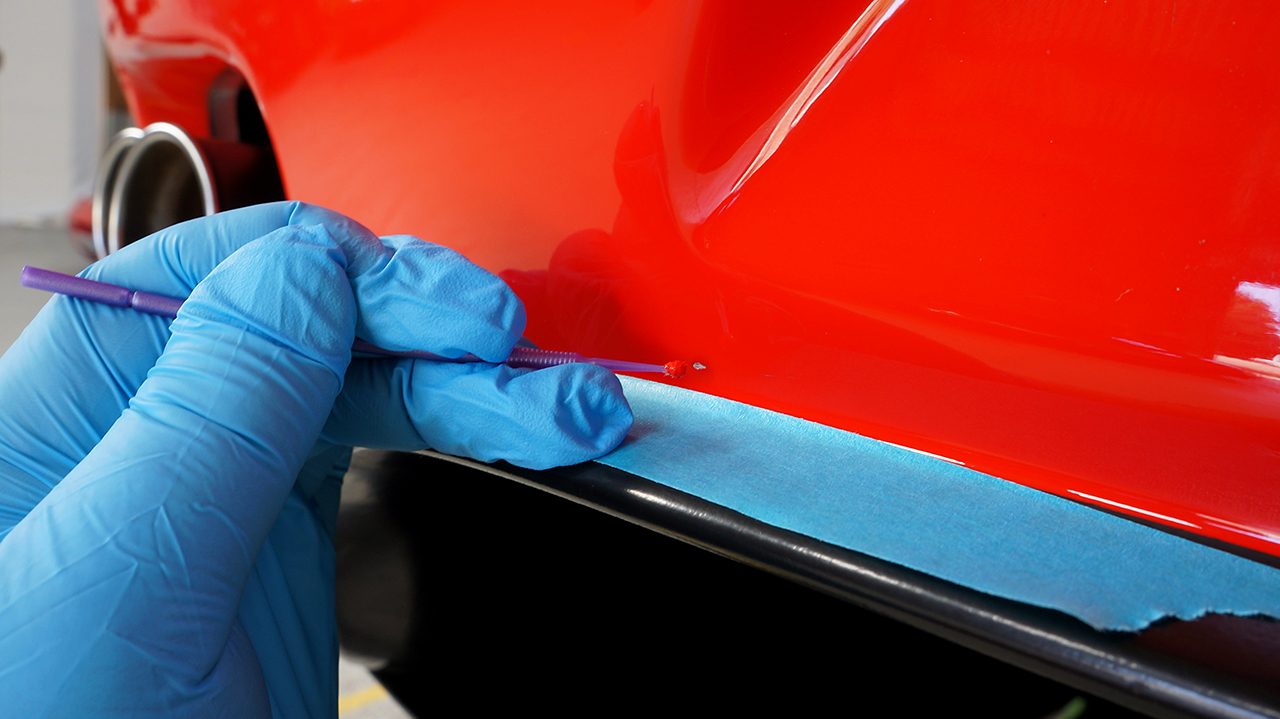 Next step was to settle on a polish and pad combination that would remove as much defects as possible whilst also removing as little clear coat as possible. Using various machines coupled with various pads and polishes the Rosso Scuderia paintwork was corrected and refined to leave a high gloss finish, free from swirl marks and other paint defects.
Below are selection of "before & after" photos during the machine polishing stages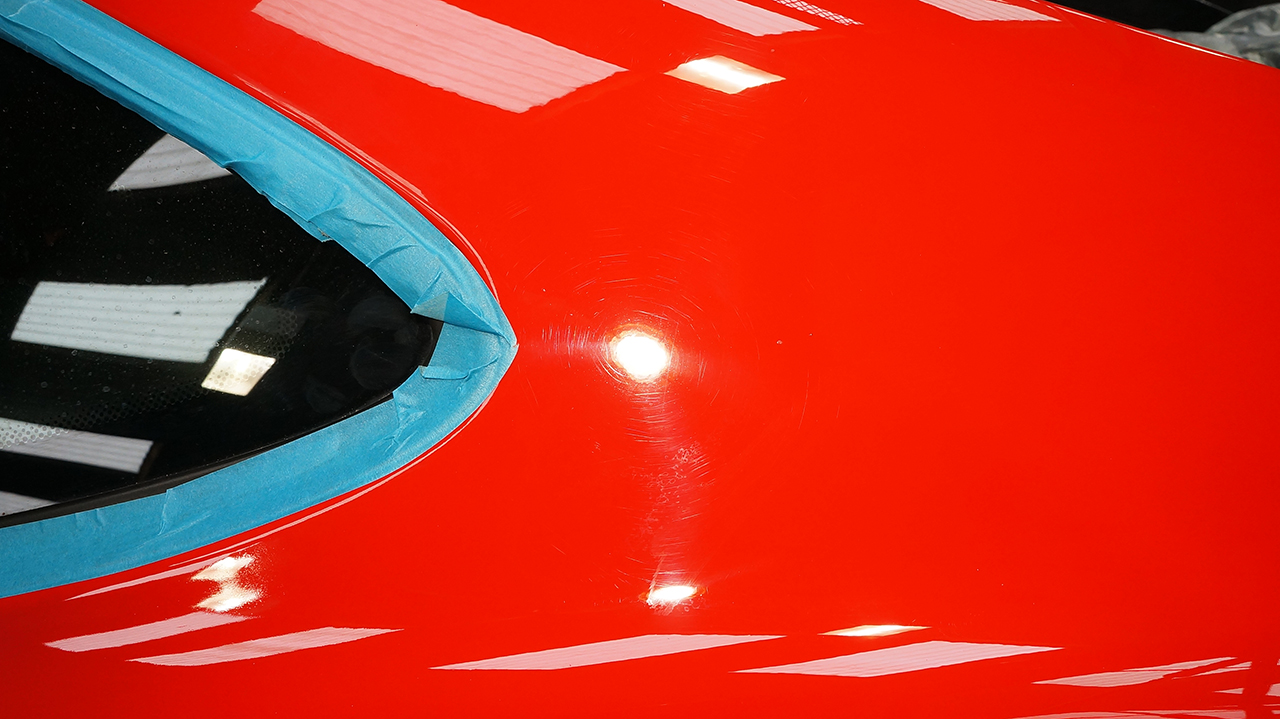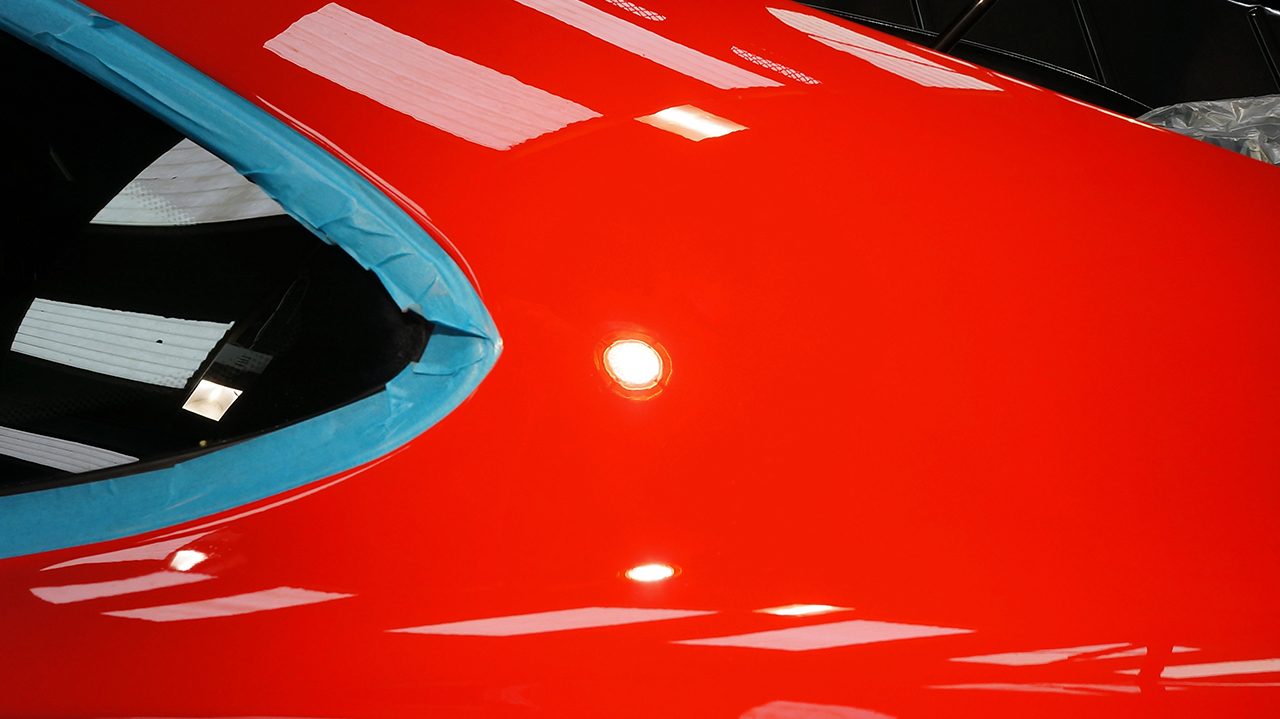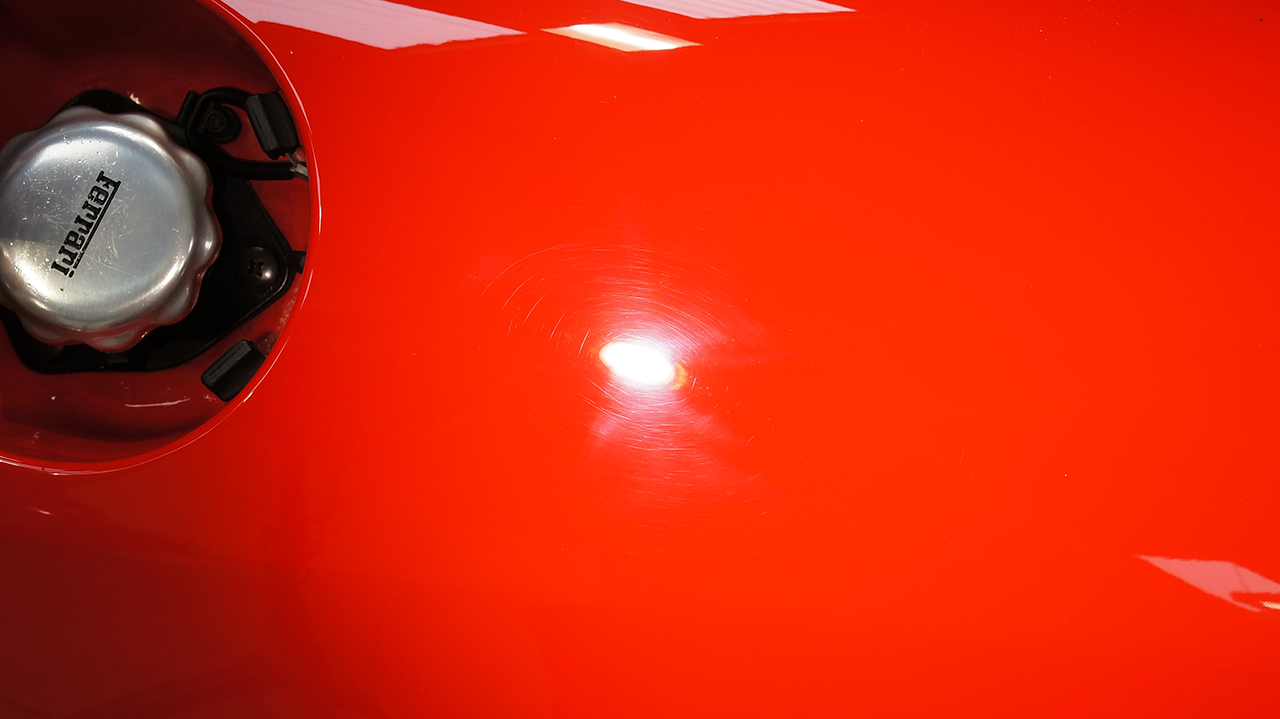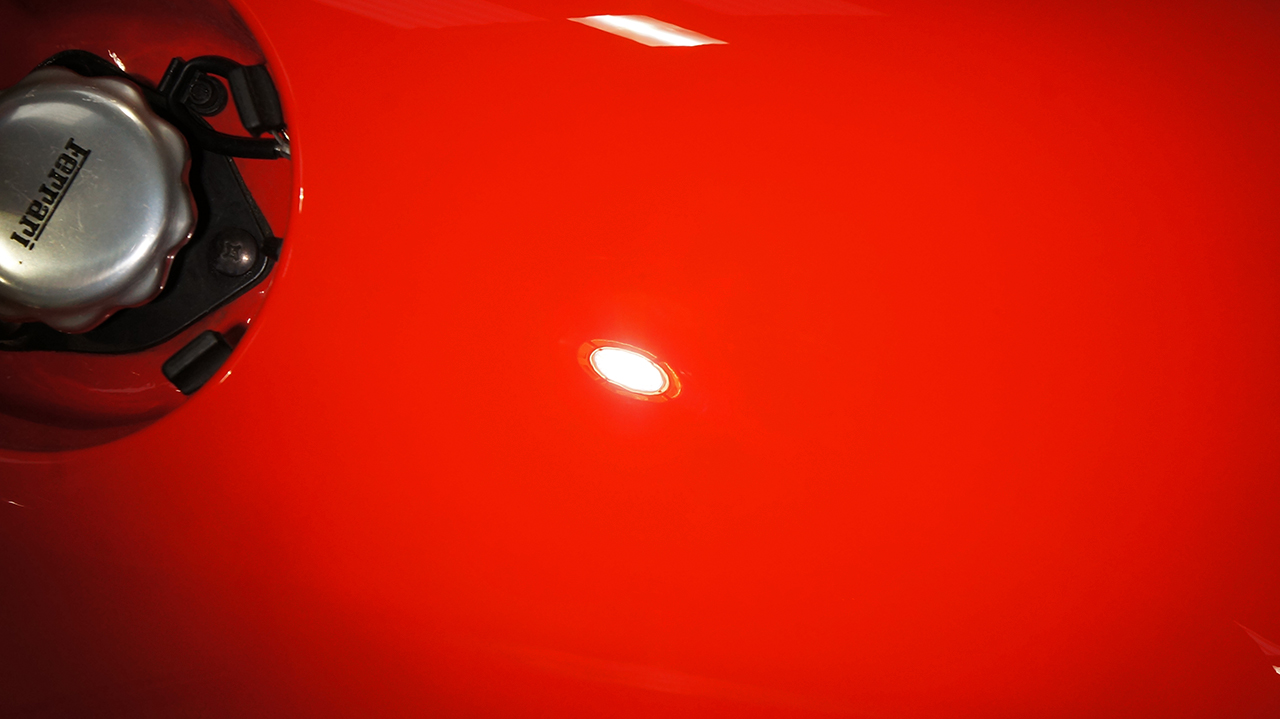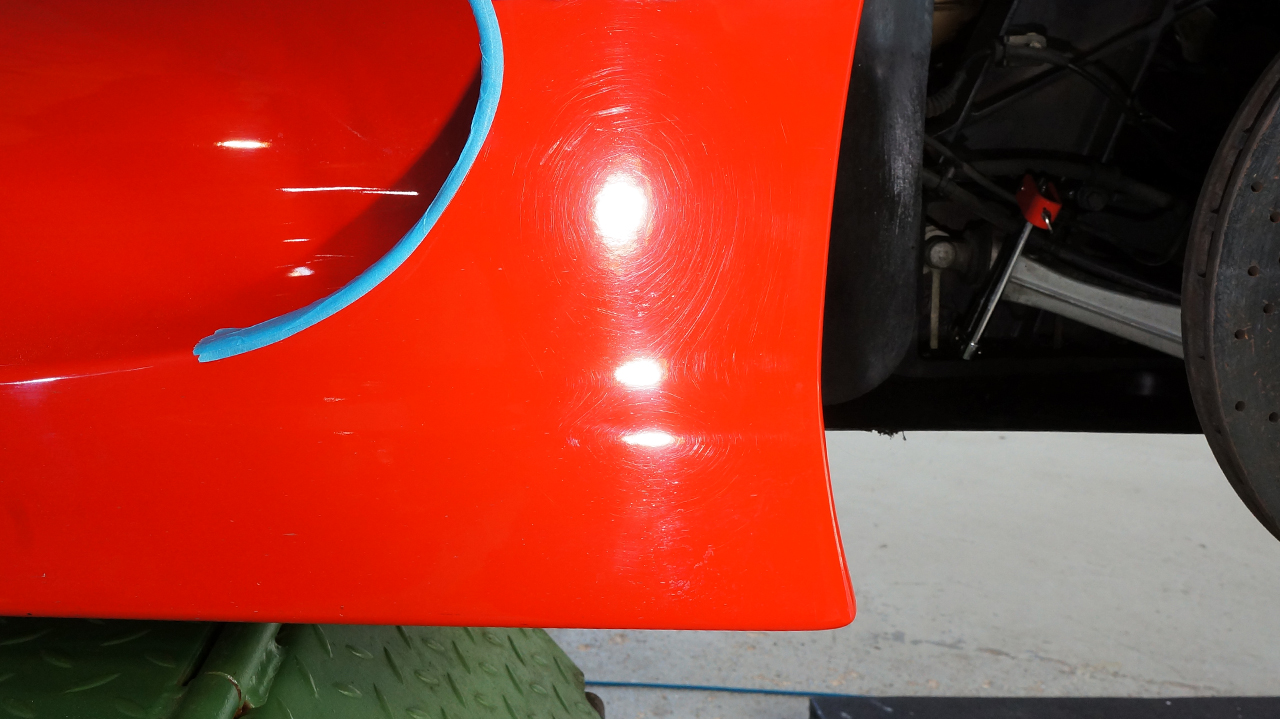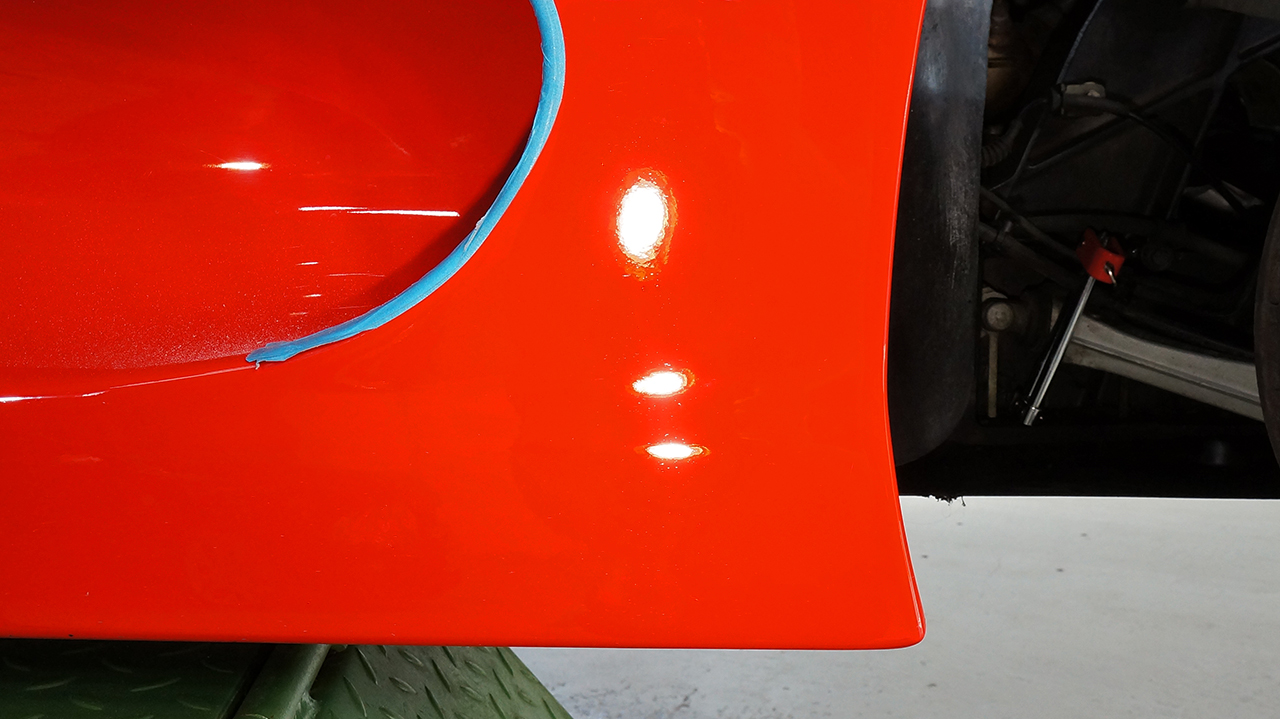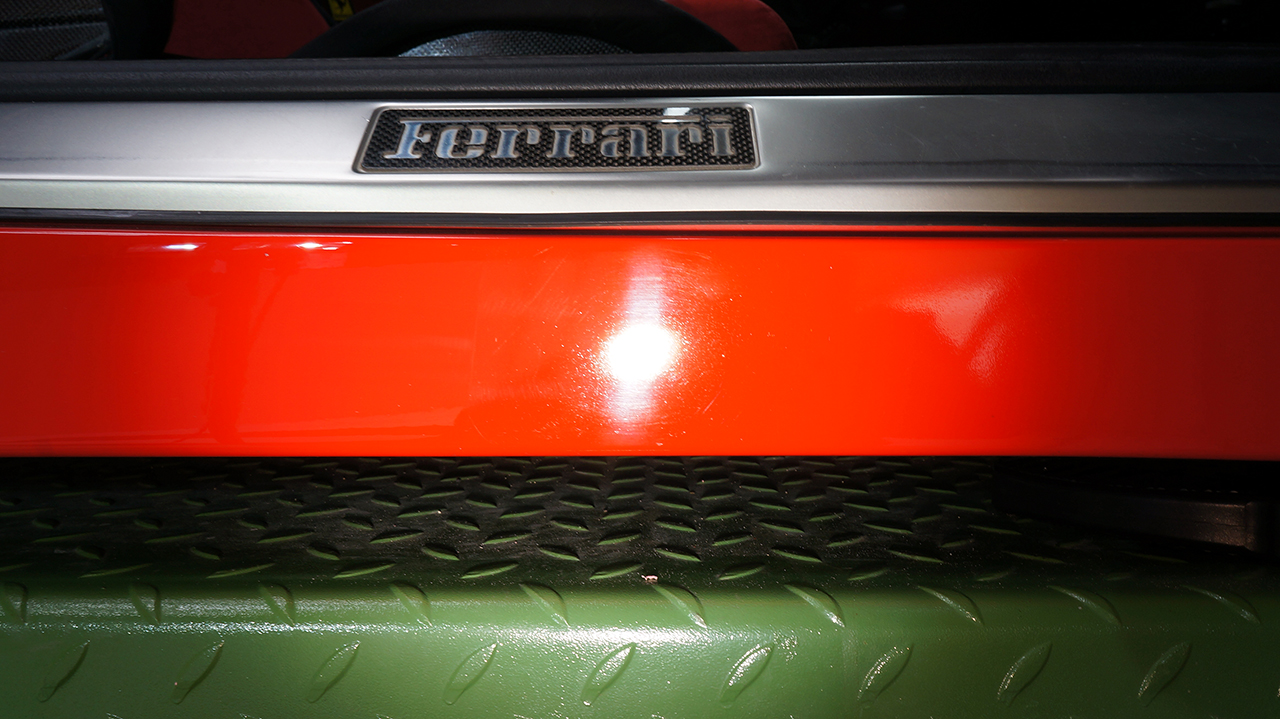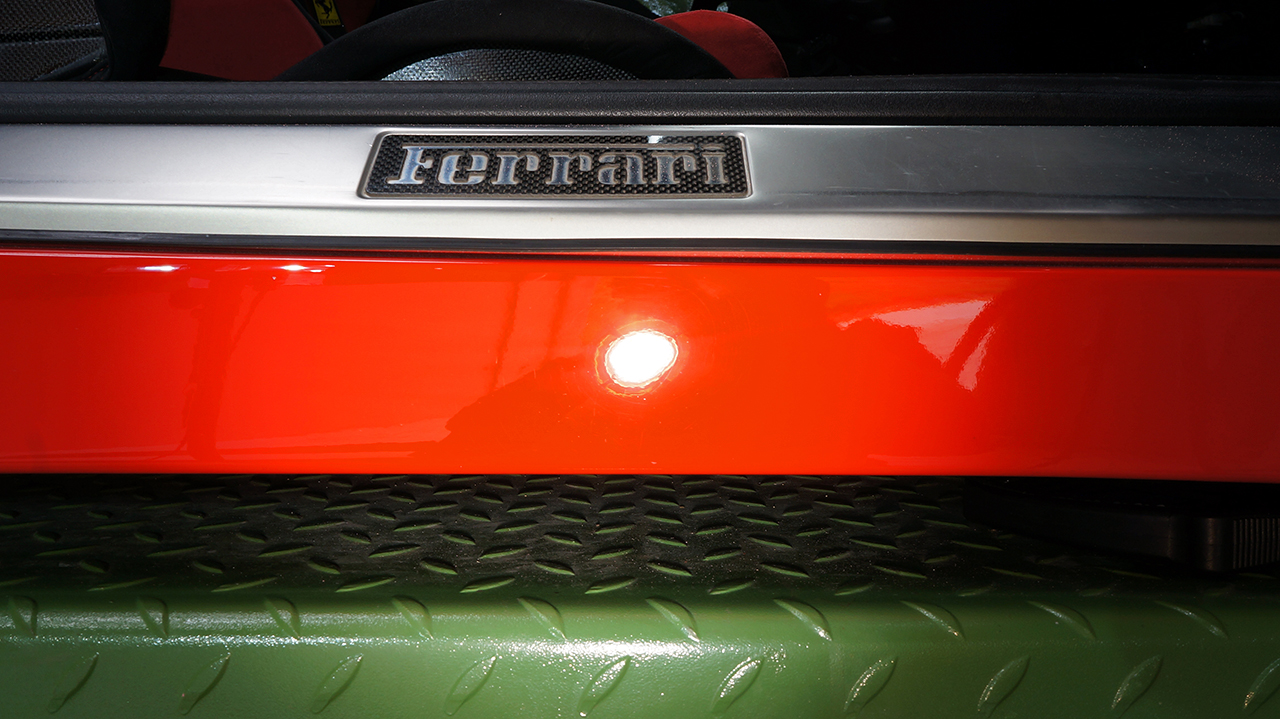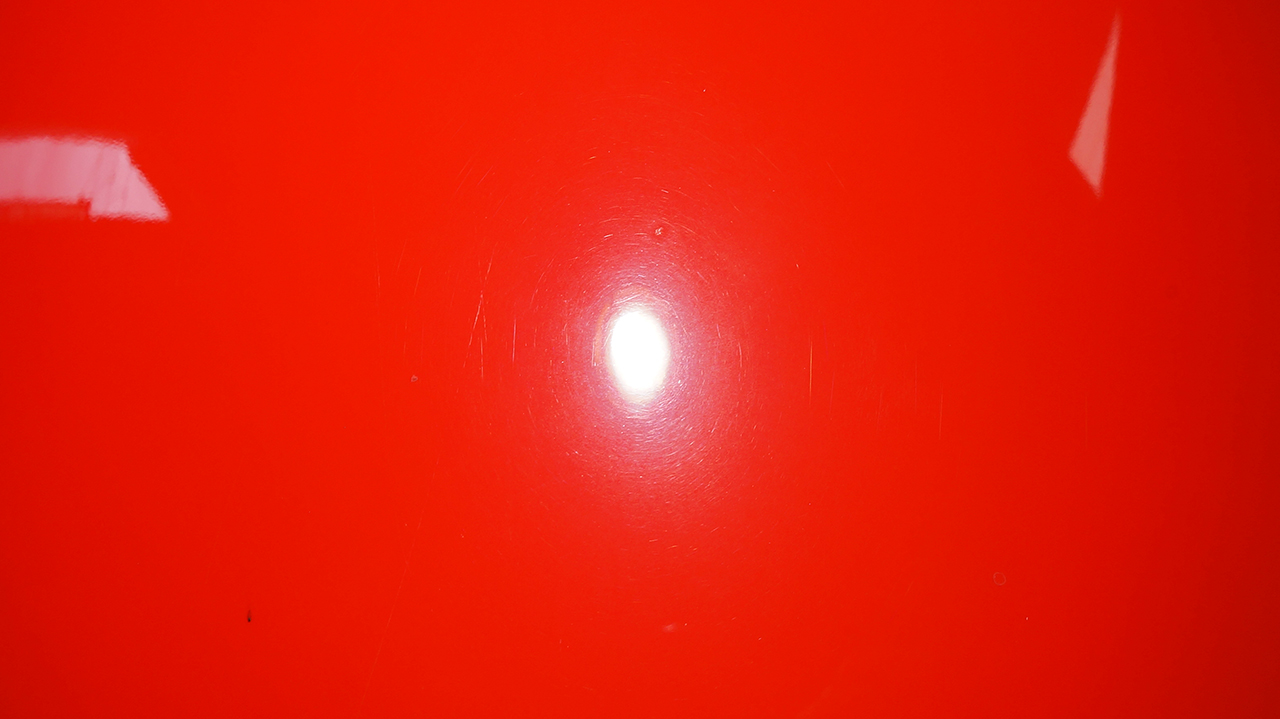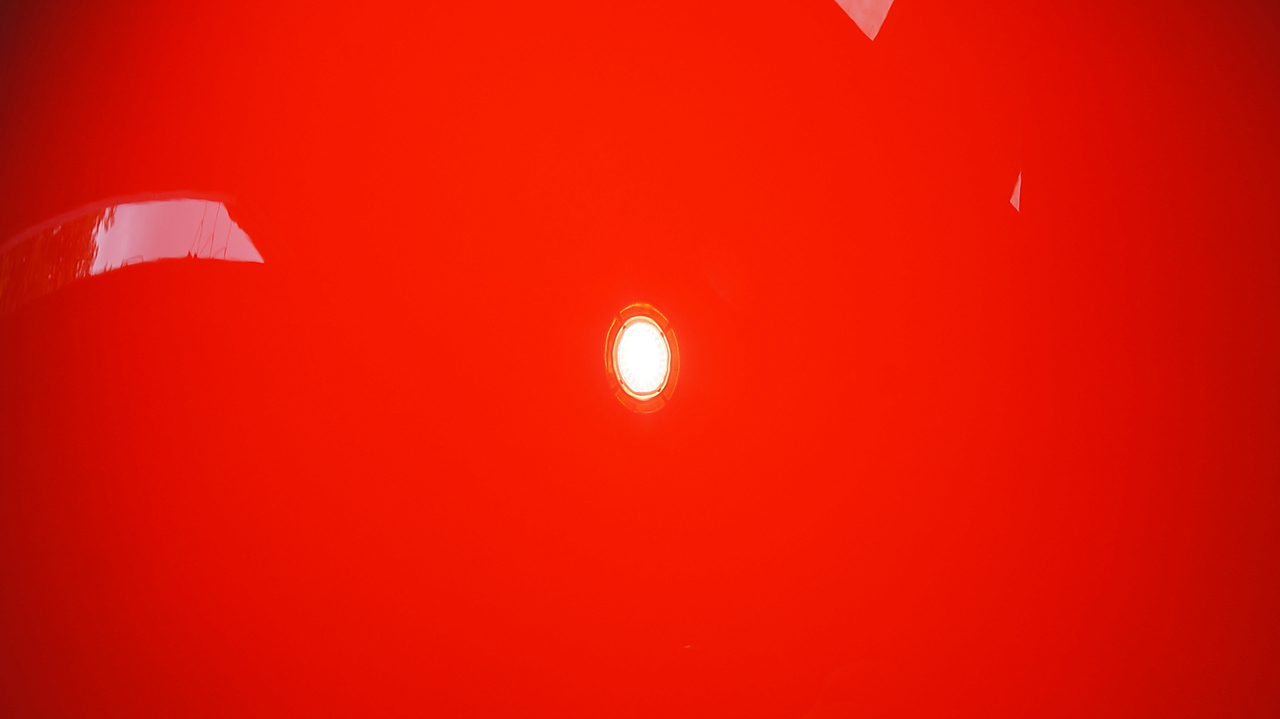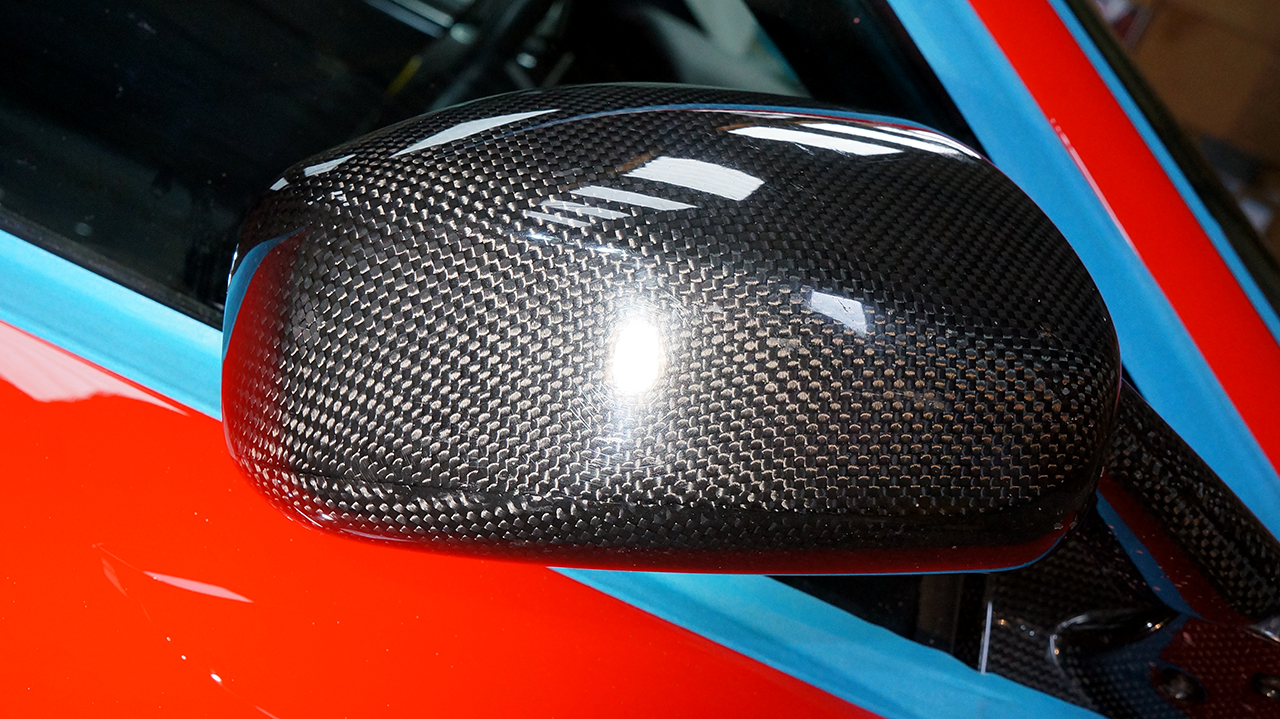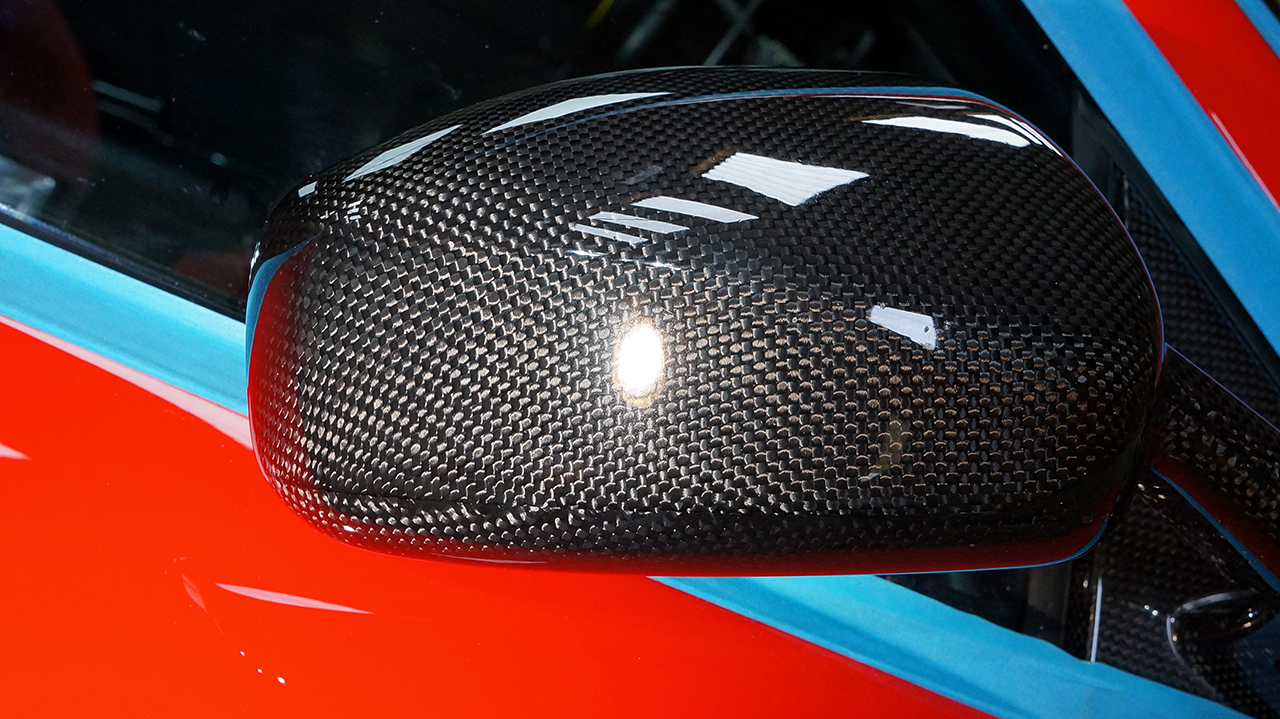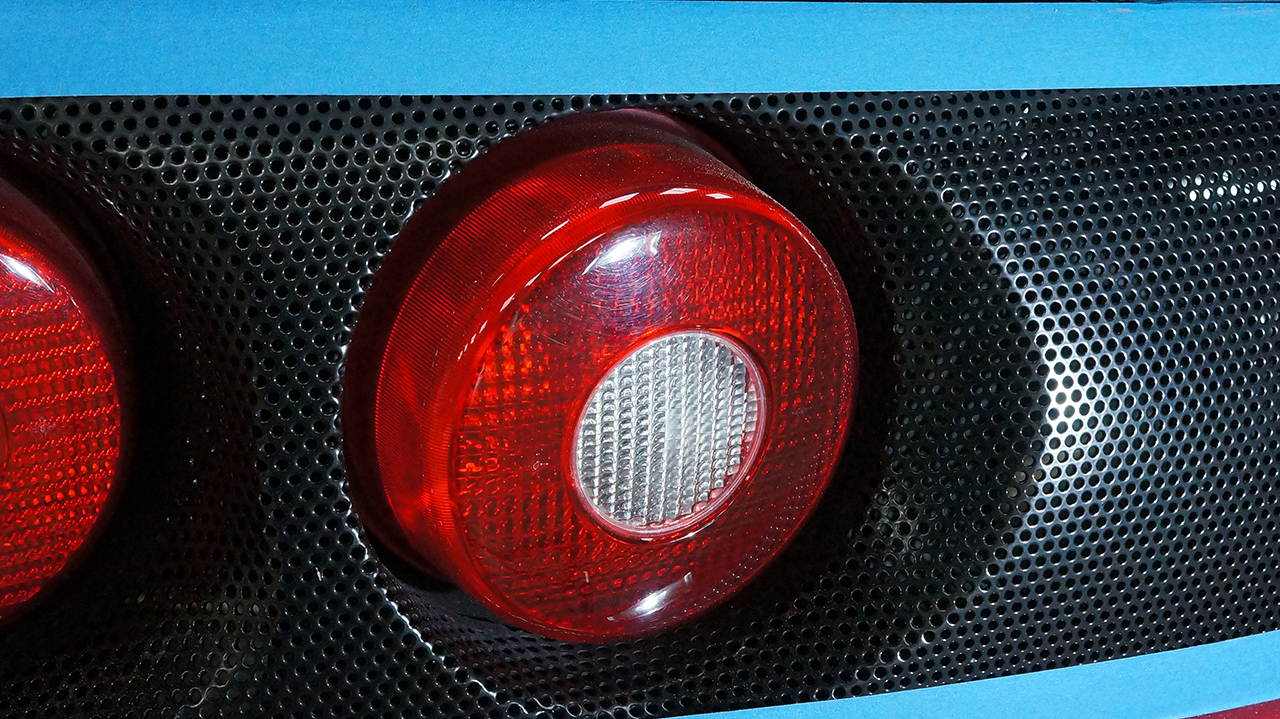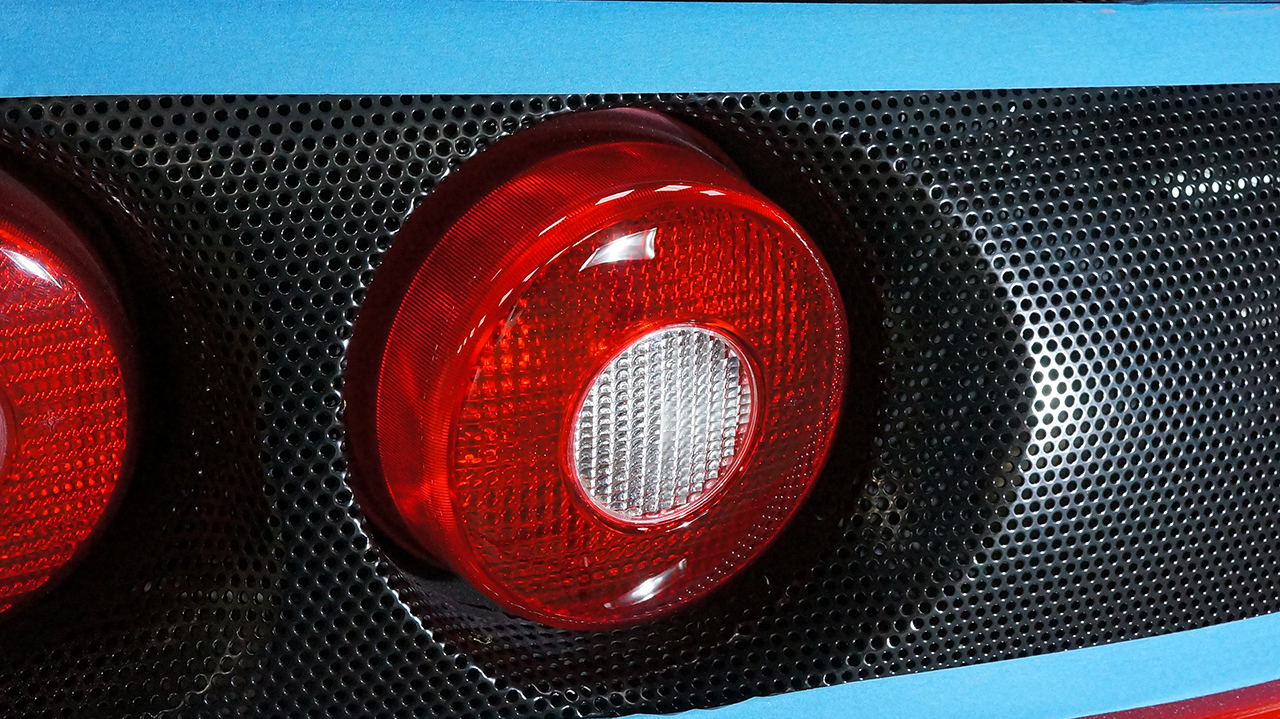 With the paintwork now free of blemishes and swirls it was then protected with Gtechniq Crystal Serum which was then topped with EXOv3.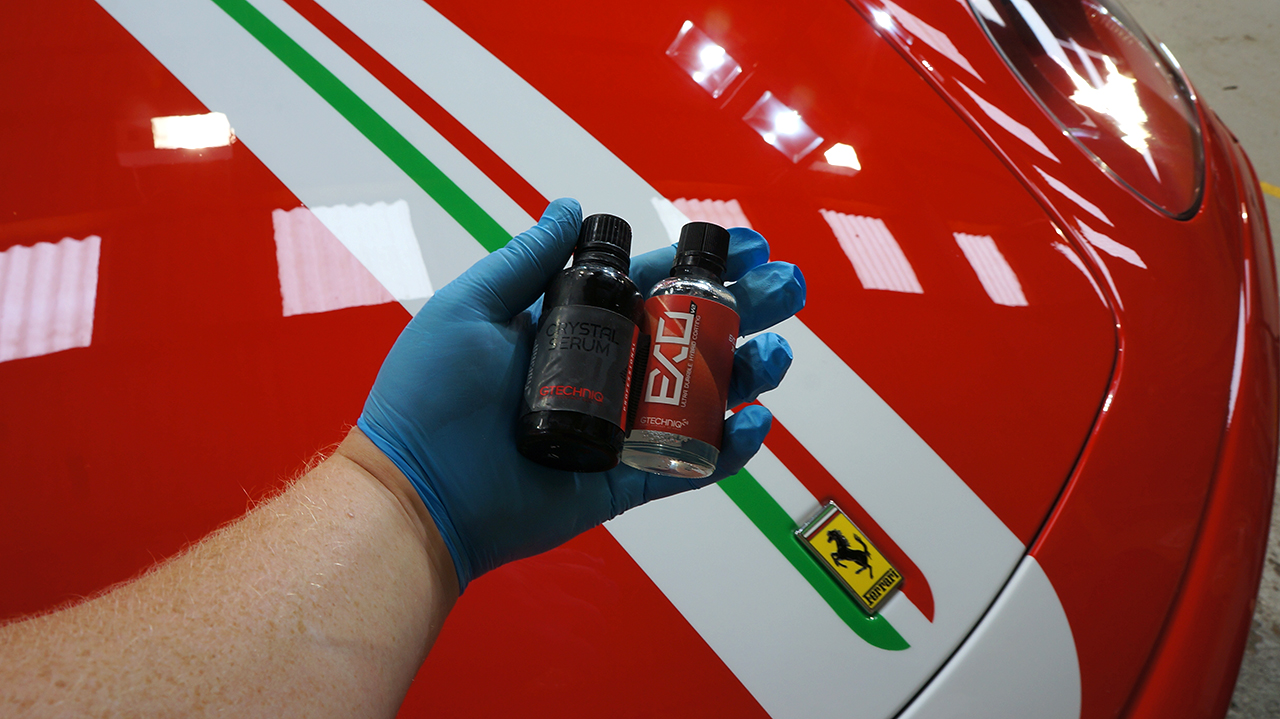 The refurbished calipers were fitted back onto the car by a Ferrari Technician from Bob Houghtons and then coated with Gtechniq C5.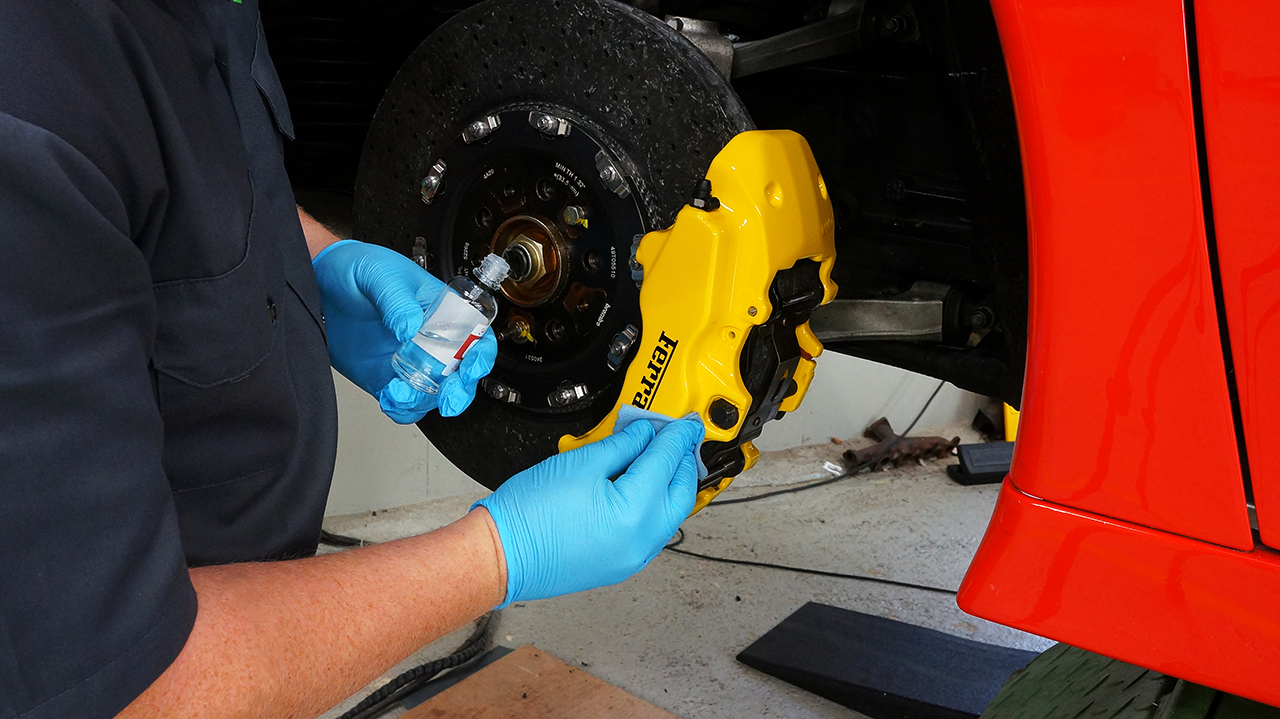 Here is the final result of all the hard work and long hours invested into the Ferrari 360 Challenge Stradale.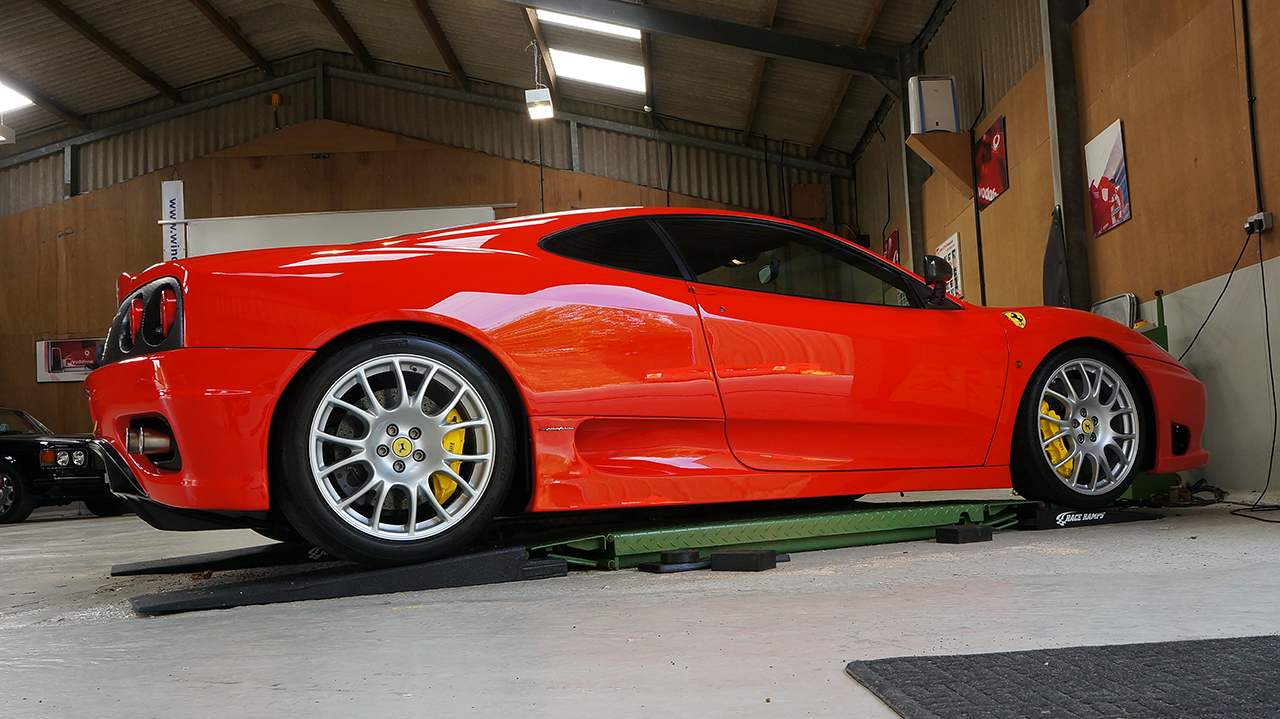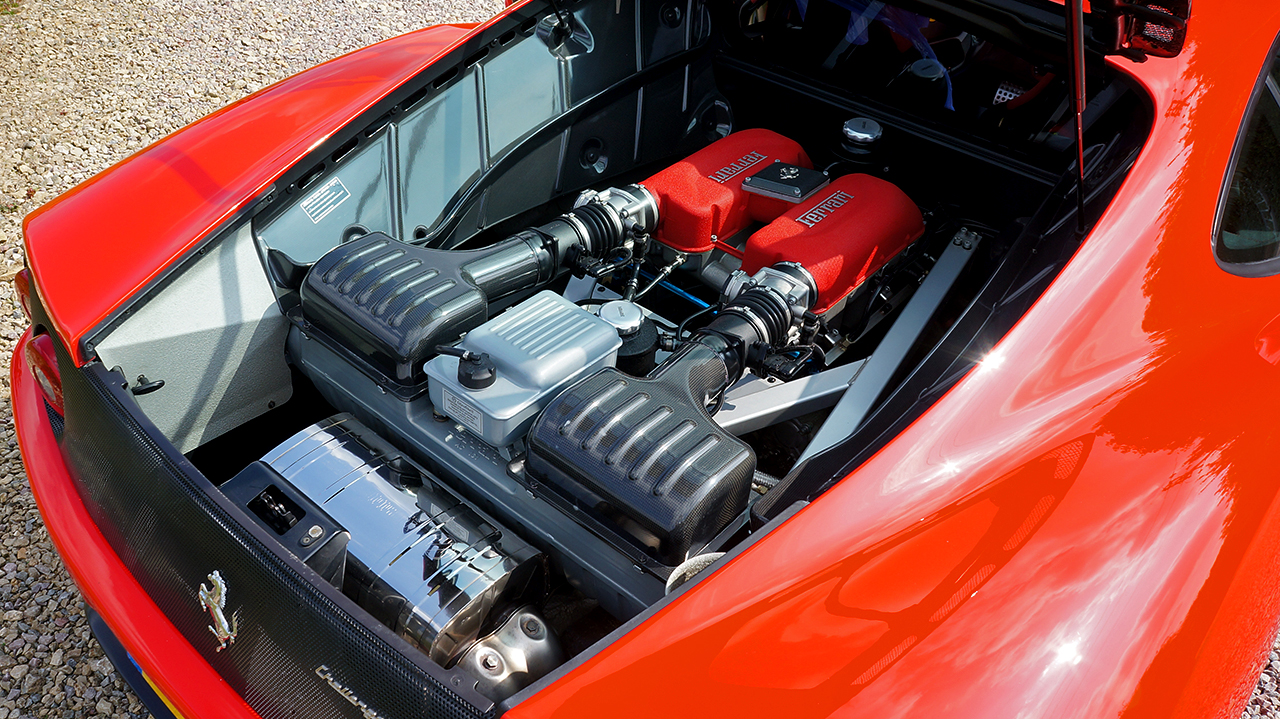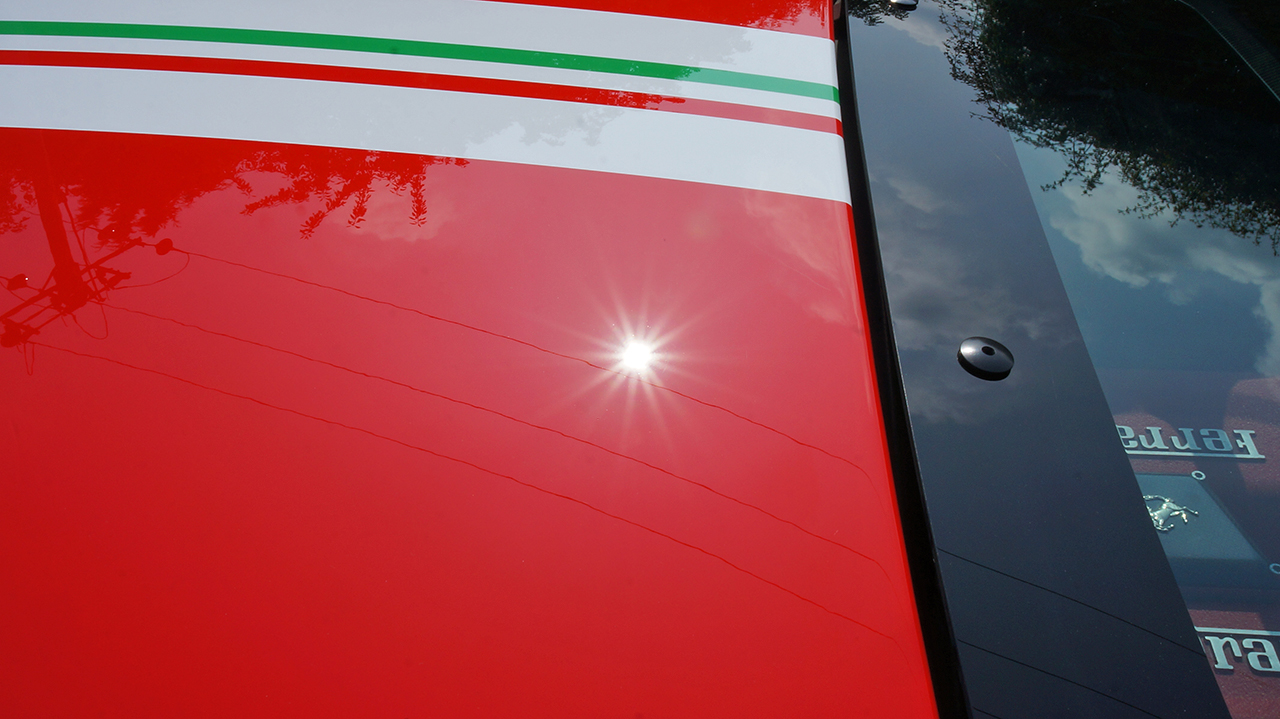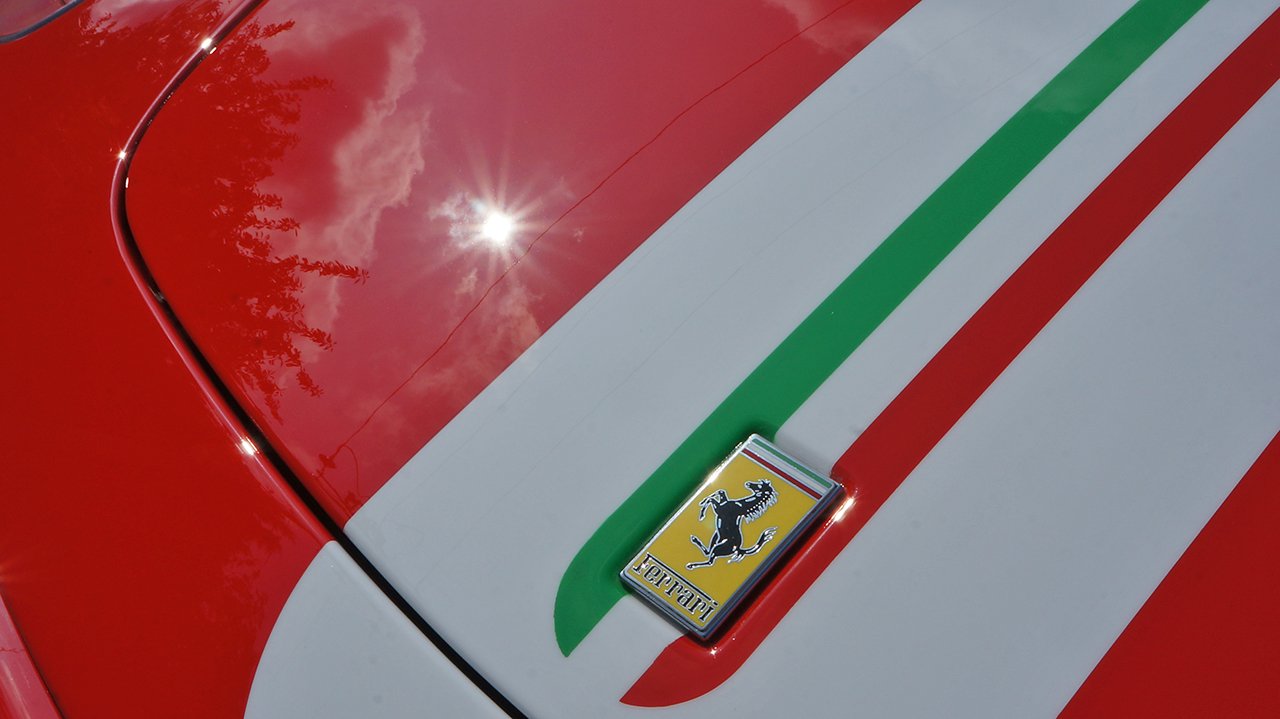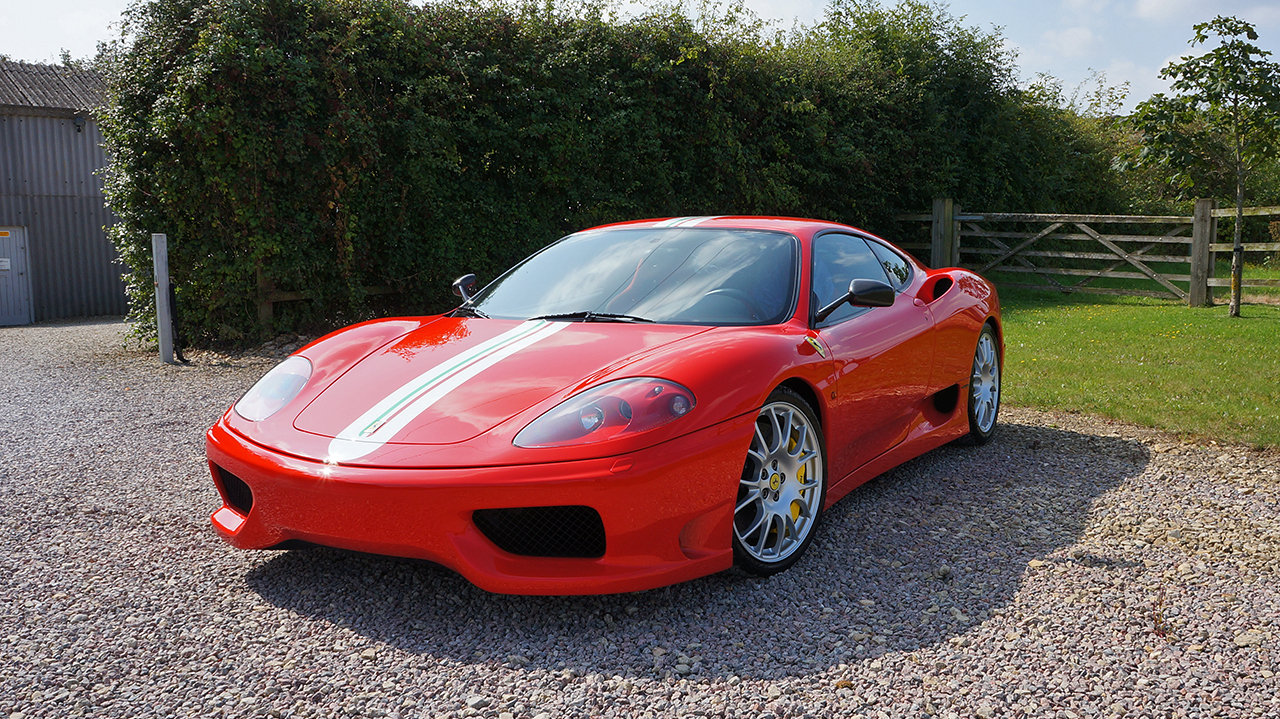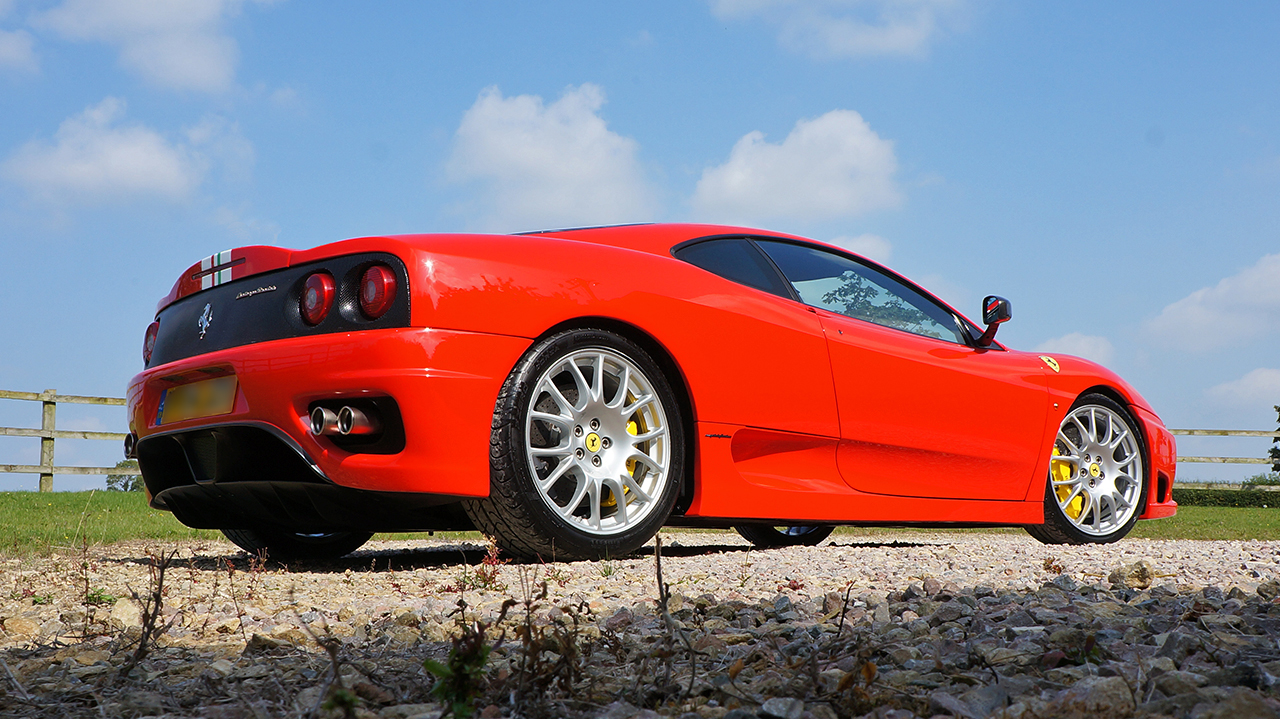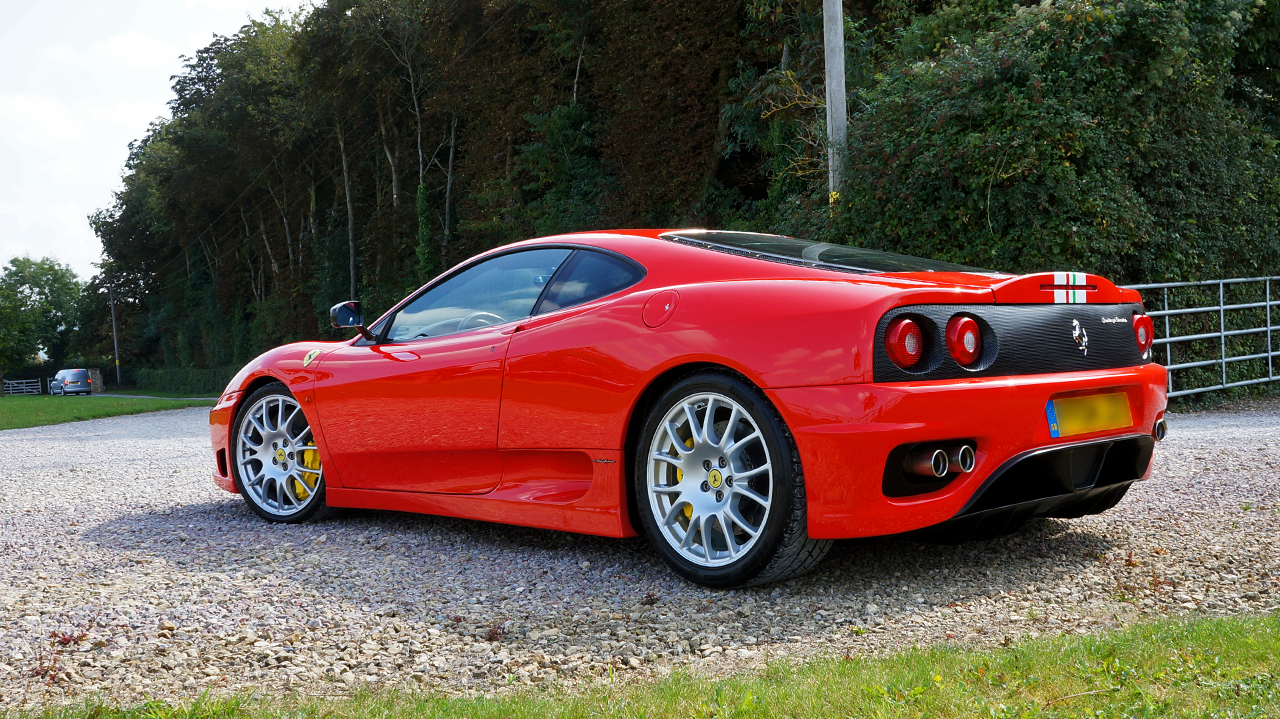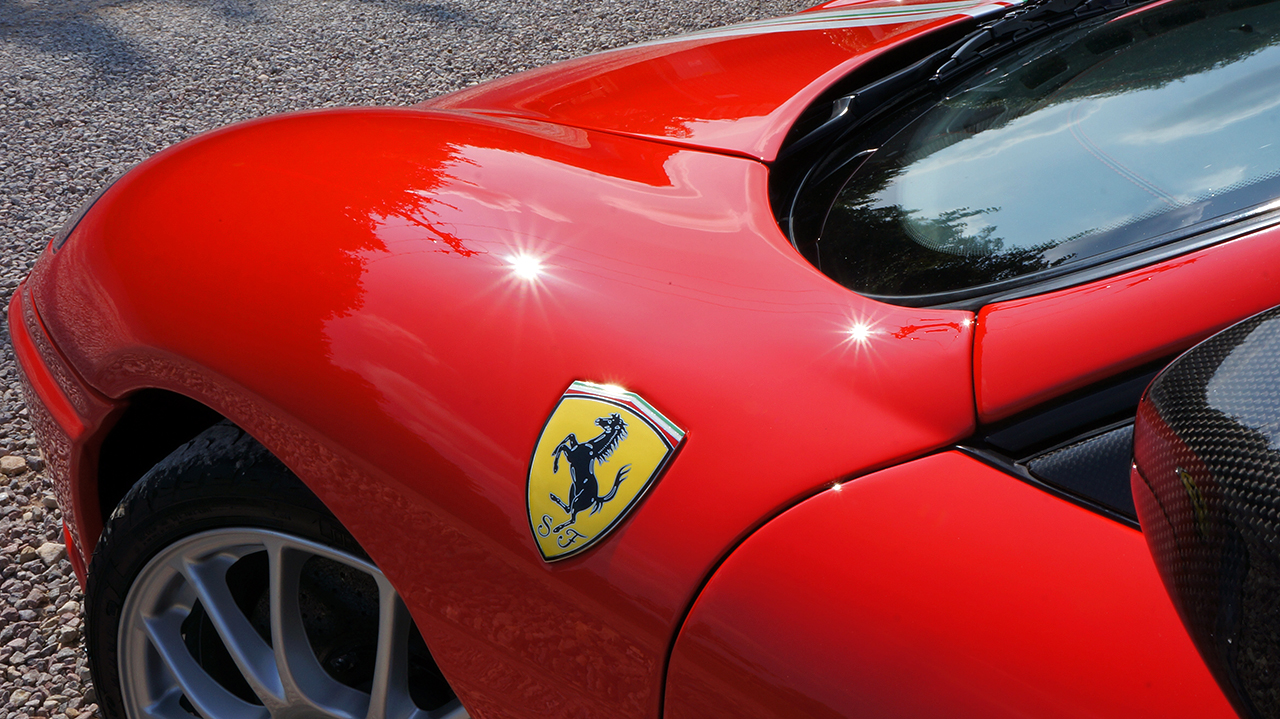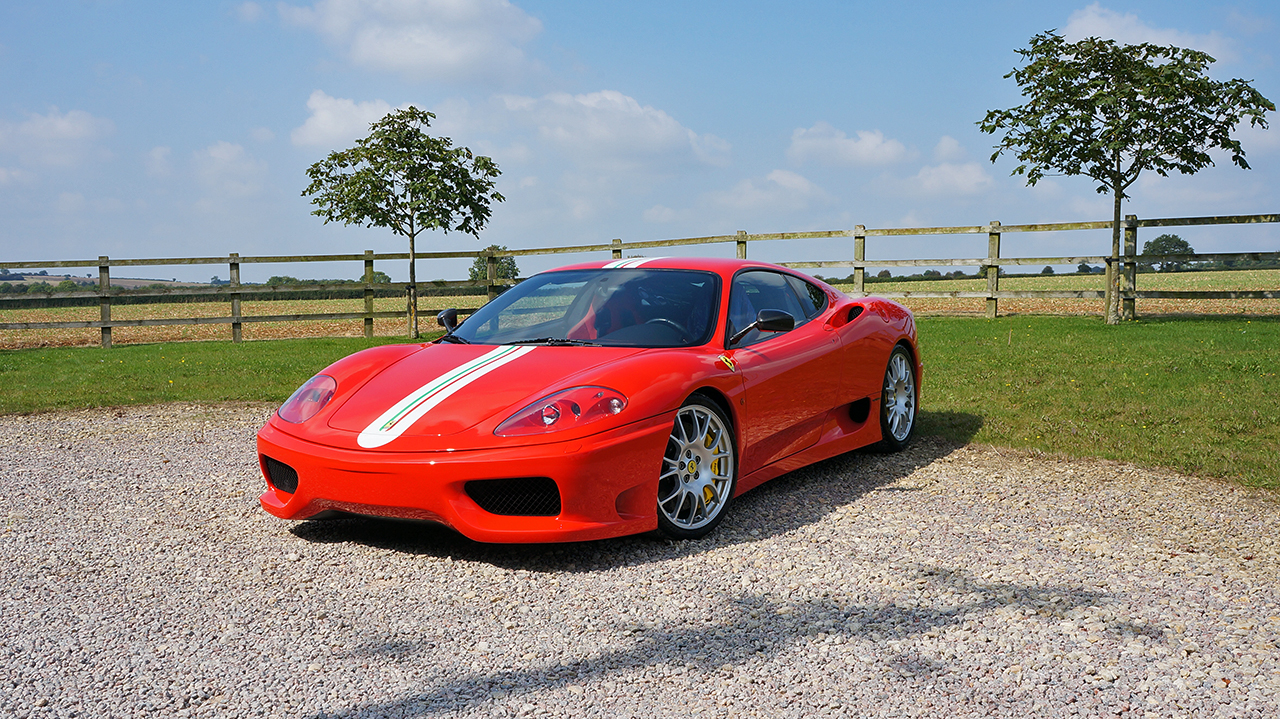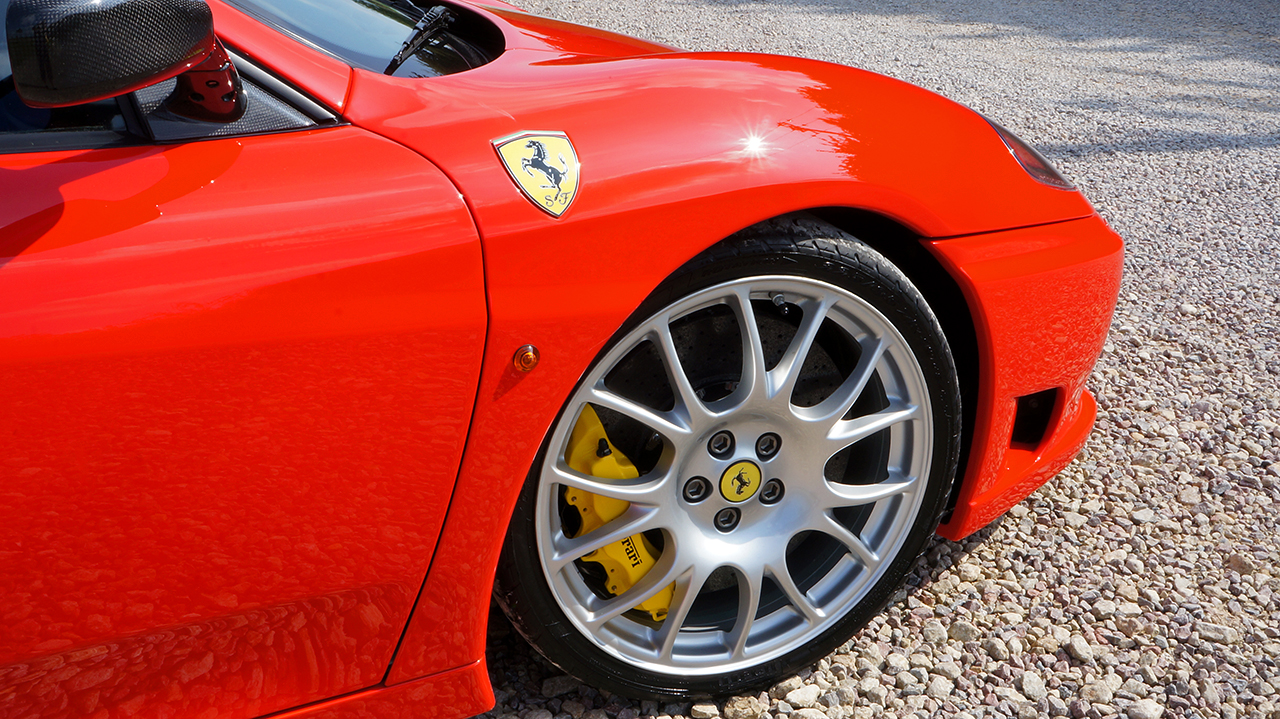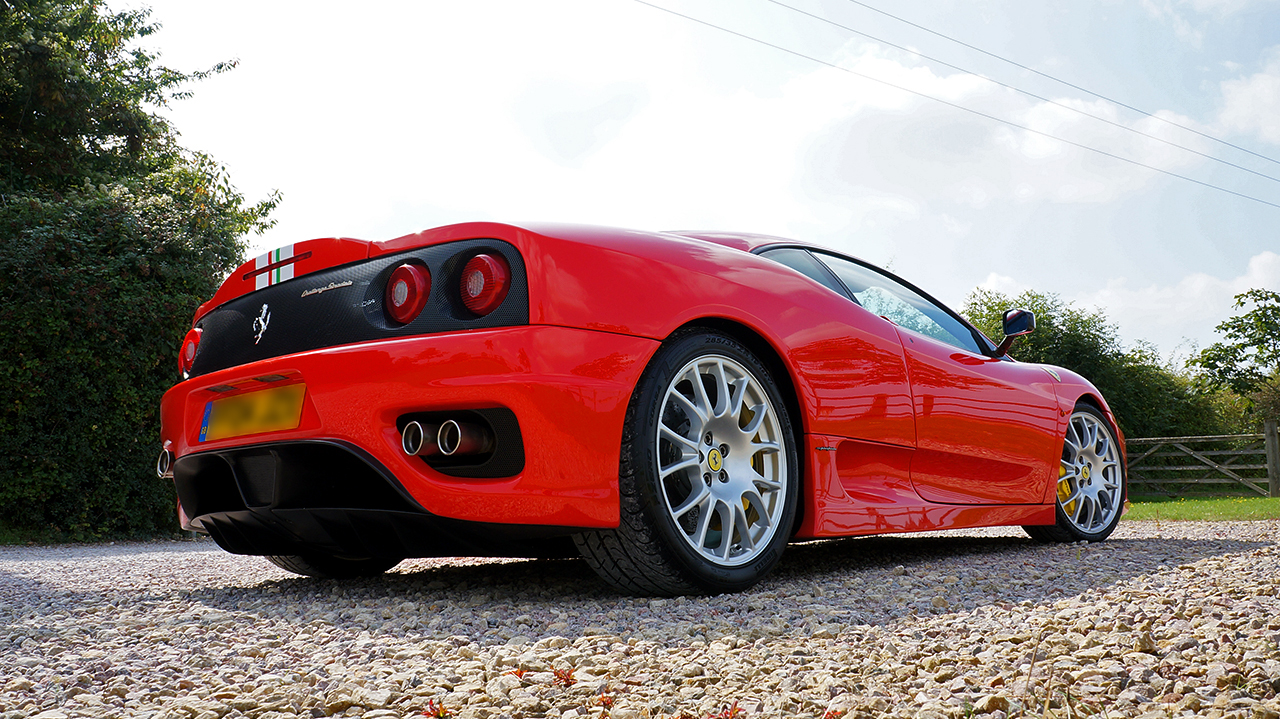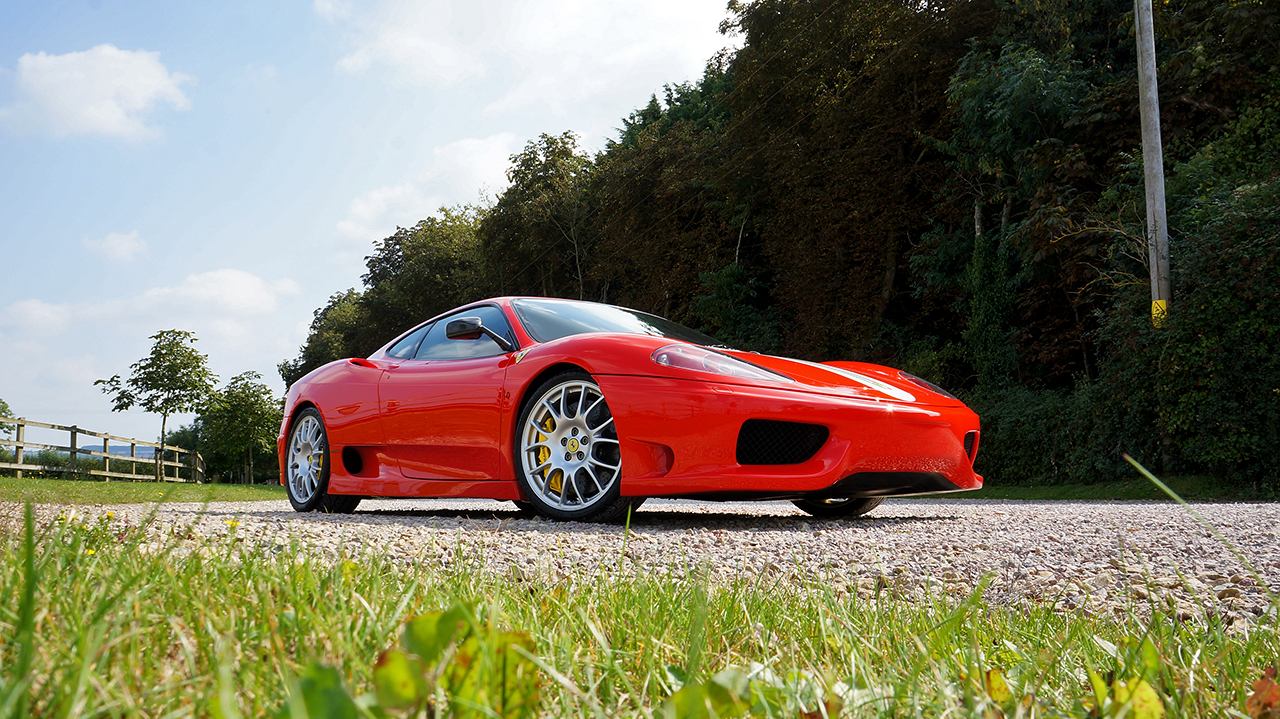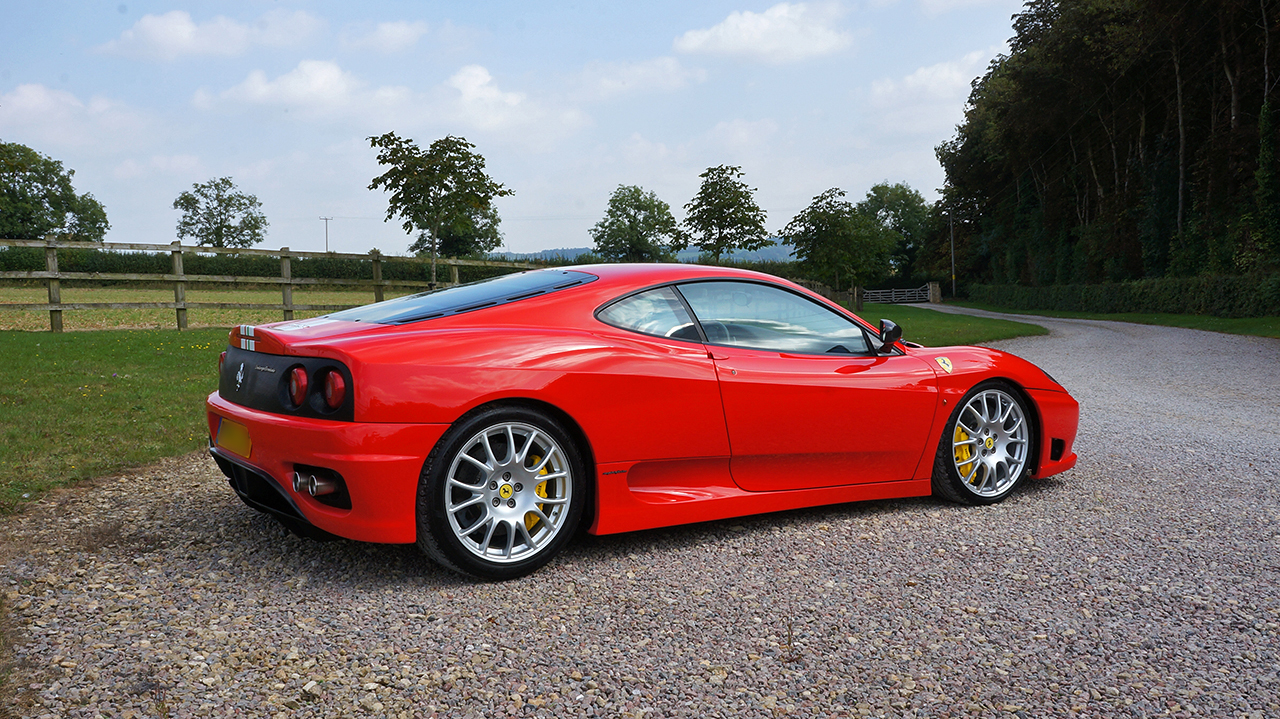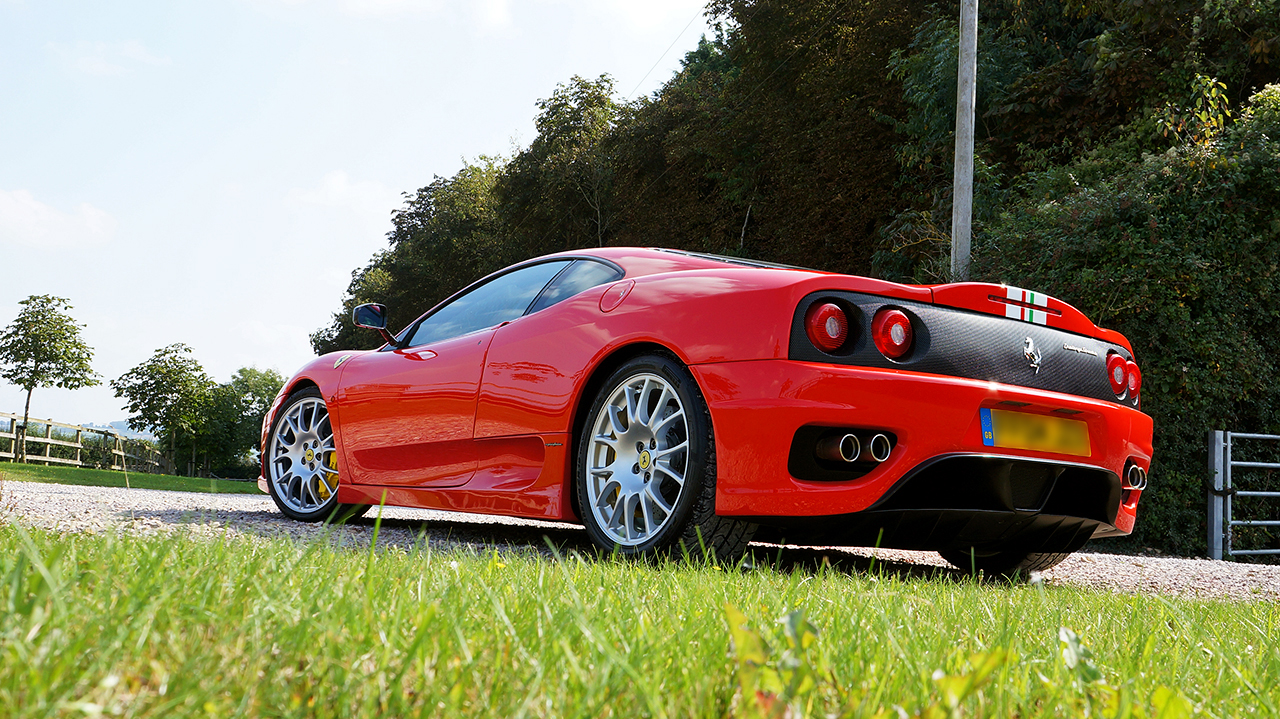 If you would like to book your own Restorative Detail, or find the perfect detailing package for your pride & joy, contact us today so that we can better assist you in all of your vehicle reconditioning needs.
Thanks for reading!!