Paint Protection Film Bristol
PPF Provides The Ultimate Protection against stone chips, scratches, swirl marks & Other Types Of Damage
Self Healing PPF Bristol
Looking for the ultimate paint protection to protect your vehicle from stone chips and other road debris damage? Experience the perfect paint protection film service with ECC. With 9 years of PPF experience being one of the first Xpel trained installers in the UK.
We offer two finishes of protection films – XPEL Ultimate Plus, one of the most advanced films on the market due to its self-healing abilities and XPEL Stealth, which offers a sleek satin finish.
10 Year Warranty
Virtually Invisible
Prevents Wear & Tear
Stain Resistant
Self-Healing
Easy Maintenance
Paint Protection Film Packages
Whether you're looking for full body protection or just a few specific areas, we can customise our PPF services to meet your needs.
The packages you see below are the most commonly requested installation options.
Full Frontal
Protects the most vulnerable areas from stone chip damage. Includes the bonnet, bumper, front wings & mirrors. You can customise this package to include any other painted surface.
From £1300 + VAT
Performance
Front end protection plus A-pillars, roof strip, side skirts, luggage area & rear wheel impact areas. This is our most popular package for a daily driven car and sees all the high-impact areas protected.
From £1600 + VAT
Full Car
Ideal solution for customers seeking complete peace of mind. All exterior painted surfaces are covered for the maximum level of protection. This package ensures your vehicle will stay in pristine condition.
From £3600 + VAT
Why Choose Us For PPF Installation
Exclusive Car Care was founded upon professionalism in everything we do. From the first contact, through the services process, to final delivery, our customers are treated with the highest levels of respect and professionalism to ensure that the customer experience is as good as the quality of service.
The PPF installation service we offer consists of a large variety of processes, using specialist equipment and the best paint protection film on the market, which is why we may charge more than some of our competitors; remember, there's always someone cheaper, but at what cost? Usually the quality!
We believe it's our passion for our work that stands us head and shoulders above the competition.
8 years PPF experience
Xpel factory trained & certified
10 year warranty
fully insured with secure facilities
clean & temperature Controlled studio
pre-cut patterns
High quality installs
How Do We Apply XPEL PPF?
Preparation
Preparing the paint is an essential process as it can make the difference between a good install and a perfect install. We always start by giving a vehicle a thorough wash followed by several decontamination stages to remove any bonded contaminants and industrial fallout.
The panels which are having film applied will receive a light machine polish. This ensures any protective coatings that may have been applied are removed so the film will adhere to the surface, eliminating lifting edges.
Installation
We use pre-designed templates using Xpel DAP software. This software has the most extensive library of vehicles and offers the best coverage options. It allows us to further modify the patterns by extending edges and deleting cut-outs for badges to fit our customer's needs.
These pre-designed templates are cut on-site using a Graphtec Plotter and eliminate the need to cut on the vehicle, ensuring no risk of paint damage during installation.
Finish
We pride ourselves on the fit and finish of our work, ensuring perfect alignment, and going the extra mile to ensure the paint protection film on your car is as invisible as possible.
Once complete we will prepare the car for collection or ceramic coat the film if this is opted for by the client. Upon collection, we will talk you through the work completed and offer advice on how to maintain your XPEL PPF.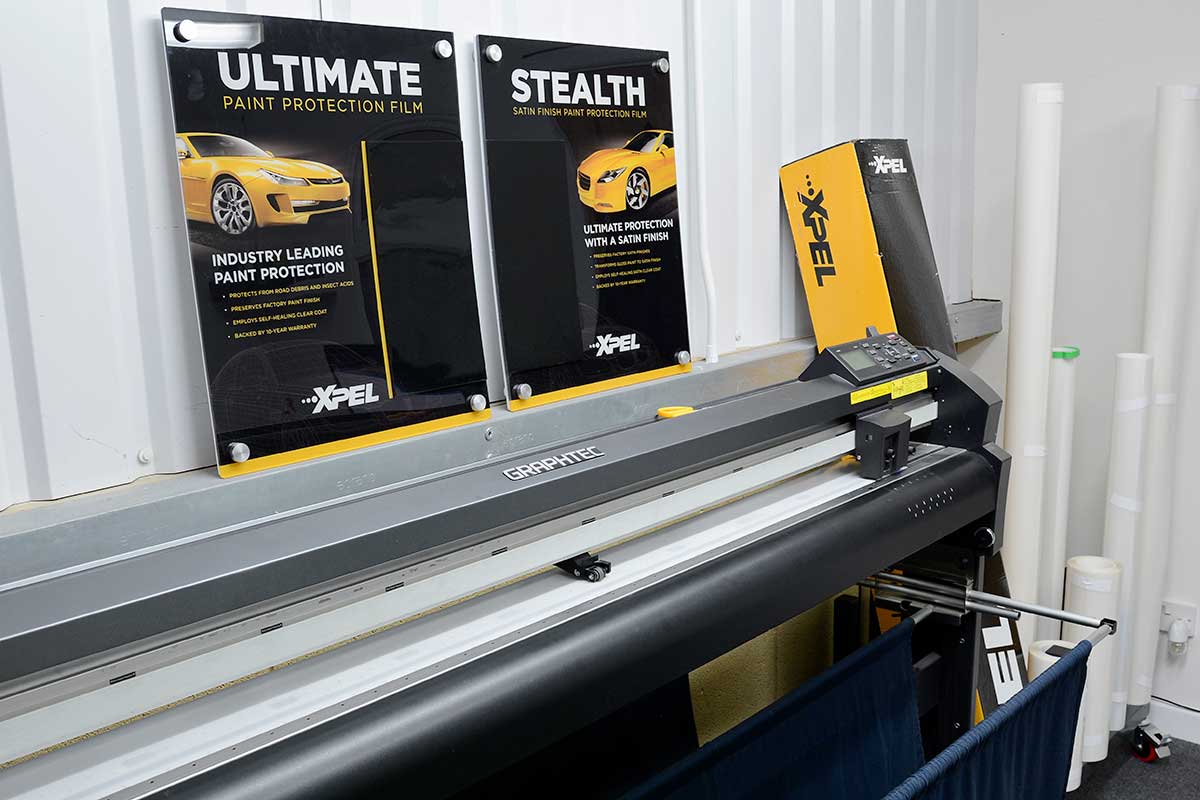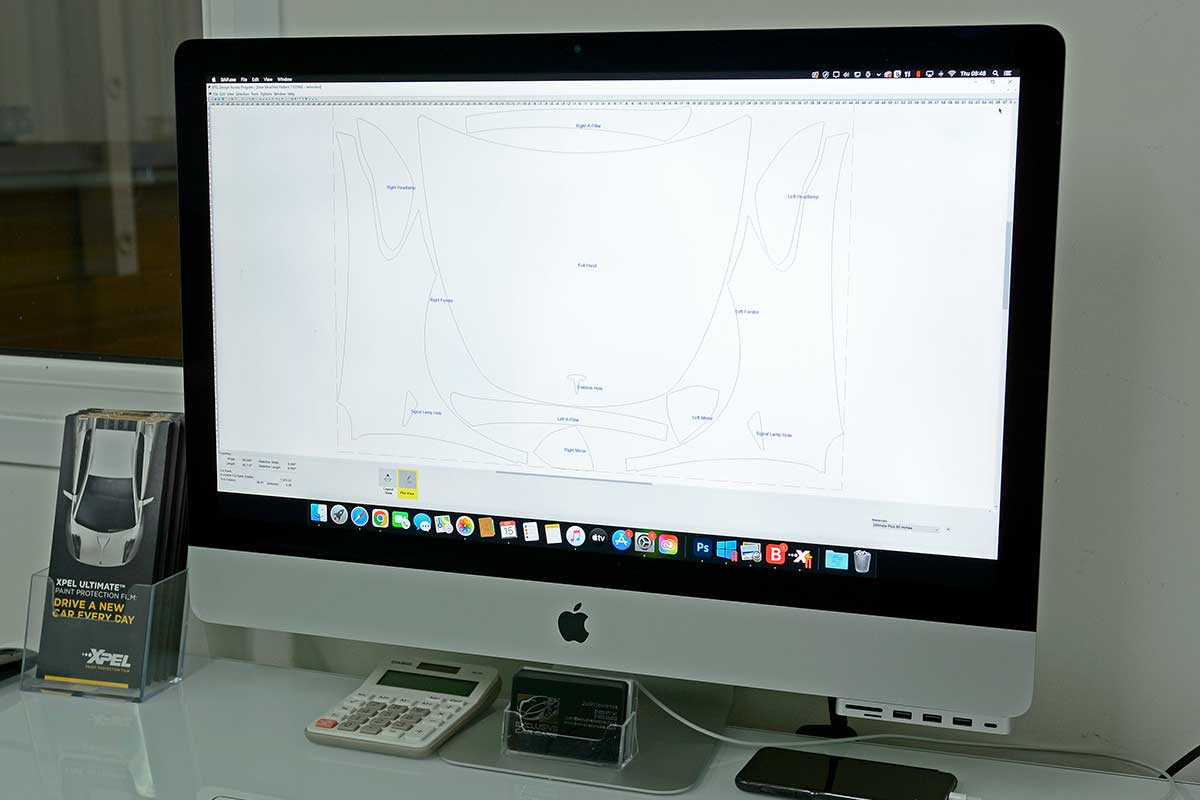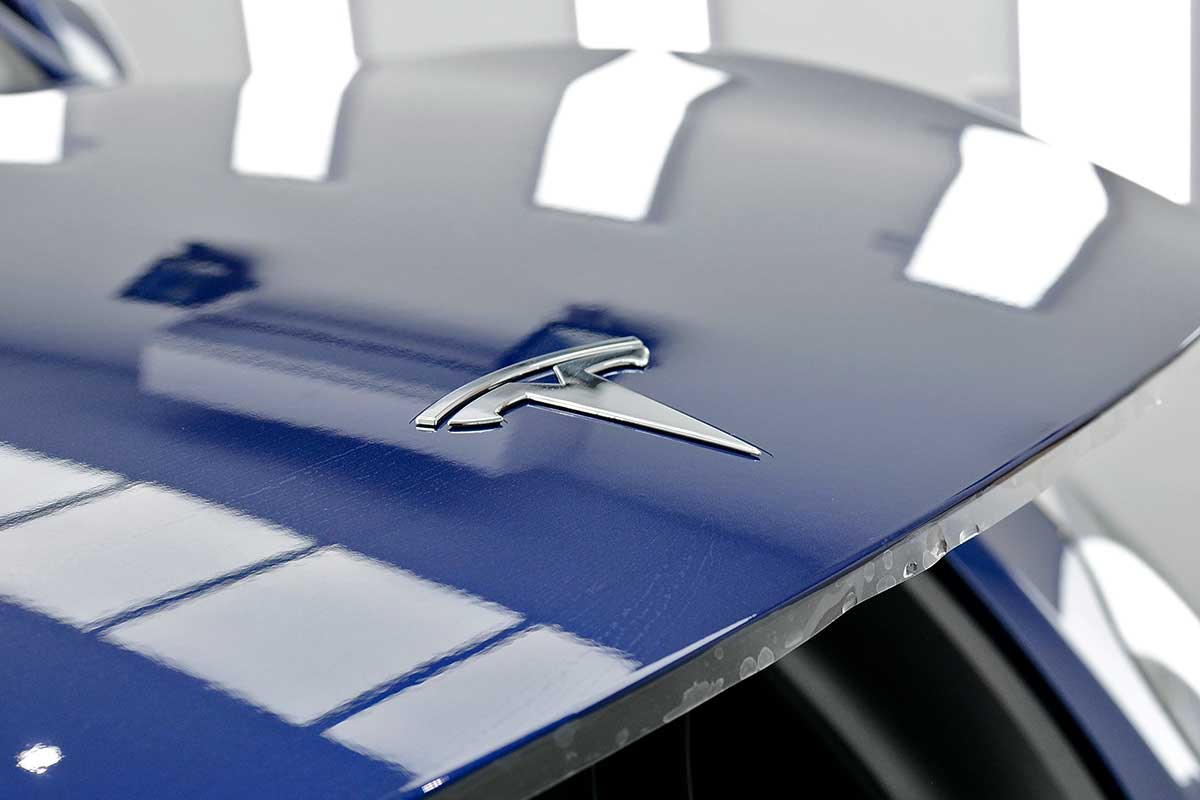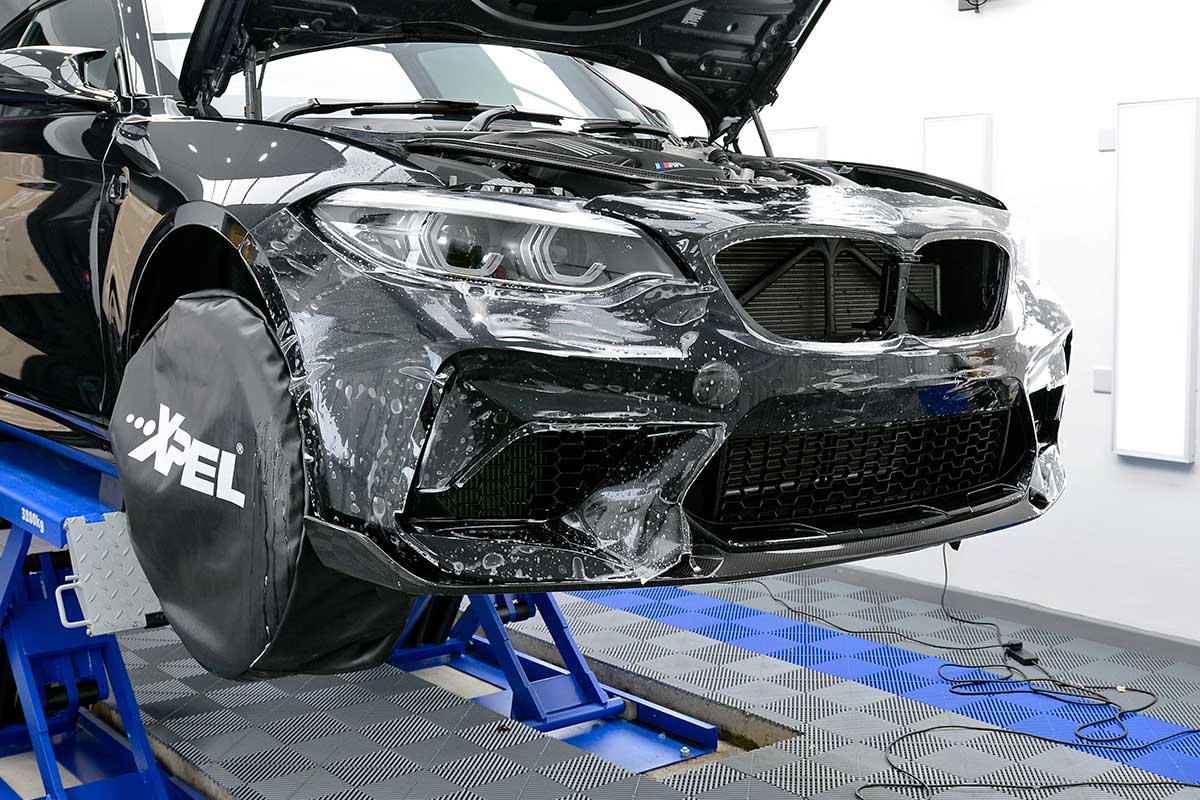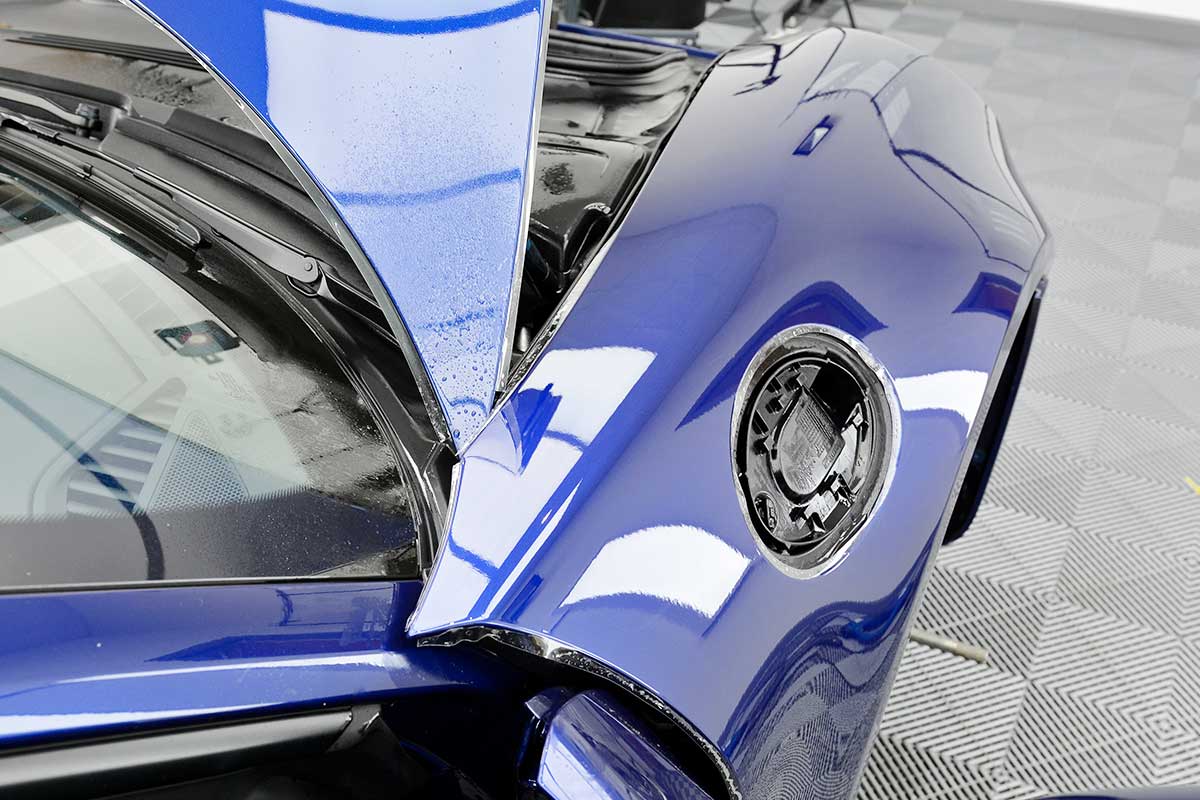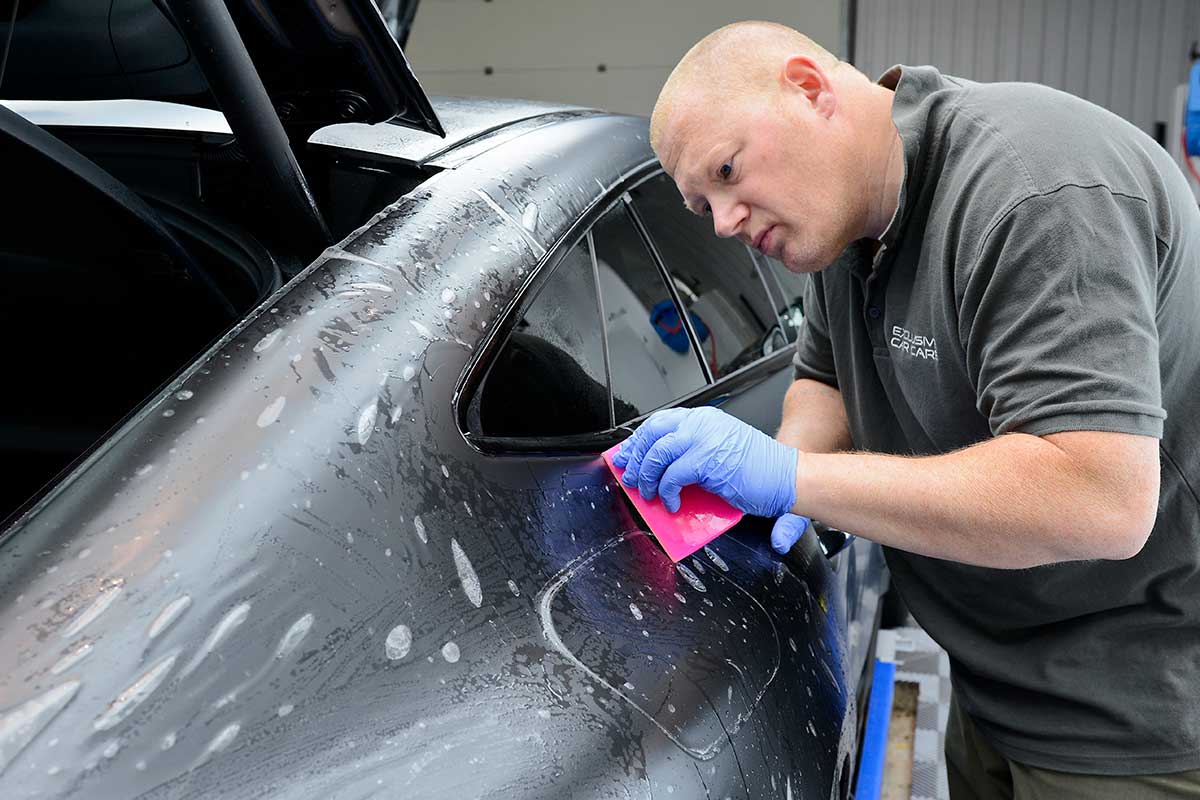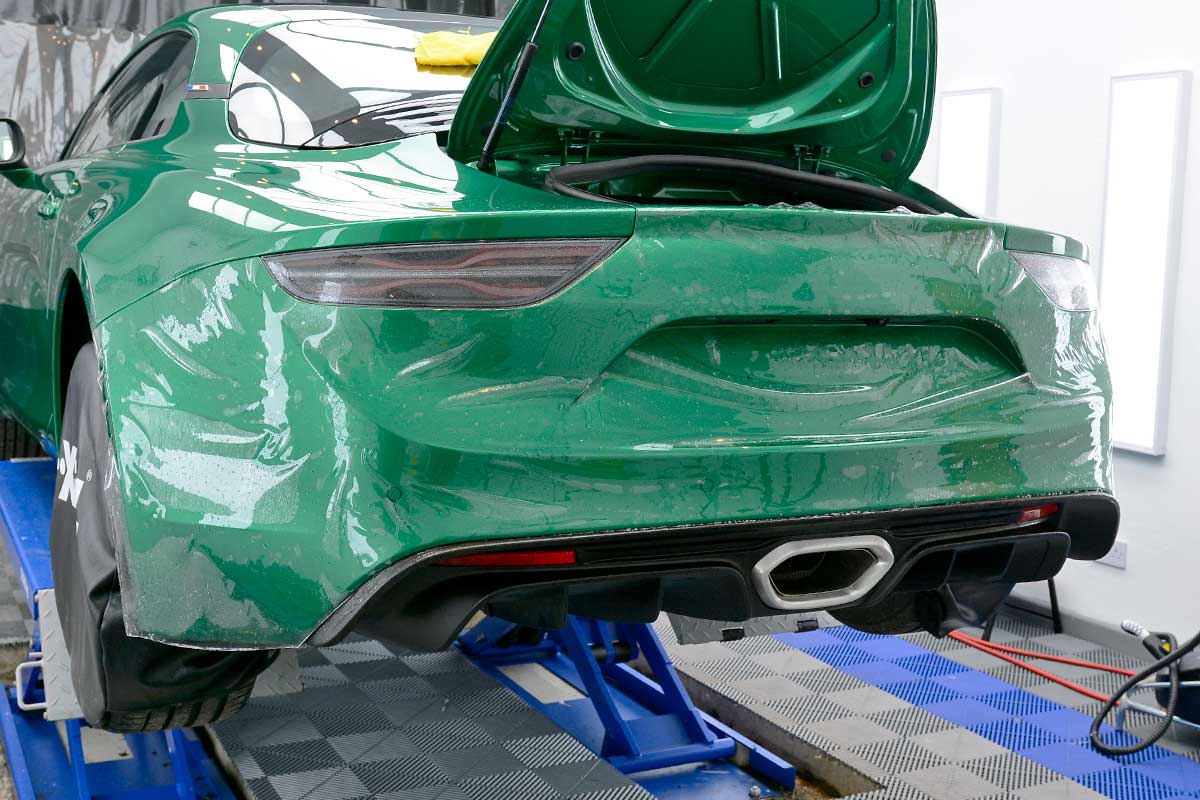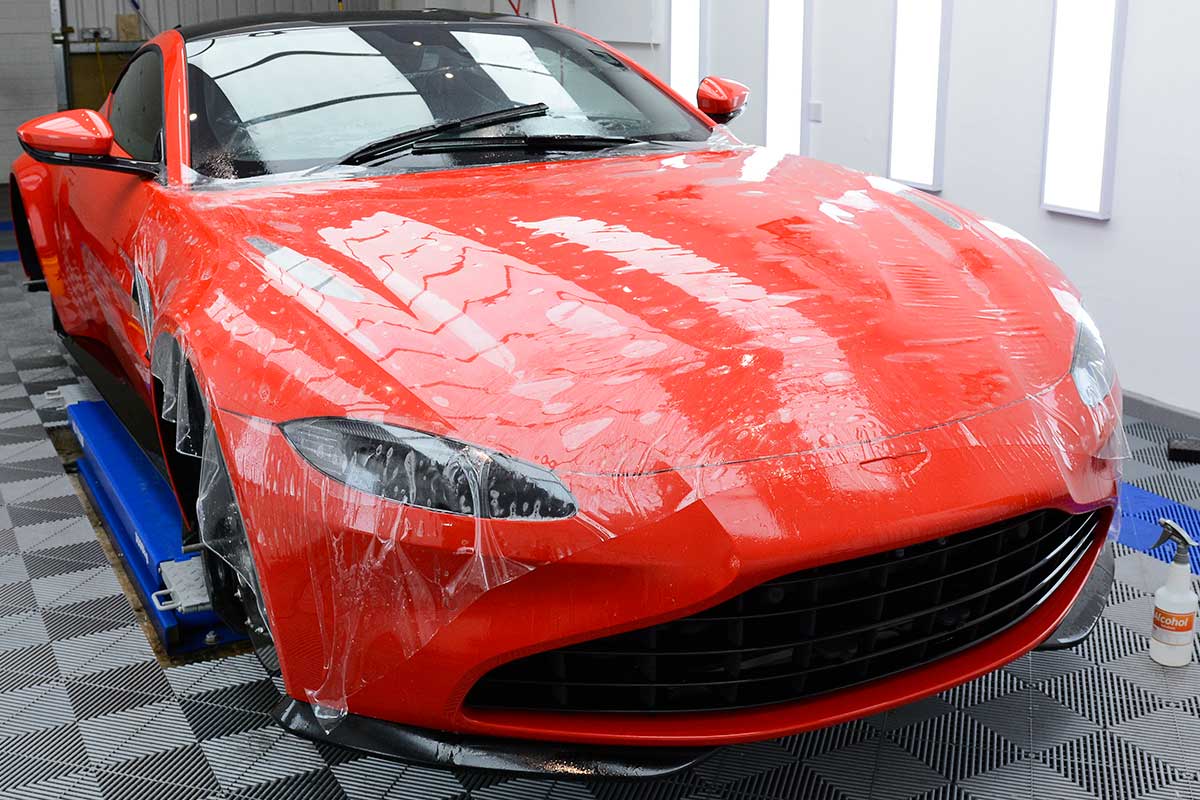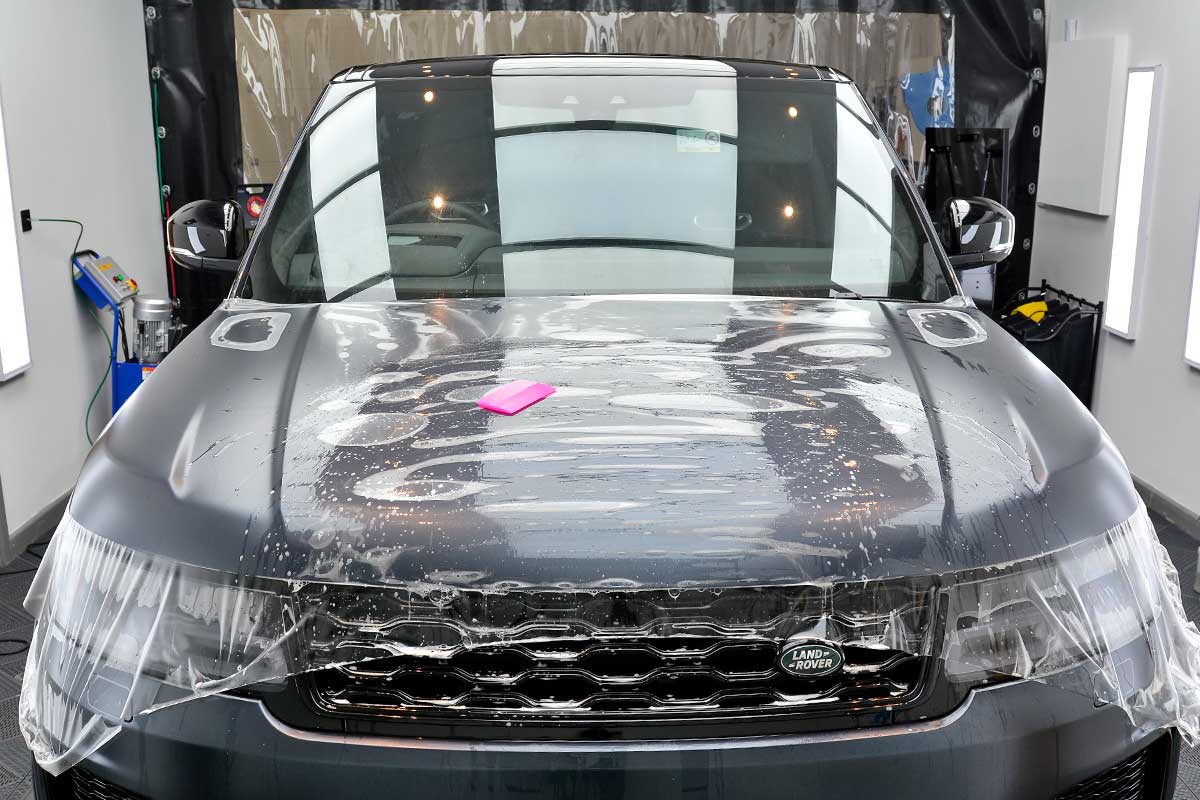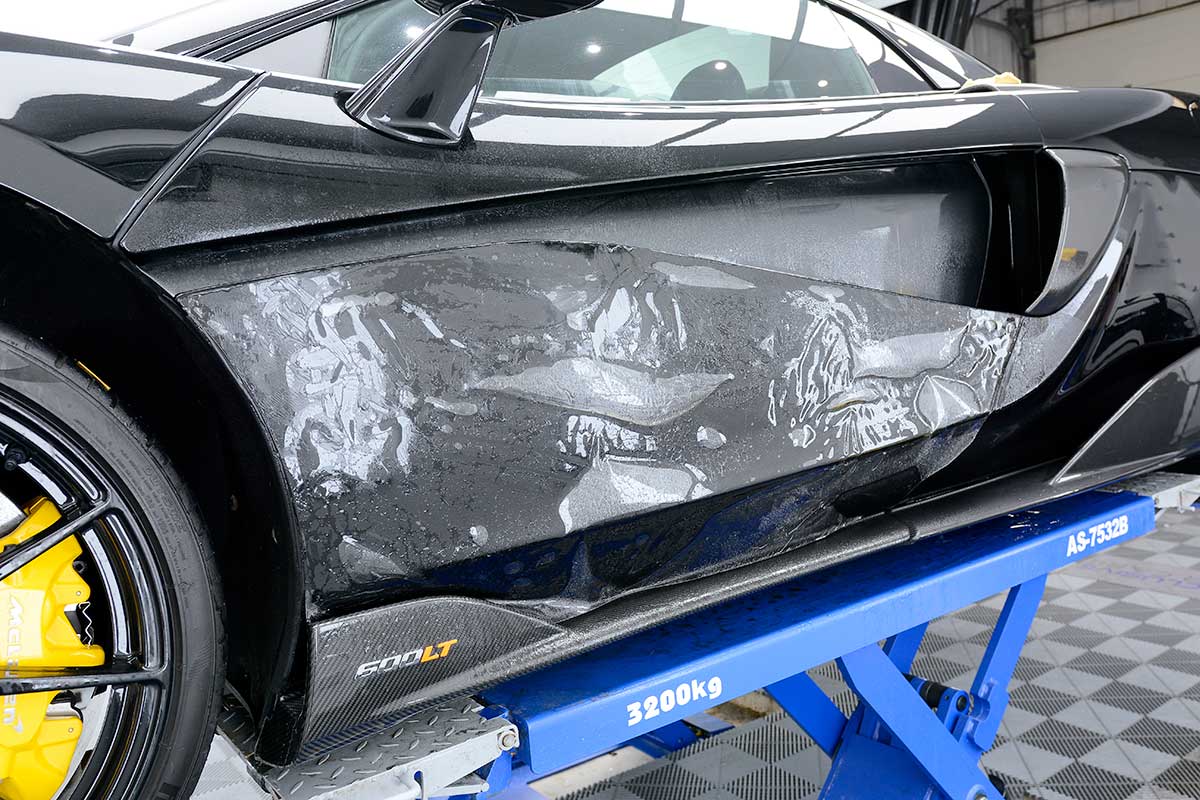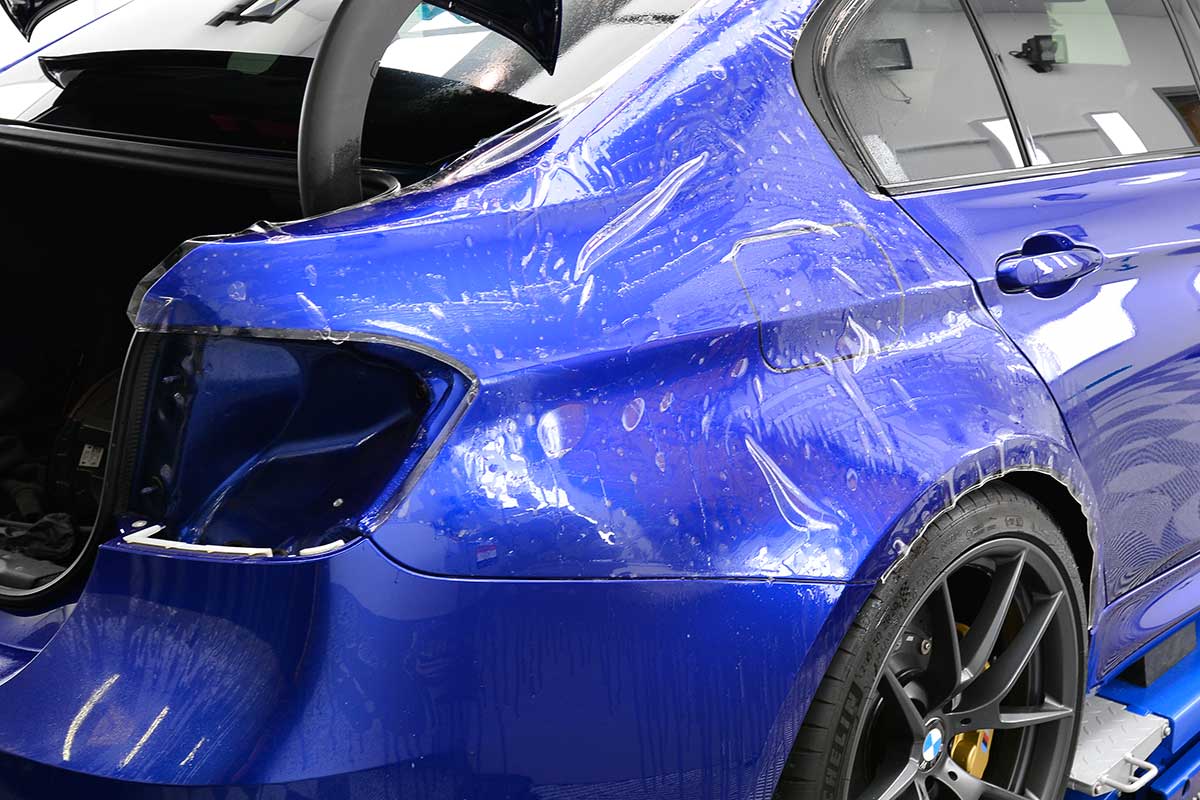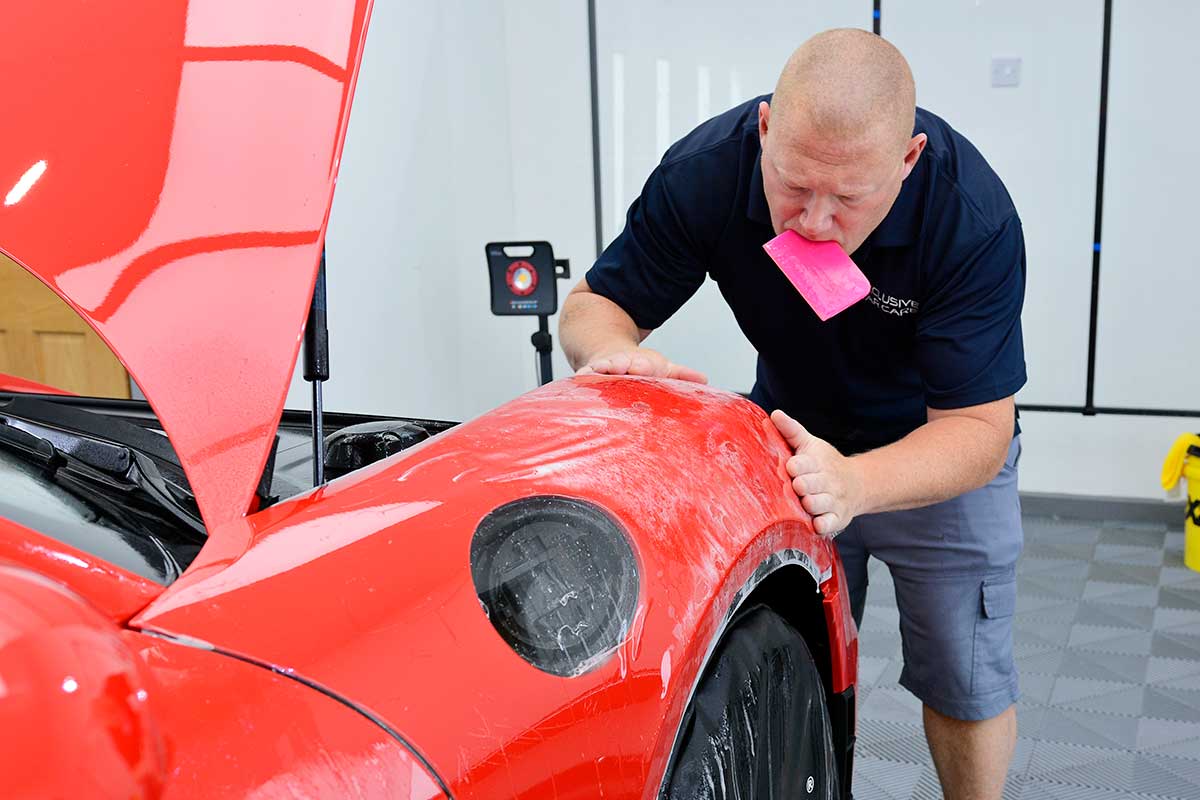 Paint Protection Film FAQ's
What Is PPF?
Paint protection film (PPF) is an optically clear thermoplastic urethane material applied to painted surfaces of a new or used car in order to protect the paintwork from stone chips, chemical stains, vandalism, bug splatters, and minor abrasions.
PPF Or Ceramic Coating, Which Is Better?
Ceramic coatings only offer protection against environmental damage, not physical damage like PPF does. If your goal is to improve the appearance of your car and keep it clean for longer, ceramic coatings are a great choice.
However, if your goal is to protect your cars paintwork and keep it looking nice for as long as possible, paint protection film is the best choice. It will protect your cars paint from stone chips, scratches, vandalism and road debris.
We recommend having paint protection film applied to all high-impact areas and then ceramic coating the car for the ultimate protection for your car.
How Long Does PPF Last?
A high-quality paint protection film such as Xpel can last for up to 10 years and is able to withstand plenty of wear & tear. However, the film is made of urethane material and due to its pliable nature, it is not uncommon for lower panels like side skirts and front bumpers to take some abuse over time and generally will require a replacement piece of film in 5 years on a daily driven car. The idea here is to let the film take any damage, thereby maintaining the integrity of your factory OEM paintwork.