The owner of this multi-colour red Tesla Model X 90D was determined to protect his new purchase, so booked it in for our ultimate new car protection package which consists of a Gtechniq CS Black New Car Protection Detail combined with our self healing Paint Protection Film (PPF). 
Arriving at our Studio fairly dirty we set about it getting the car clean and decontaminated.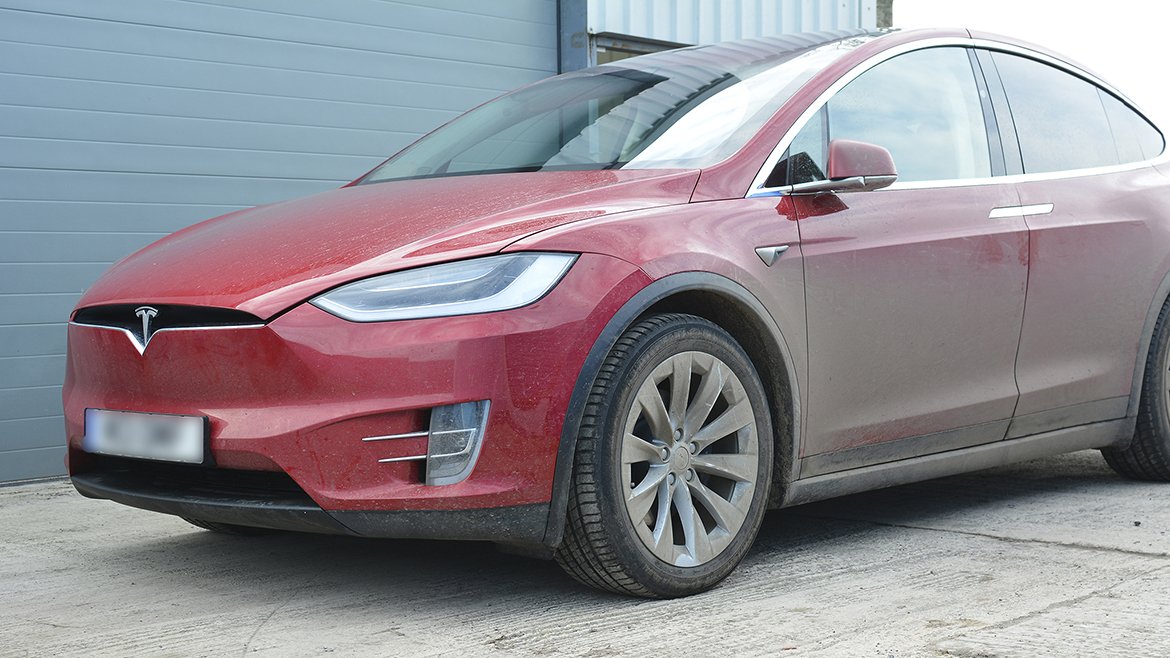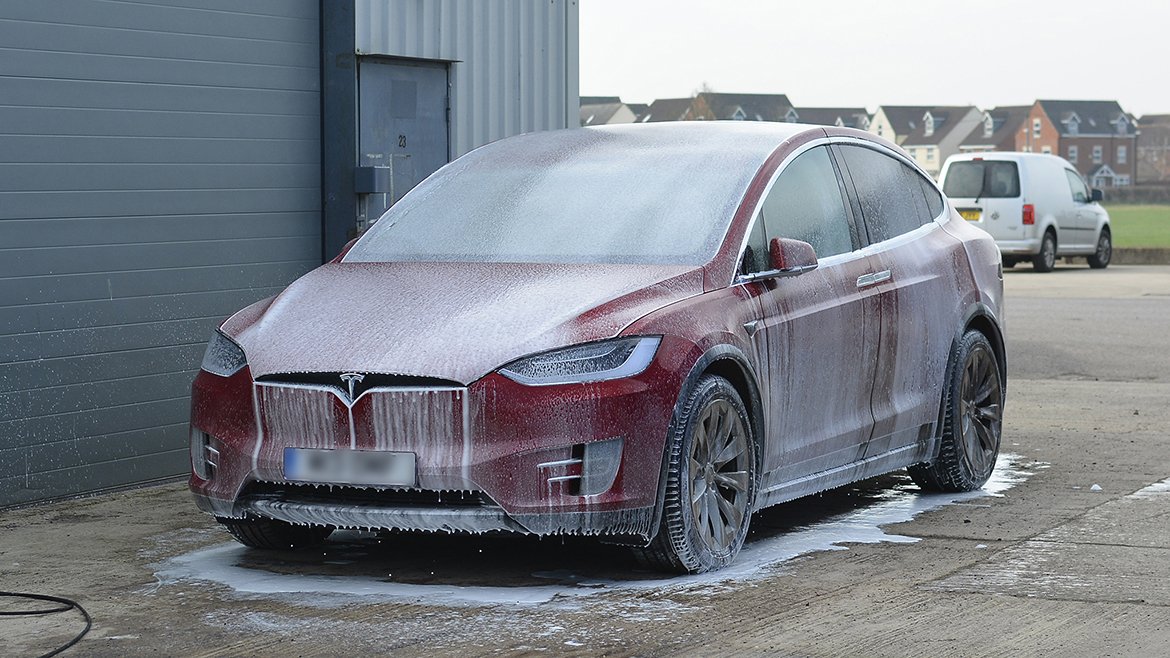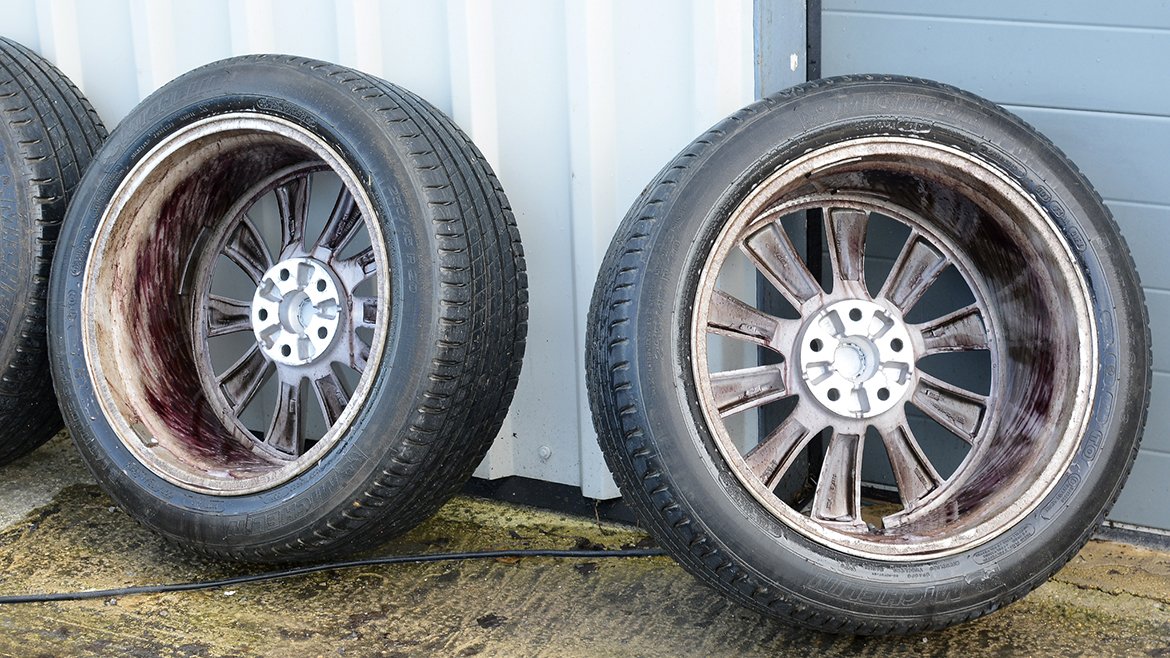 Although this Tesla Model X is new there were swirls and scratches along with a lot of sanding marks and buffer induced holograms which had resulted in a dull flat finish. These defects would have came from the factory during the paint & polishing stages.
Below are a sequence of before & after shots highlighting the defects and then showing the same area after our paint correction process was carried out.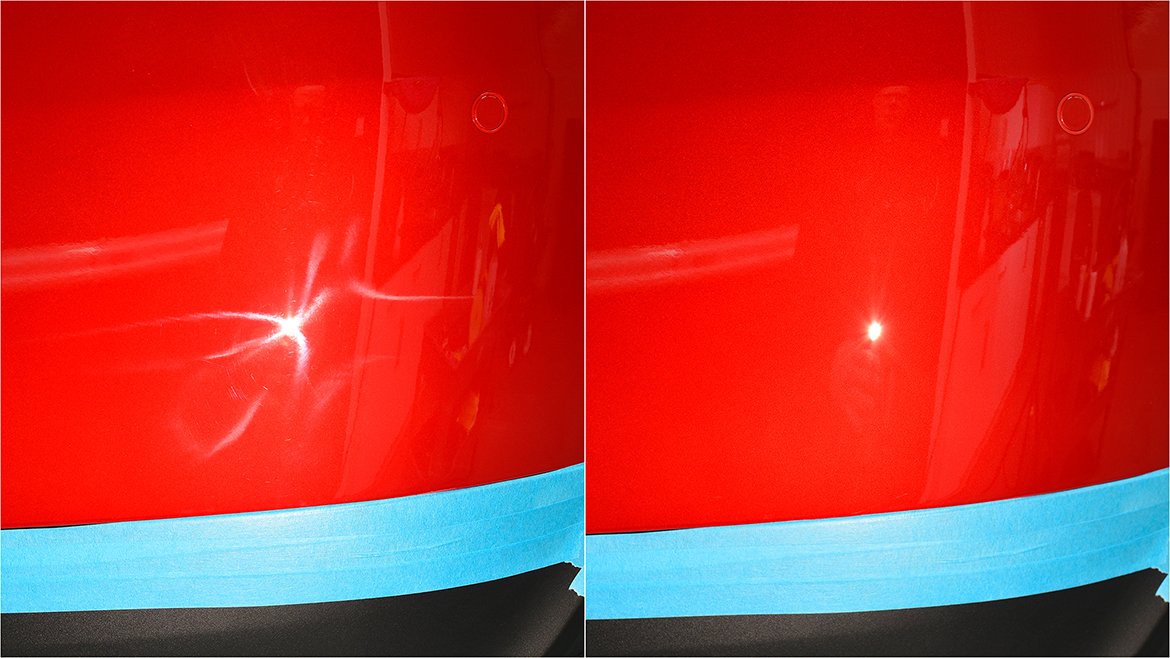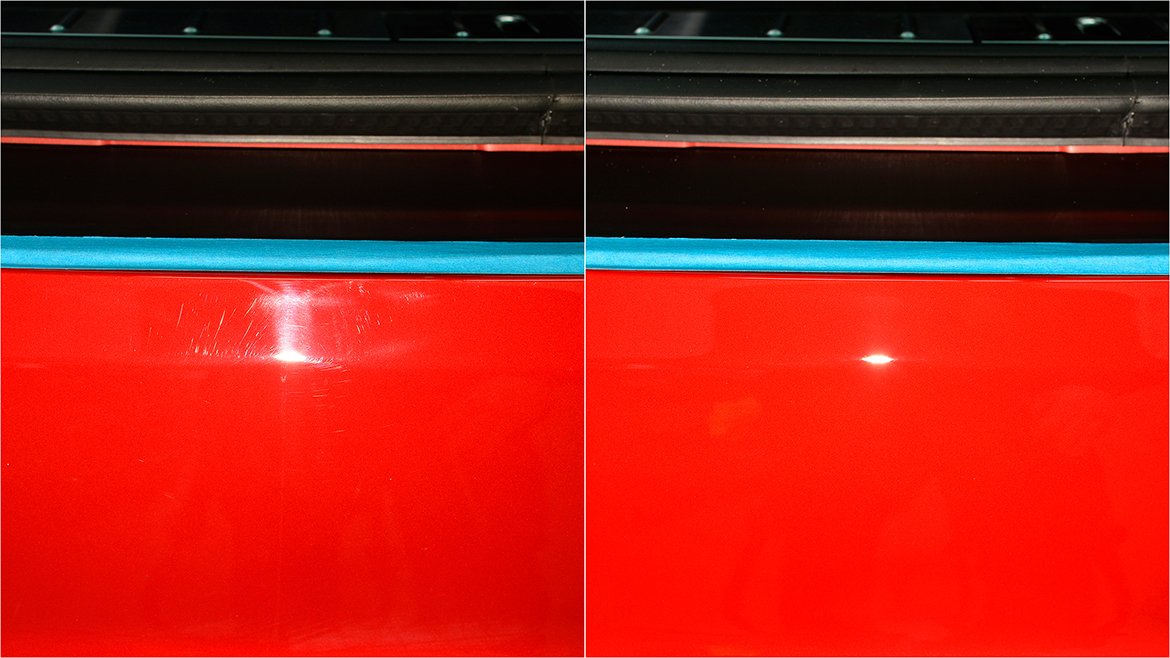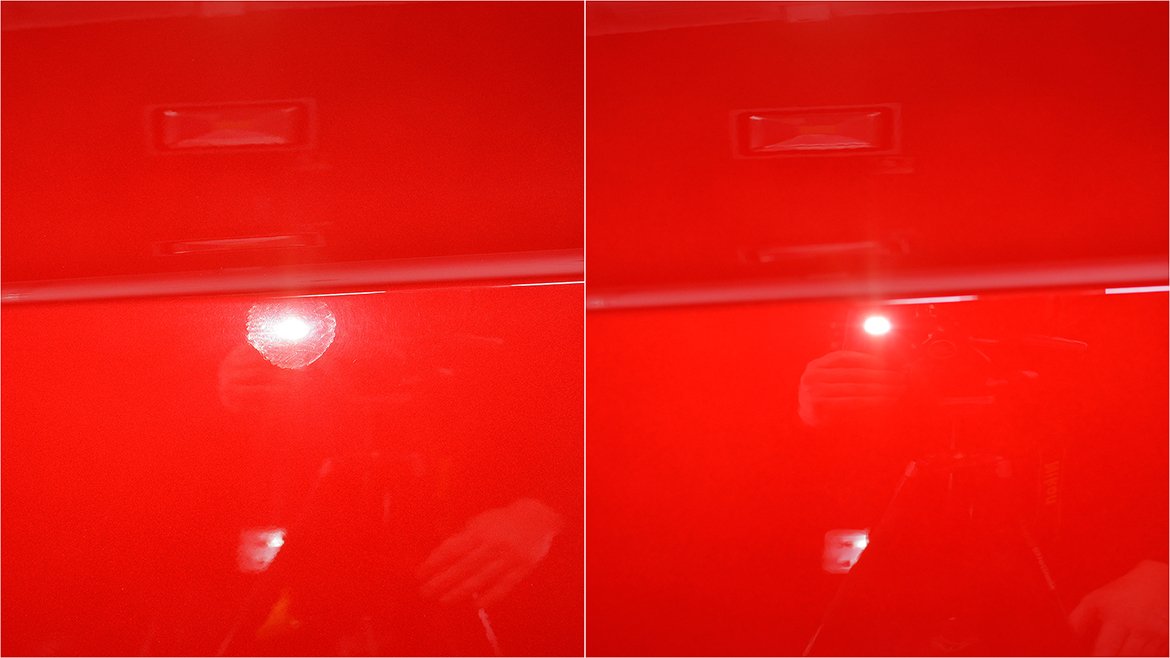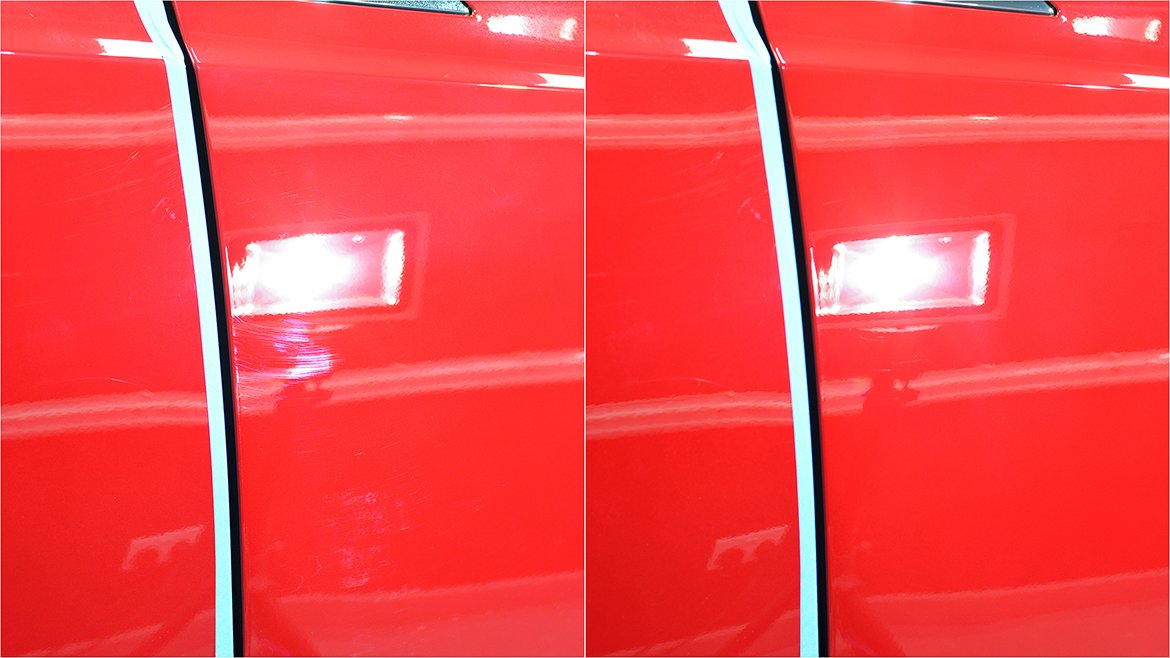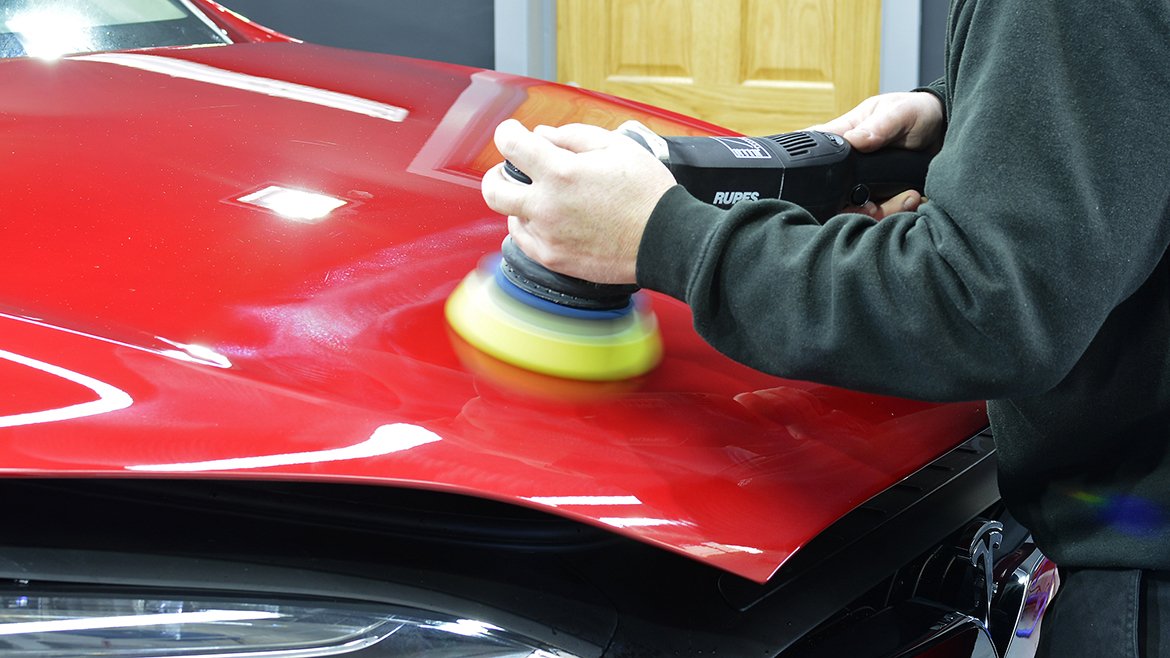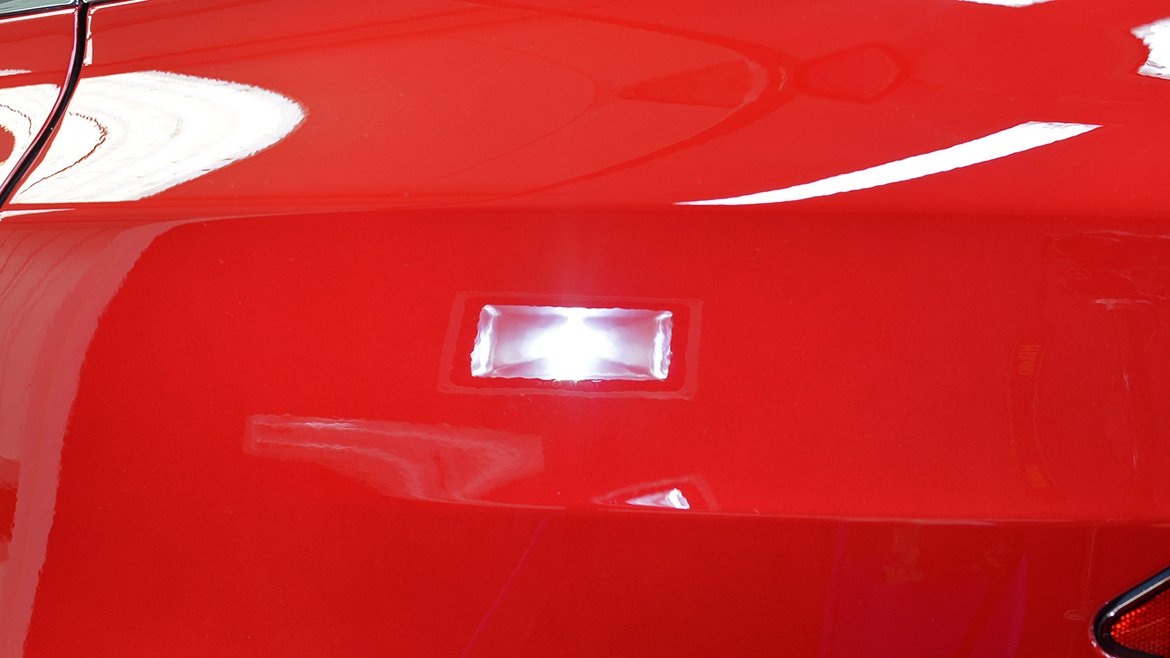 The wheels and brake calipers were thoroughly coated with Gtechniq C5 Alloy Wheel Armour. This heat resistant nanotechnology-based coating bonds with the wheels surface to provide comprehensive protection from road grime and brake dust build-up. This feature makes cleaning easier and negates the requirement for strong acid or alkaline-based cleaners.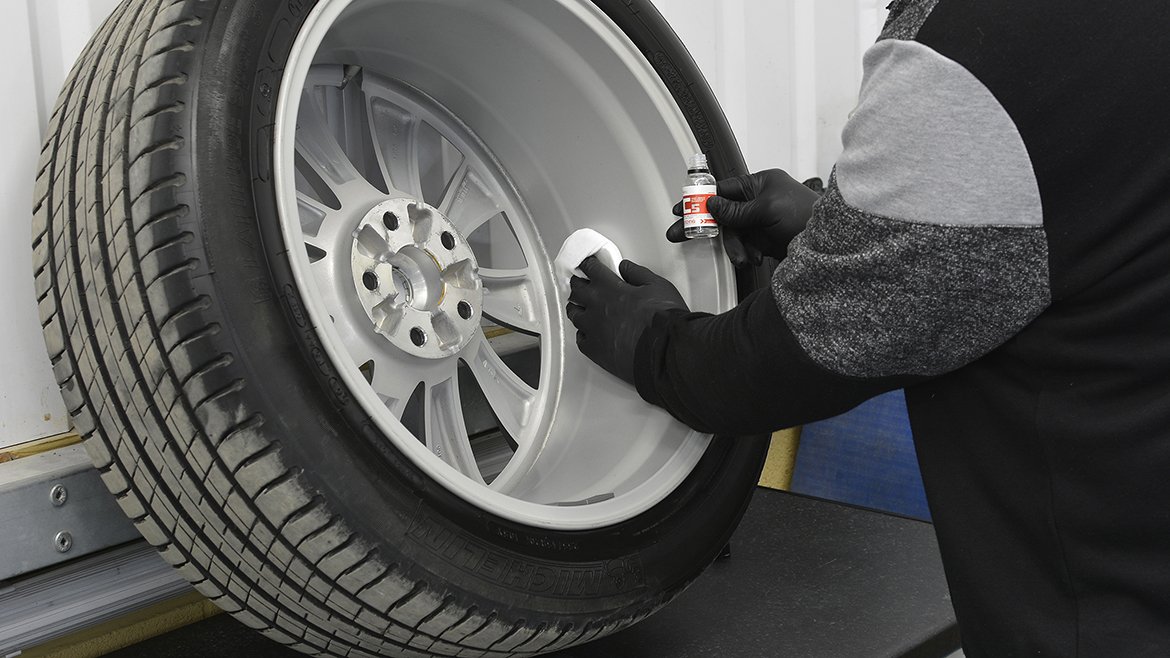 Paint Protection Film (PPF) – Tesla Model X
With the multi-colour red paintwork now free of blemishes and swirls it was time to apply some paint protection film (PPF) to some areas of the Model X . This customer requested we protect the bonnet, bumper, front wings, lower door sections, A-pillars and side mirrors with Xpel Ultimate self healing paint protection film to protect these vulnerable areas from stone chips and other minor abrasions.
All patterns are computer cut in house using a Graphtec FC8600-160 cutting plotter. This top of the line 64″ plotter cuts the design pattern out of the paint protection film roll, once all cutting is finished we then remove any unnecessary excess film leaving a precision computer cut pattern.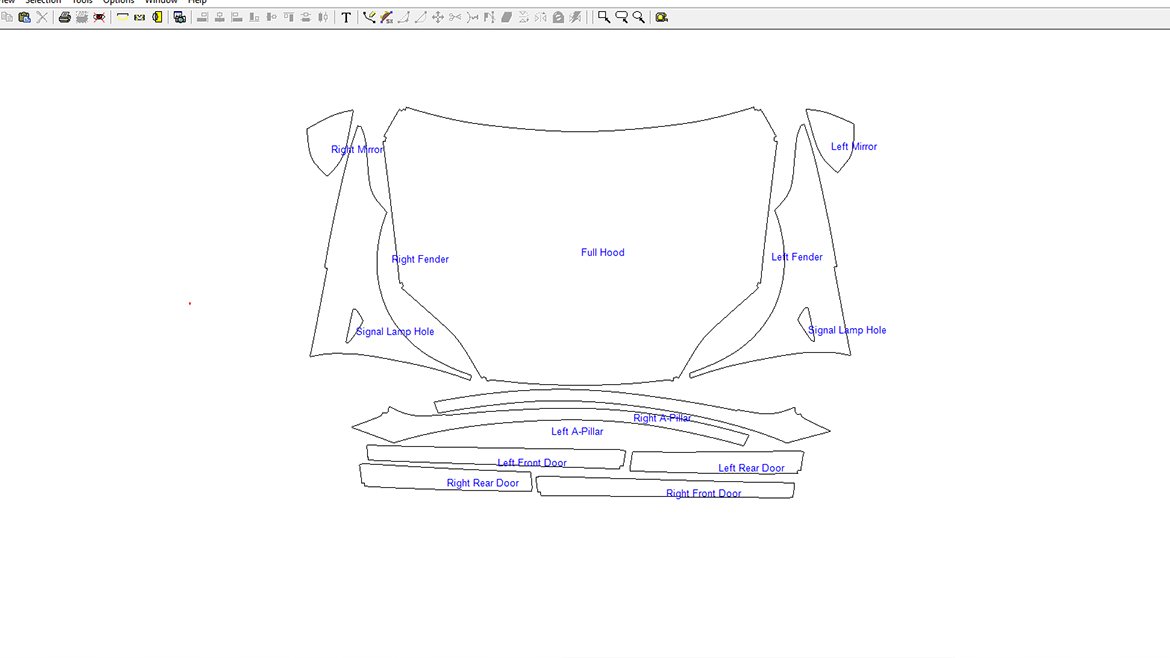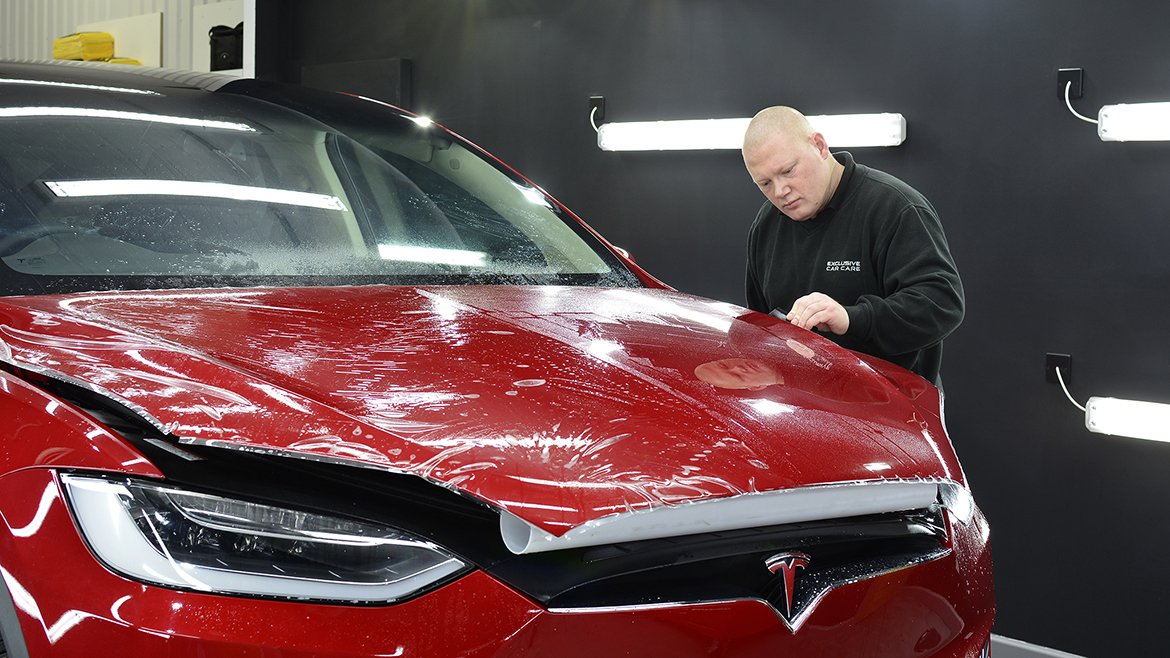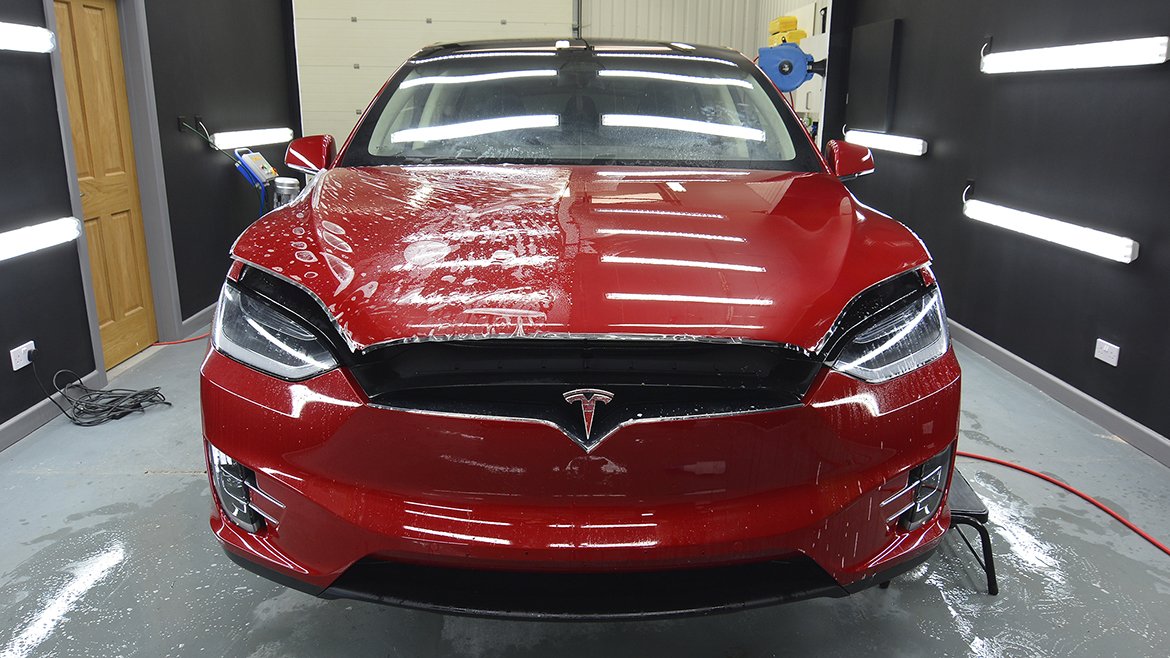 Edges to be wrapped around for a seamless look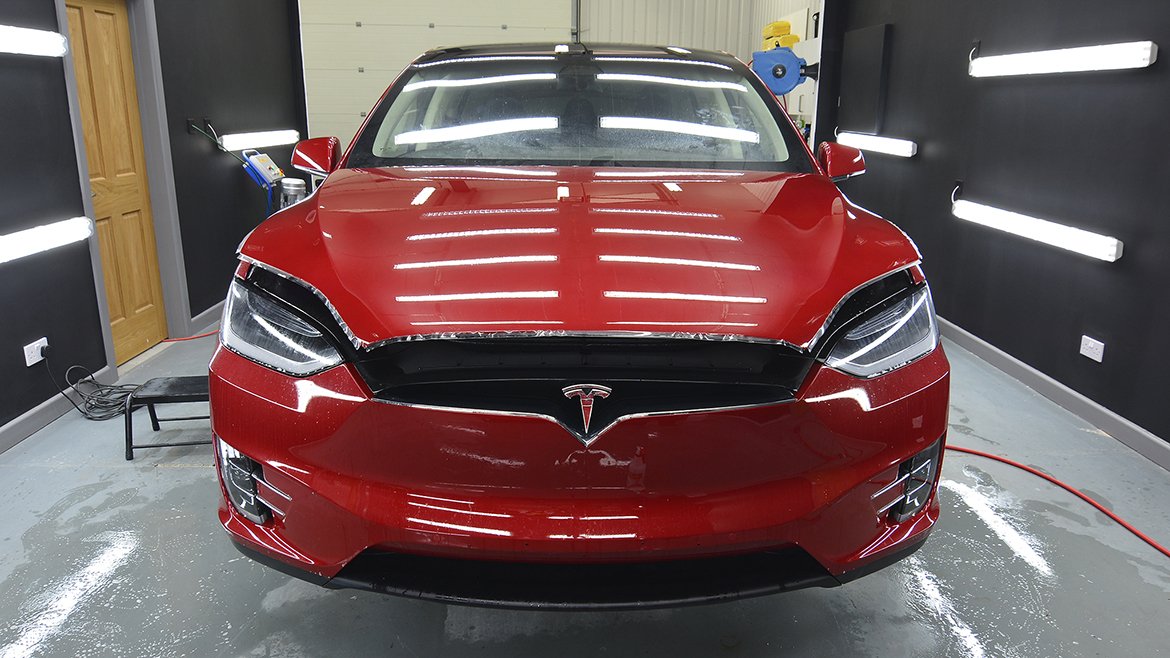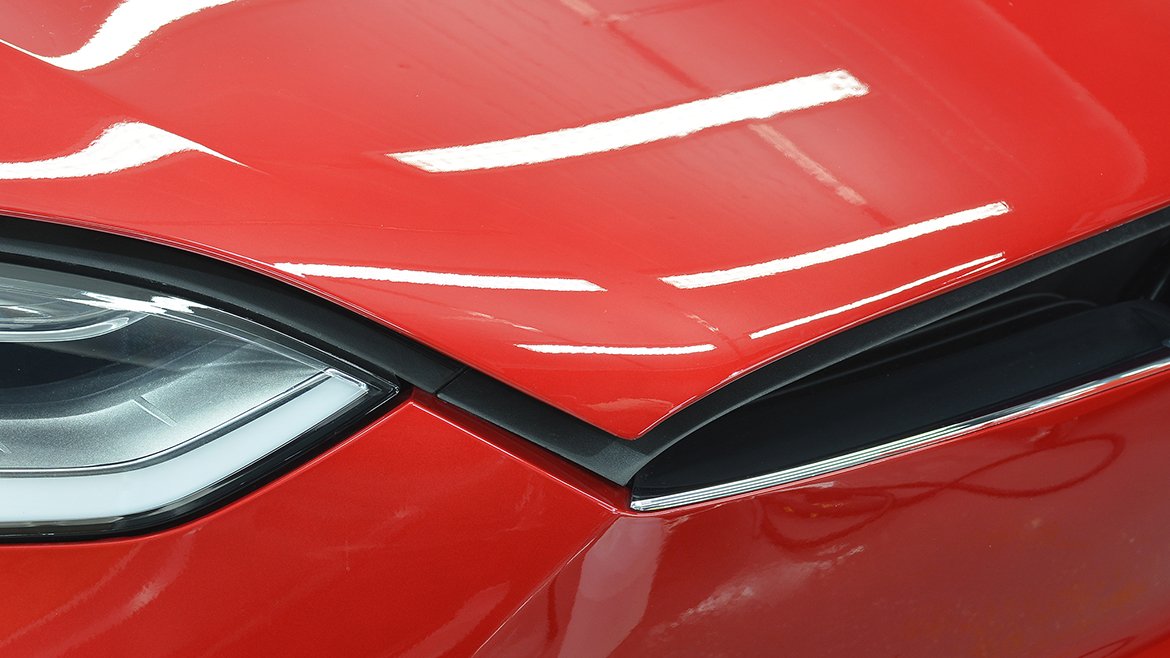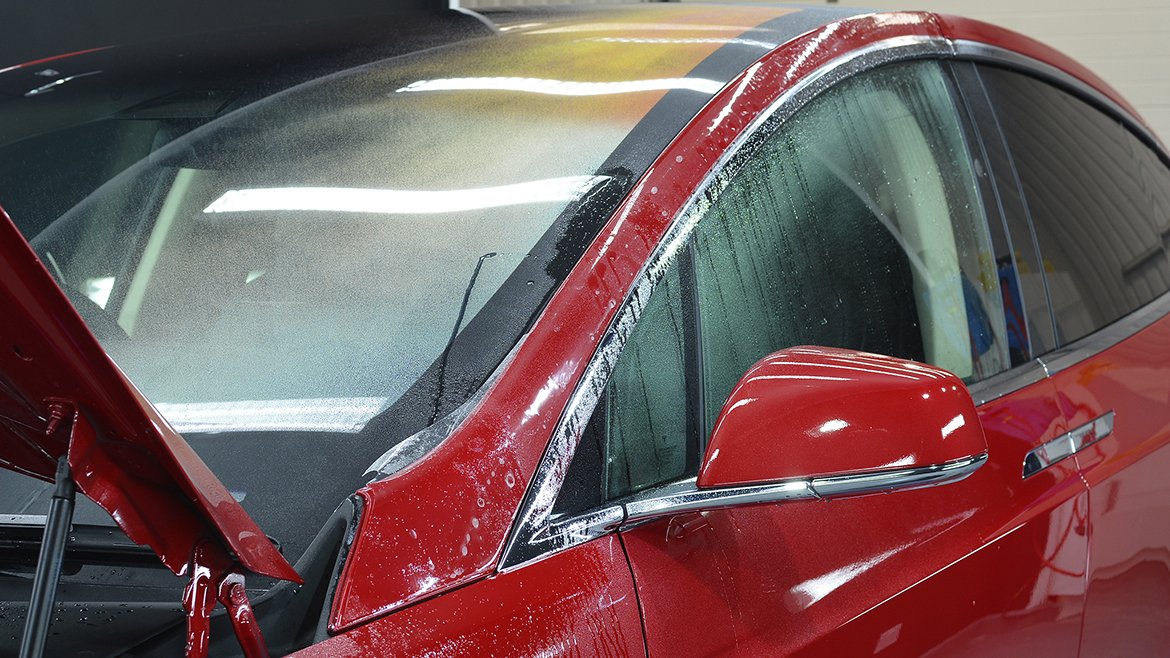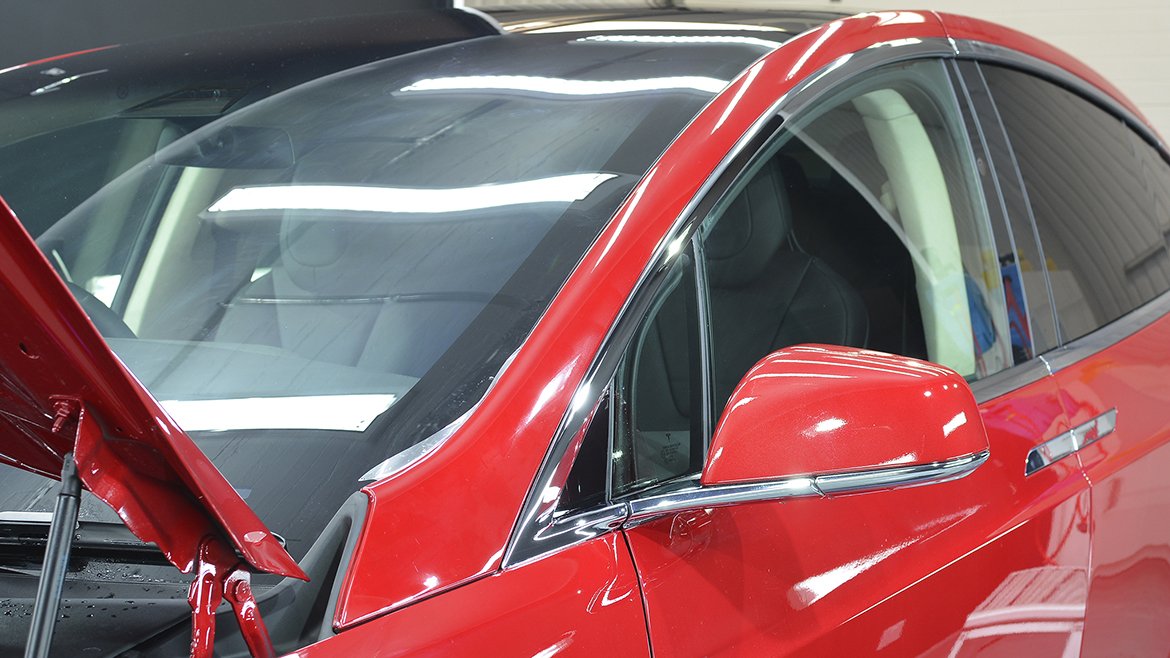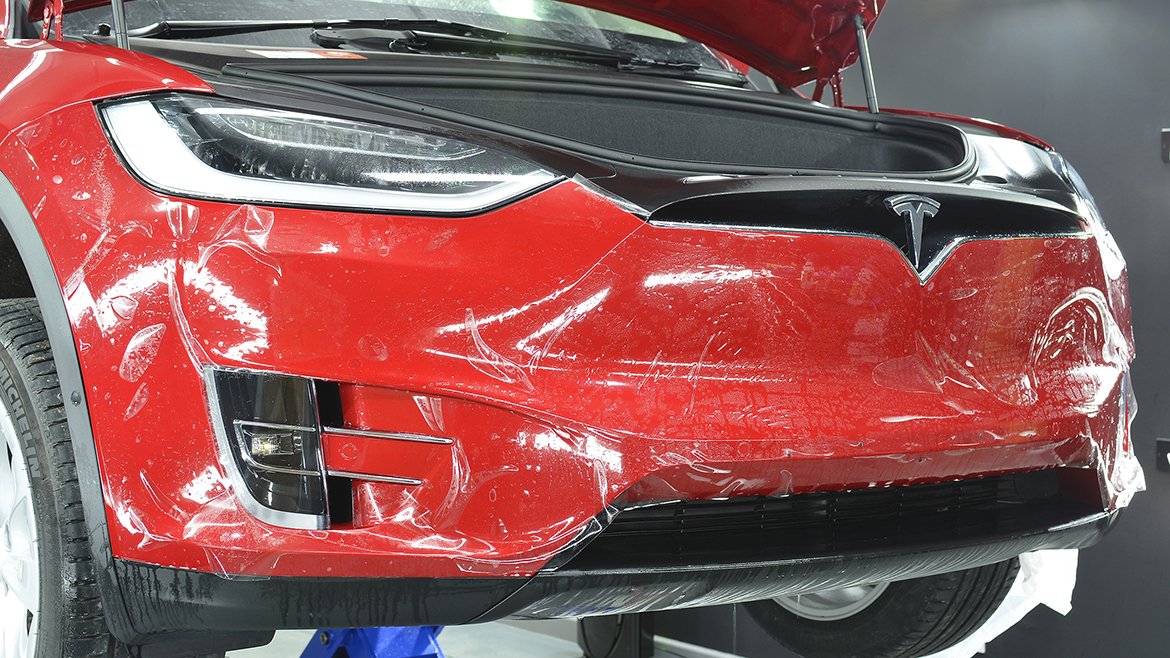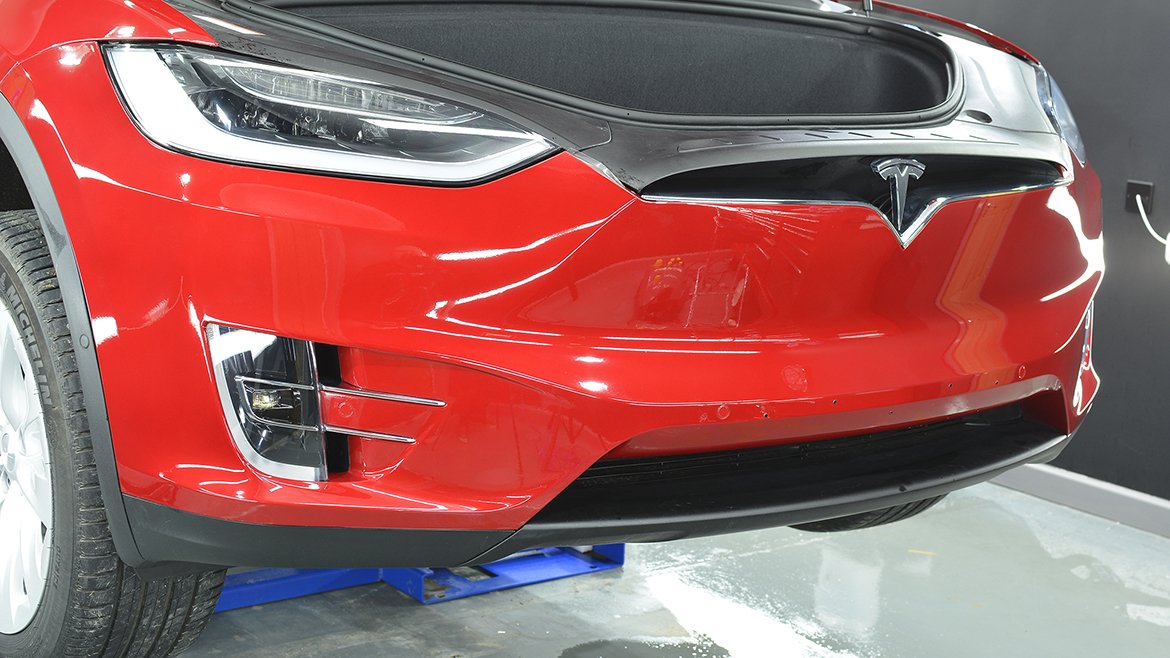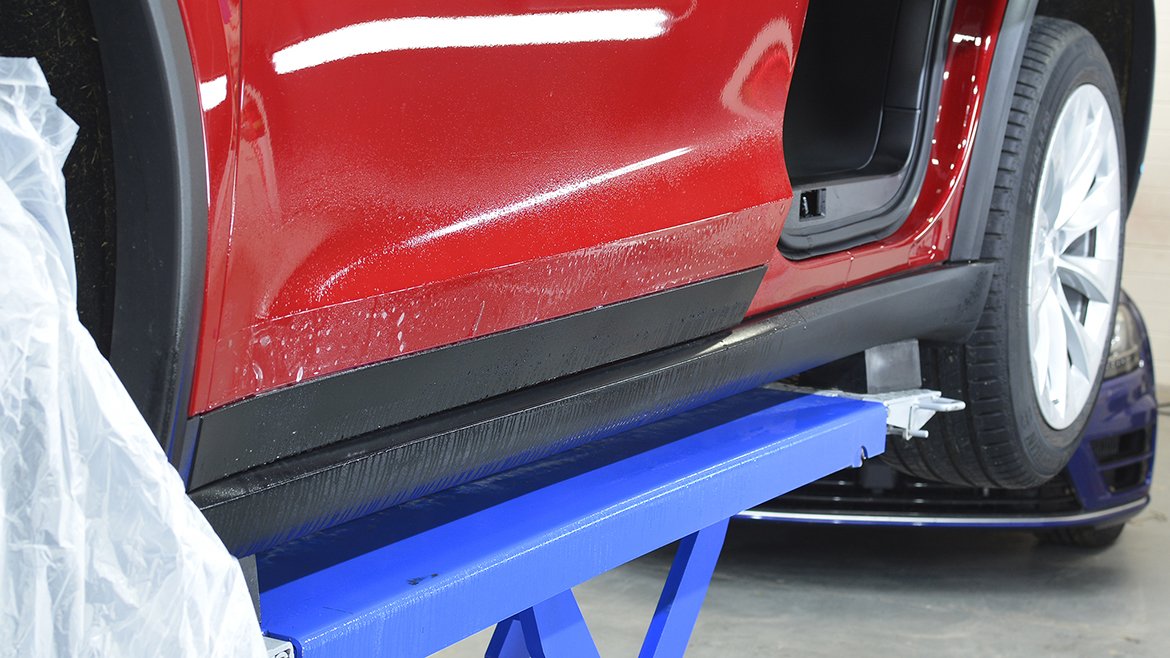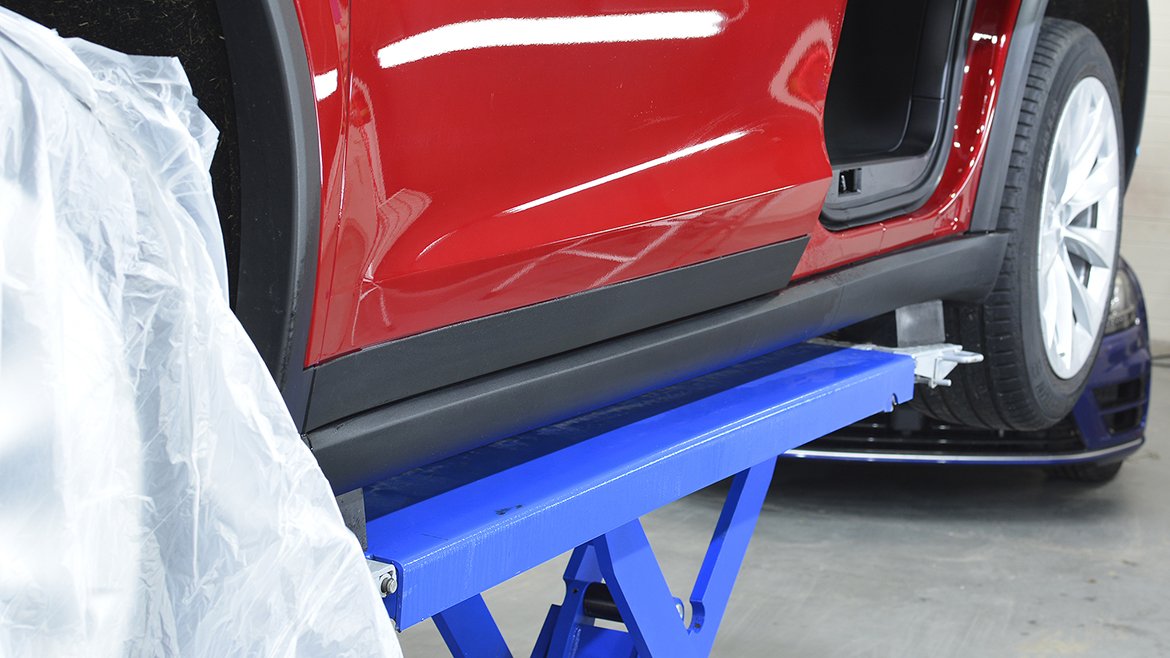 The remaining paintwork was protected with Gtechniq CS Black which consists of a base layer of Crystal Serum which is then topped with two coats of EXO.  This innovative sealant offers the latest in nanotechnology advances, providing an effective barrier against extremes of pH. The coating forms a dual layer of protection: the base layer has a hardness of around 7h to provide flexibility; the top layer has a hardness of 9h. The combination of tough over coat with flexible under-layer contributes to the reduction of swirl induced hazing. Once cured Crystal Serum is virtually impervious to harsh wash chemicals, industrial and environmental fallout.
The self healing paint protection film was coated with Gtechniq EXOv3, as the film is porous it needs to be protected also.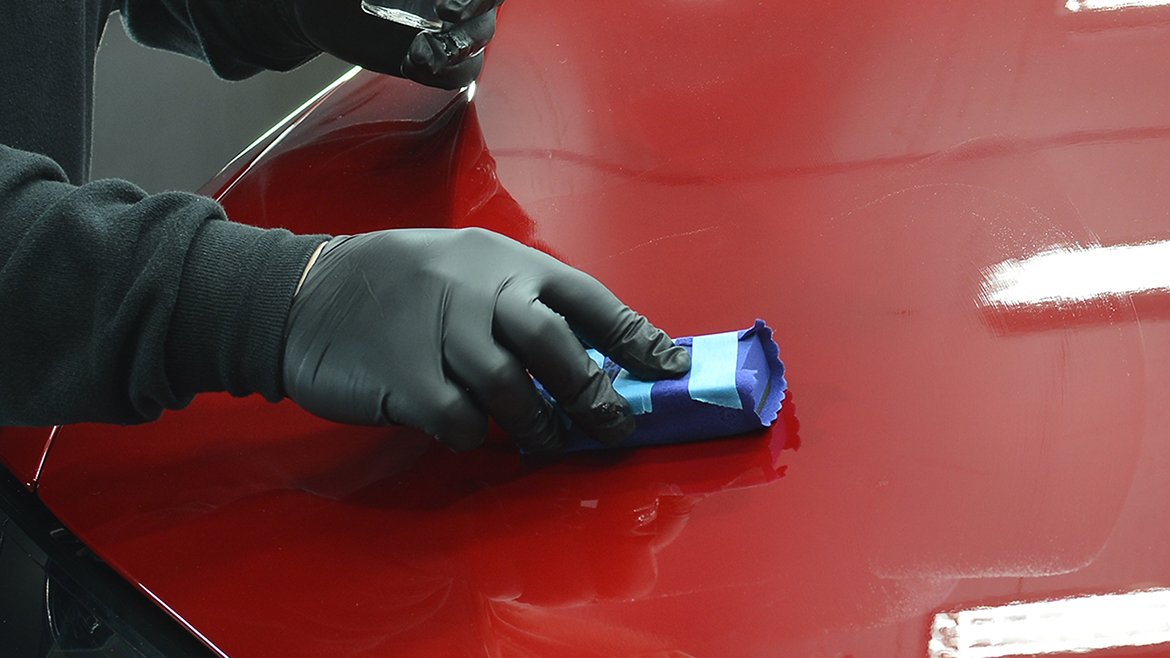 Exterior plastics were coated with Gtechniq C4 Permanent Trim Restorer. The photo below shows how well this product works on even new trim (left half is coated)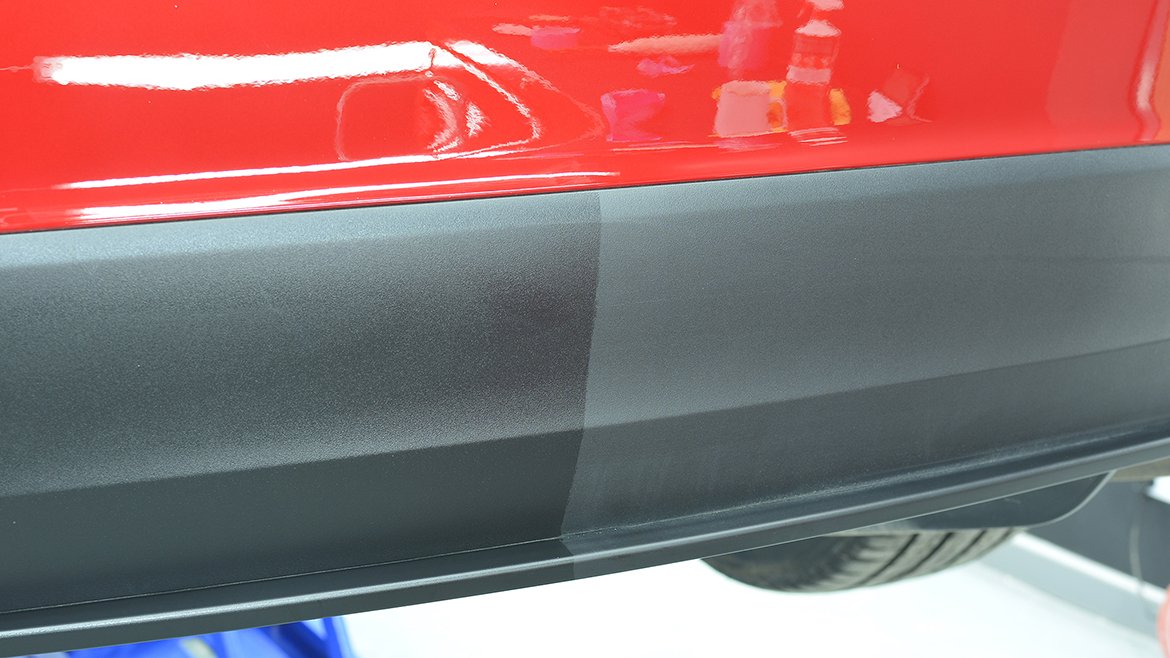 The glass was polished with CarPro Ceriglass and then sealed with Gtechniq G1 ClearVision Smart Glass. This sealant forms a hydrophobic barrier which causes rain water to roll in to beads on contact which improves visibility in wet weather.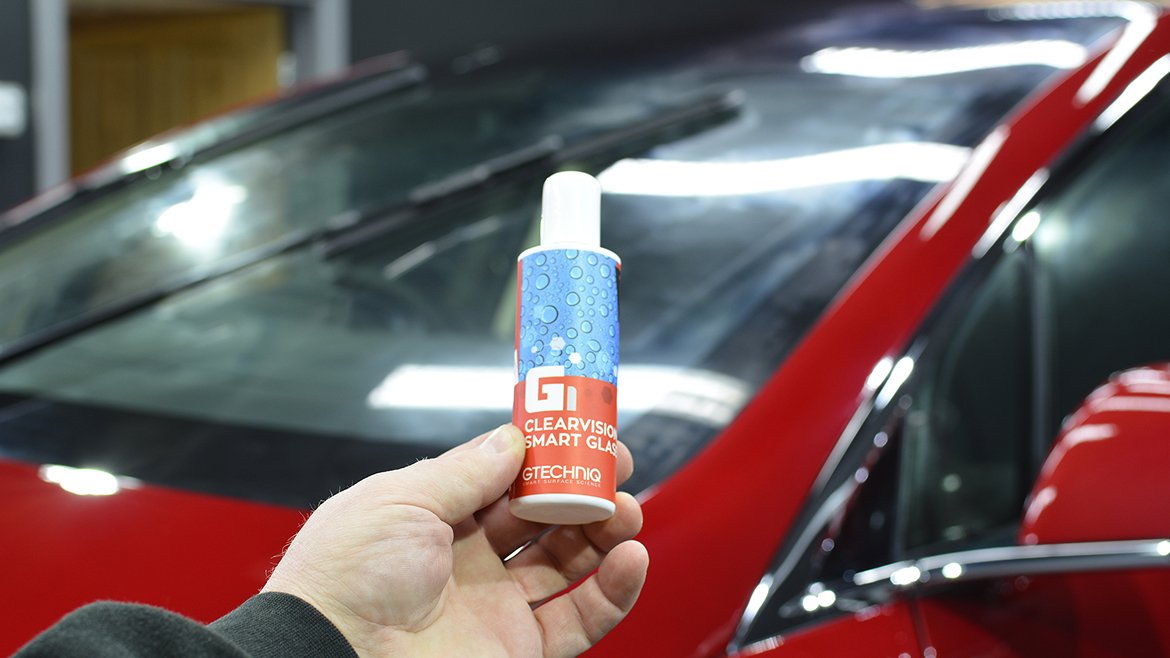 The interior leather was cleaned with Gtechniq Tri-Clean before being coated with L1 Leather Guard to protect against stains, spillages and dye transfer. Interior carpets and mats were treated with I1 Smart Fabric.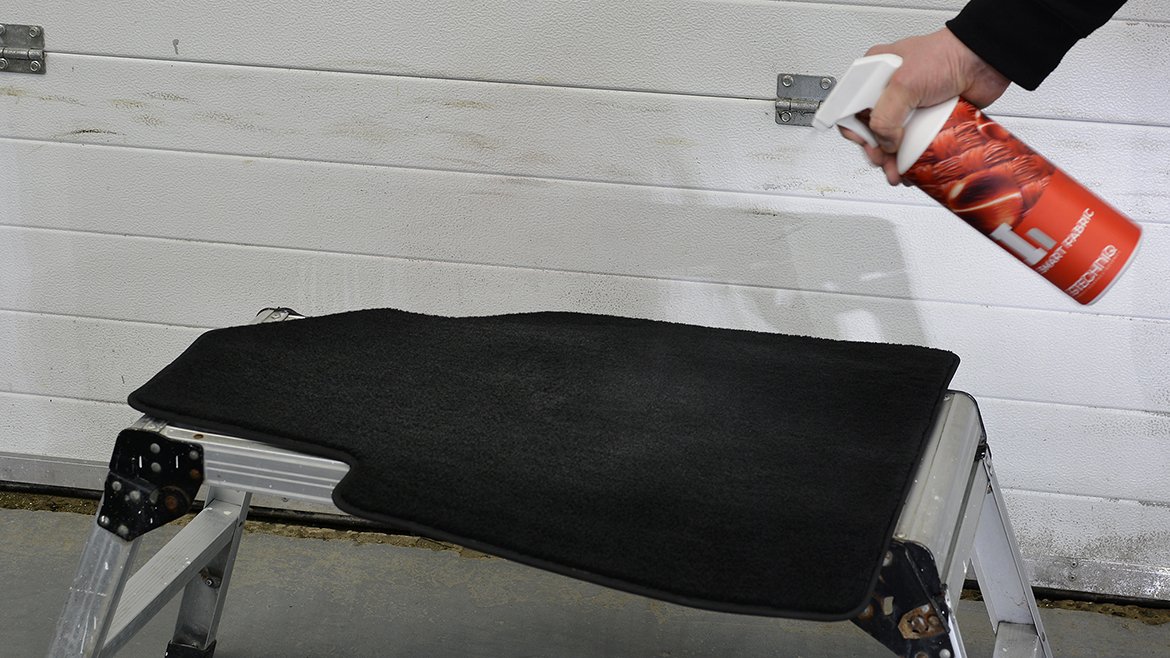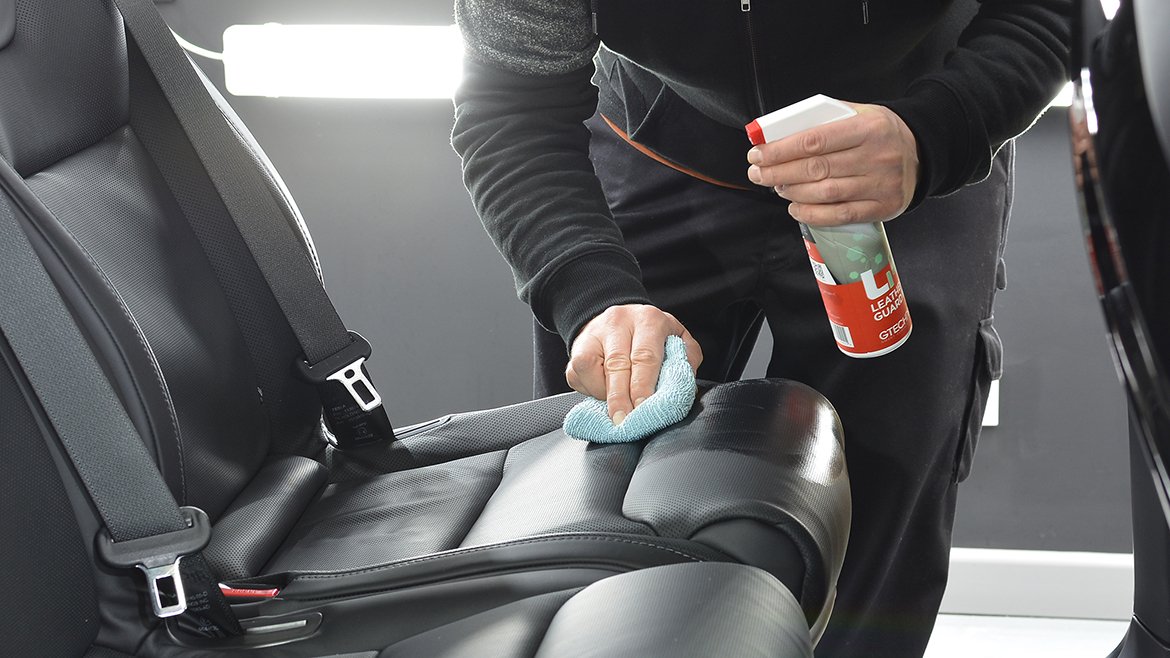 And the end result…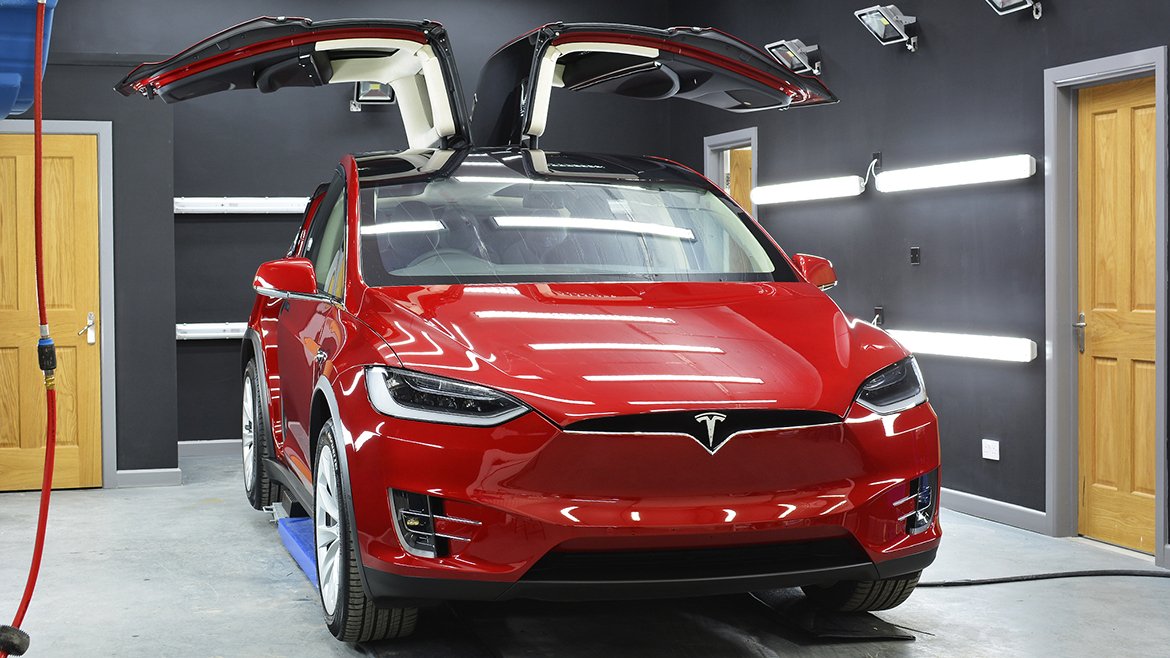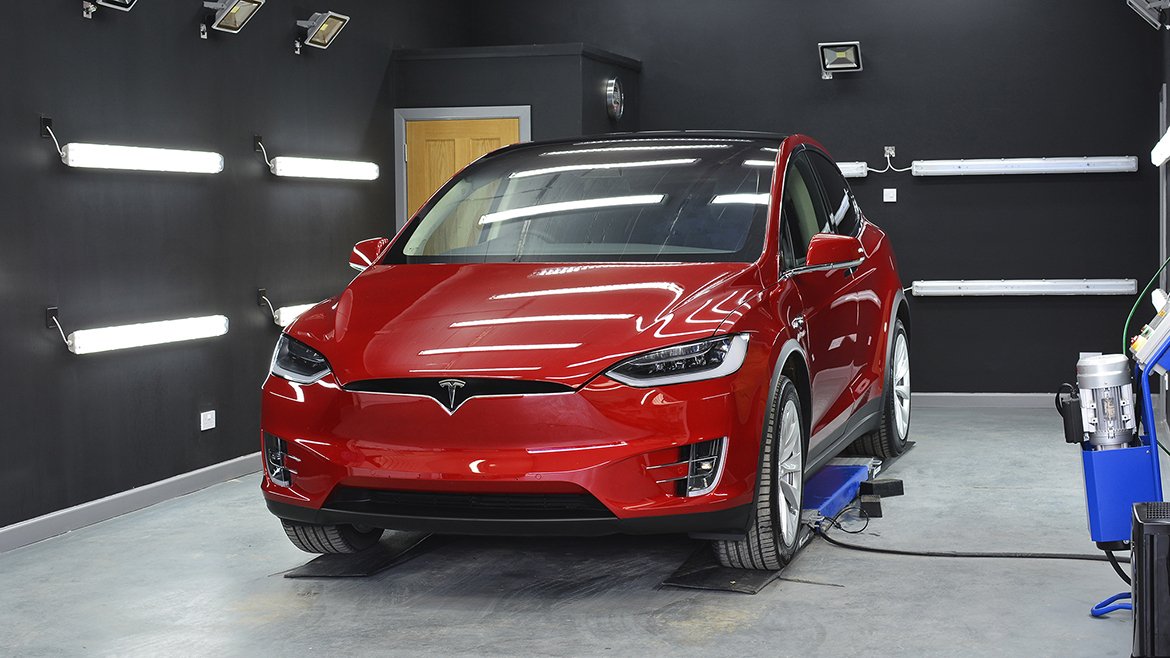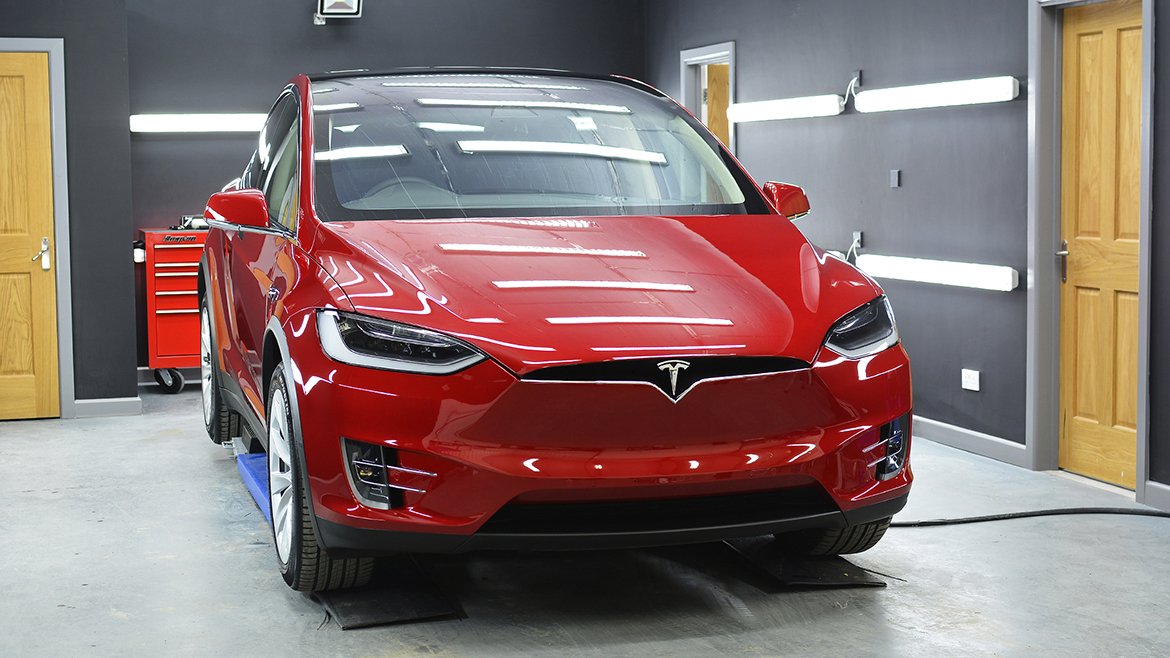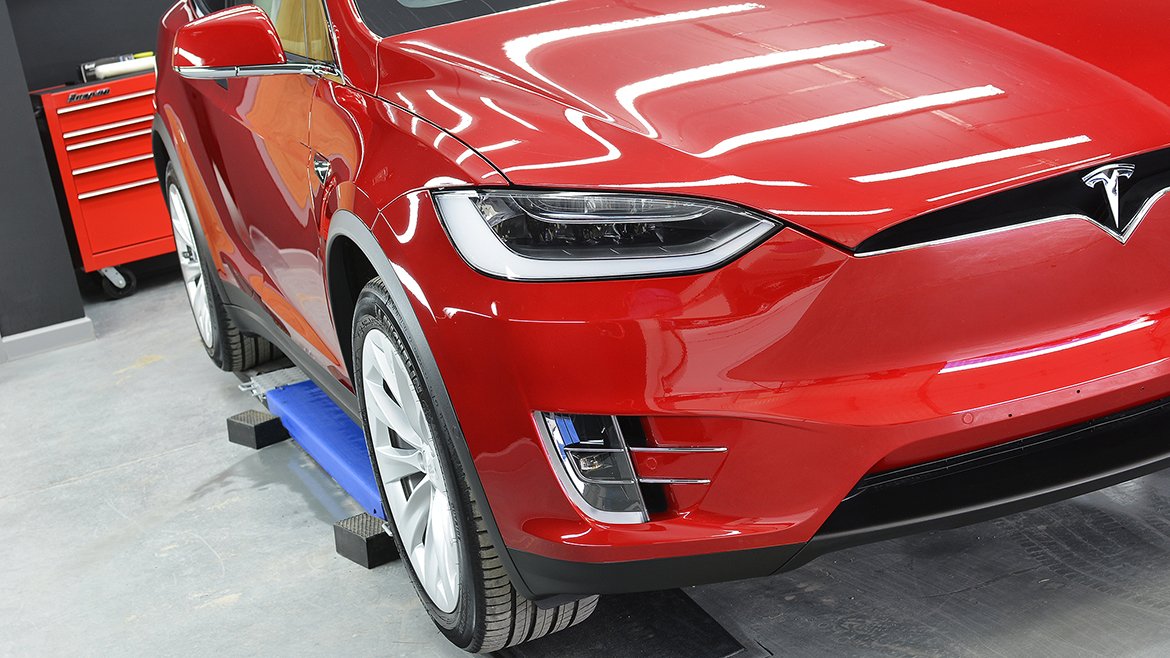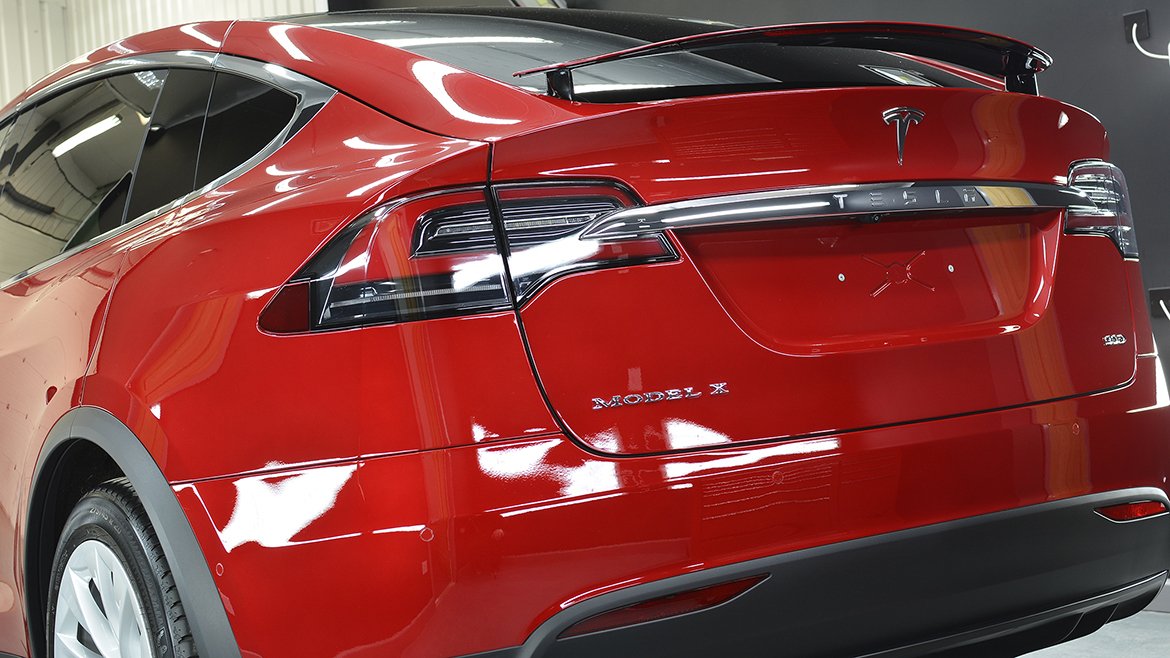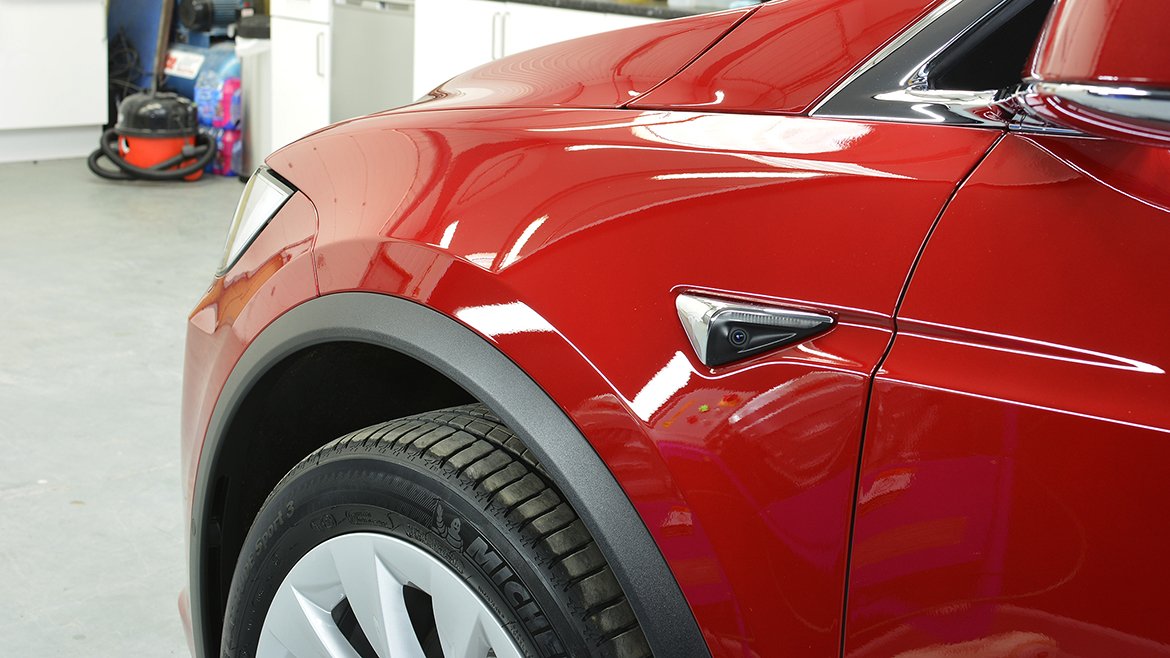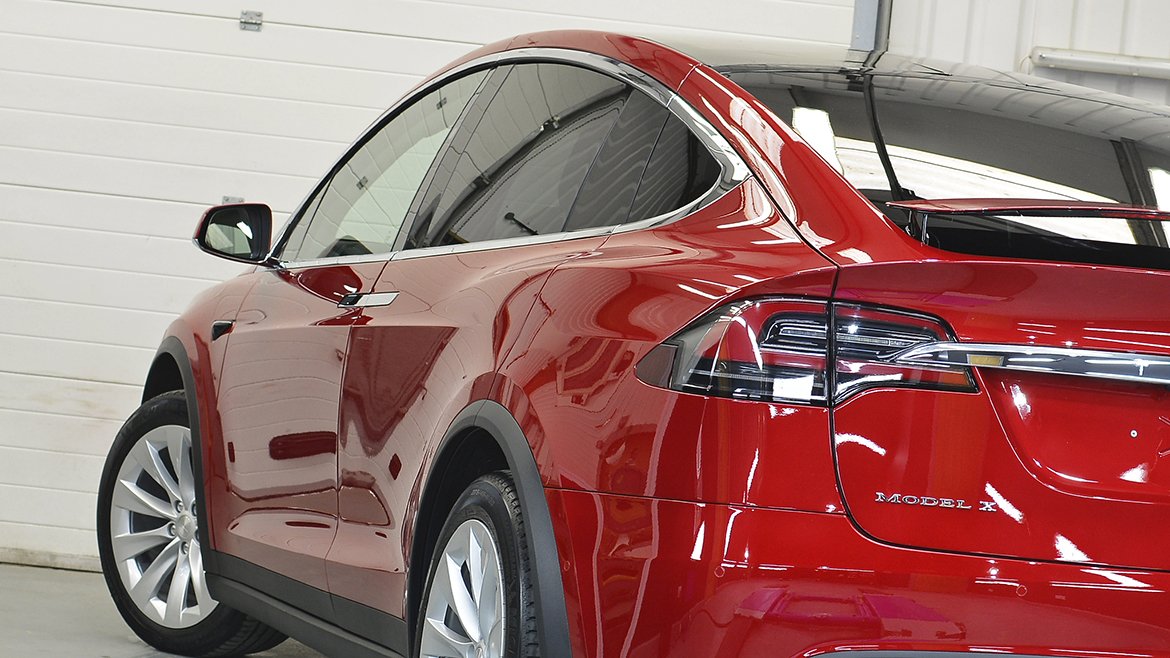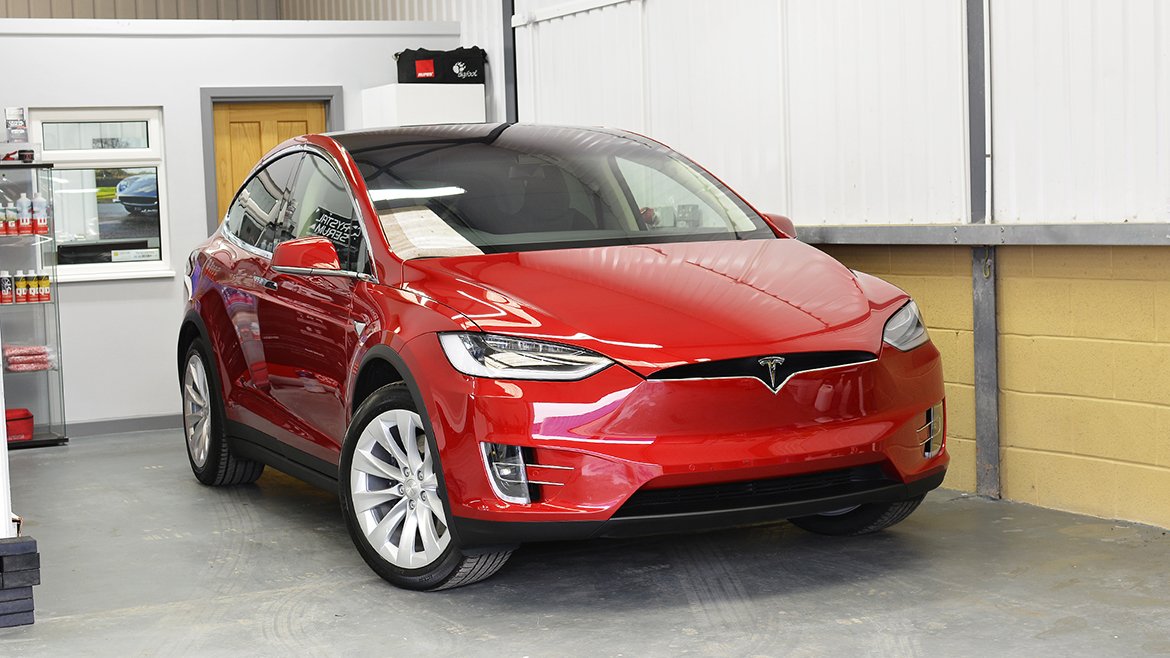 If you are buying a new Tesla Model X or have just taken delivery of one why not book our New Car Protection Treatment! Contact us for quote.