CERAMIC PAINT PROTECTION FOR YOUR BMW
Gtechniq offers some of the worlds leading protective ceramic coatings for automotive surfaces including paintwork, glass, wheels and interior surfaces. Their comprehensive range of products is scientifically proven to provide long-lasting protection. We are authorised and accredited installers for their professional range of ceramic coatings (Crystal Serum Ultra, Crystal Serum Light and Platinum), all backed with a guarantee.
WHY GTECHNIQ CRYSTAL SERUM ULTRA?
Crystal Serum Ultra is the best ceramic paint protection you can get; it will keep your car looking glossy and new, prolonging the life of your paint finish. It includes a 10h paint protection, a 9-year guarantee, and matchless levels of gloss, surface slickness and chemical resistance.
If you care about preserving your BMW's paintwork, please request a quote.
PPF – PAINT PROTECTION FILM FOR YOUR BMW
Paint protection film (PPF) is a clear thermoplastic urethane film and is an essential asset in keeping the condition of your vehicle's painted surfaces looking its best. XPEL Paint Protection Film offers powerful protection against stone chips, bugs, salt, road debris, vandalism and premature degradation of your paintwork.
Whether your vehicle is painted in a gloss or matte/satin finish we have a solution to keep it protected.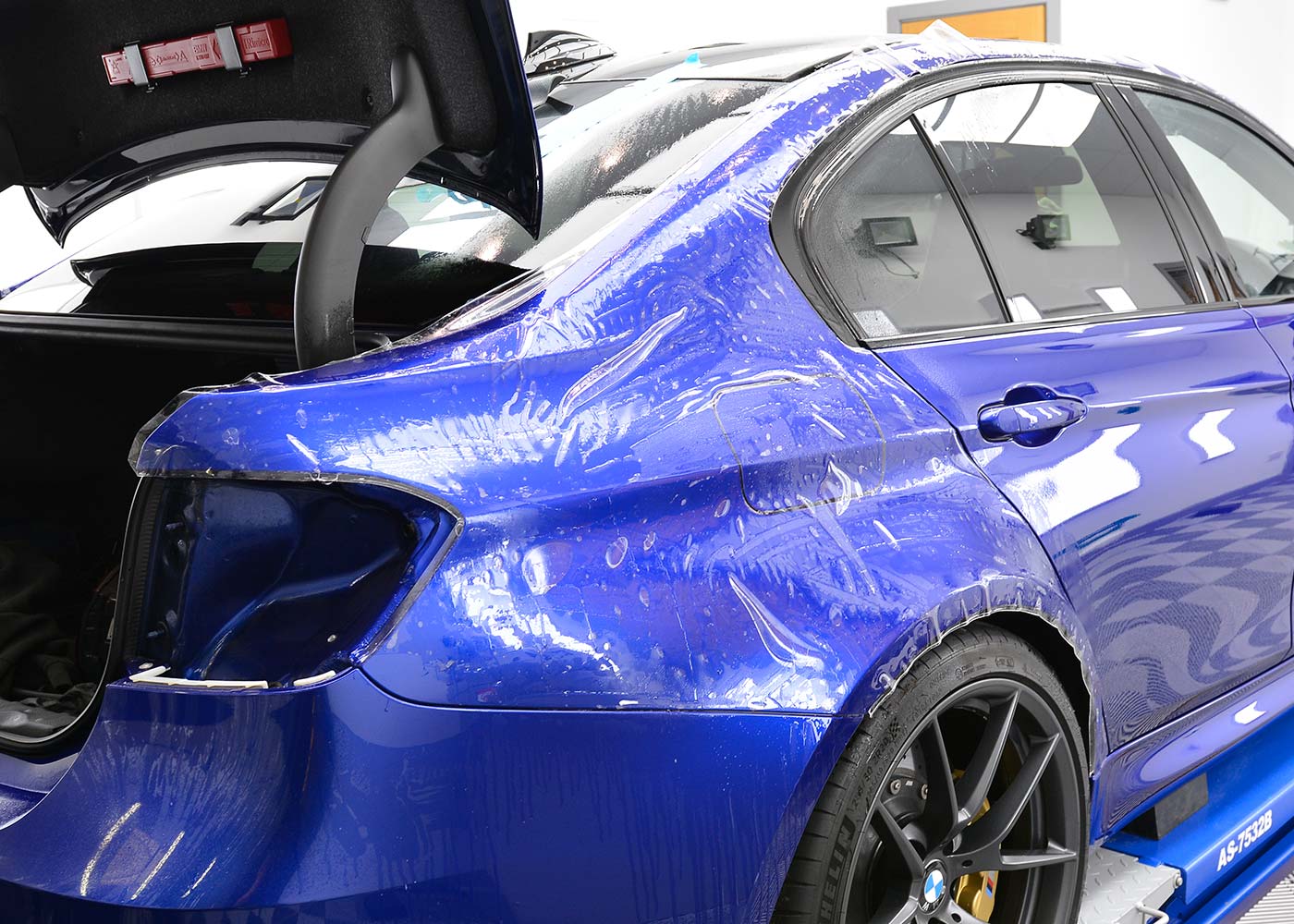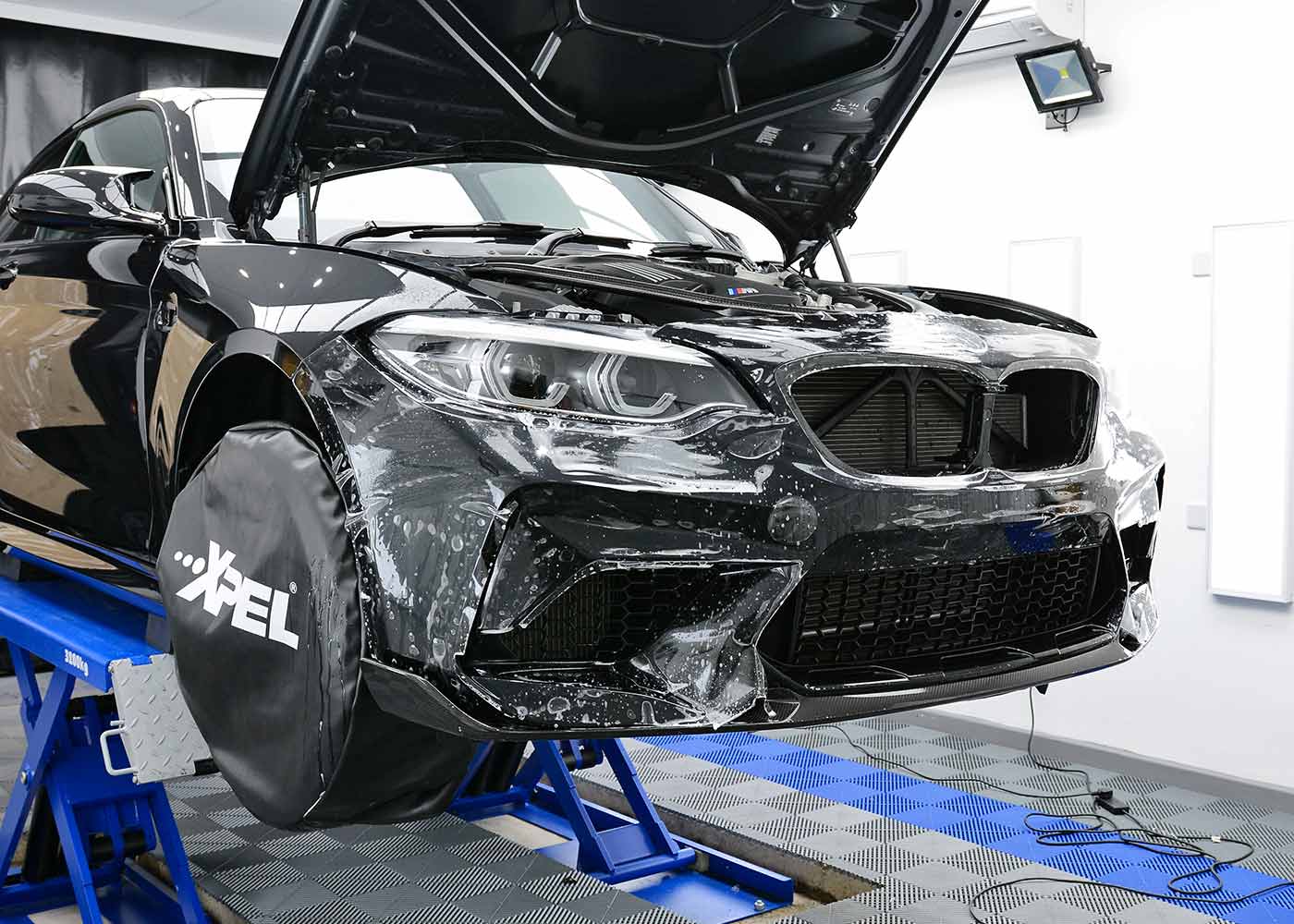 The packages you see below are the most commonly requested installation options using XPEL Paint Protection Film, if you are looking for a bespoke PPF package please let us know as we are happy to accommodate this and come up with a package to suit your requirements.
BUMPER PACKAGE
The Bumper Package consists of coverage to the front bumper, headlights, and side mirrors. This is a great package for anyone seeking a basic level of protection to prevent stone chips to the most common areas. Price from £395
HIGH IMPACT PACKAGE
This package consists of coverage to the front bumper, headlights, side skirts, luggage area and side mirrors. This is a great package for anyone seeking a basic level of protection to prevent stone chips to the most common areas. Price from £795
STANDARD PACKAGE
The standard PPF package consists of coverage to the bonnet, front bumper, headlights, and wing mirrors. This is a great package for anyone seeking a basic level of protection to prevent stone chips to the most common areas. Price from £995
FULL FRONTAL PACKAGE
A great option for anyone wanting substantial protection from stone chips and road debris. The Full Frontal Package consists of coverage to the bonnet, front bumper, headlights, front wings, & wing mirrors. Price from £1195
PERFORMANCE PACKAGE
Any daily driven or track driven vehicle should have this coverage. The Performance Package consists of full coverage to the bonnet, front bumper, headlights, side skirts, rear bumper sections, front wings, wing mirrors, A-Pillars & leading edge of roof. Price from £1595
FULL COVERAGE PACKAGE
Our most extensive PPF package is the ideal solution for customers seeking complete peace of mind. Benefits of complete coverage include protection to doors and rear quarter panels. Price from £3195
WHATS THE DIFFERENCES BETWEEN PAINT PROTECTION FILM AND CERAMIC PROTECTION?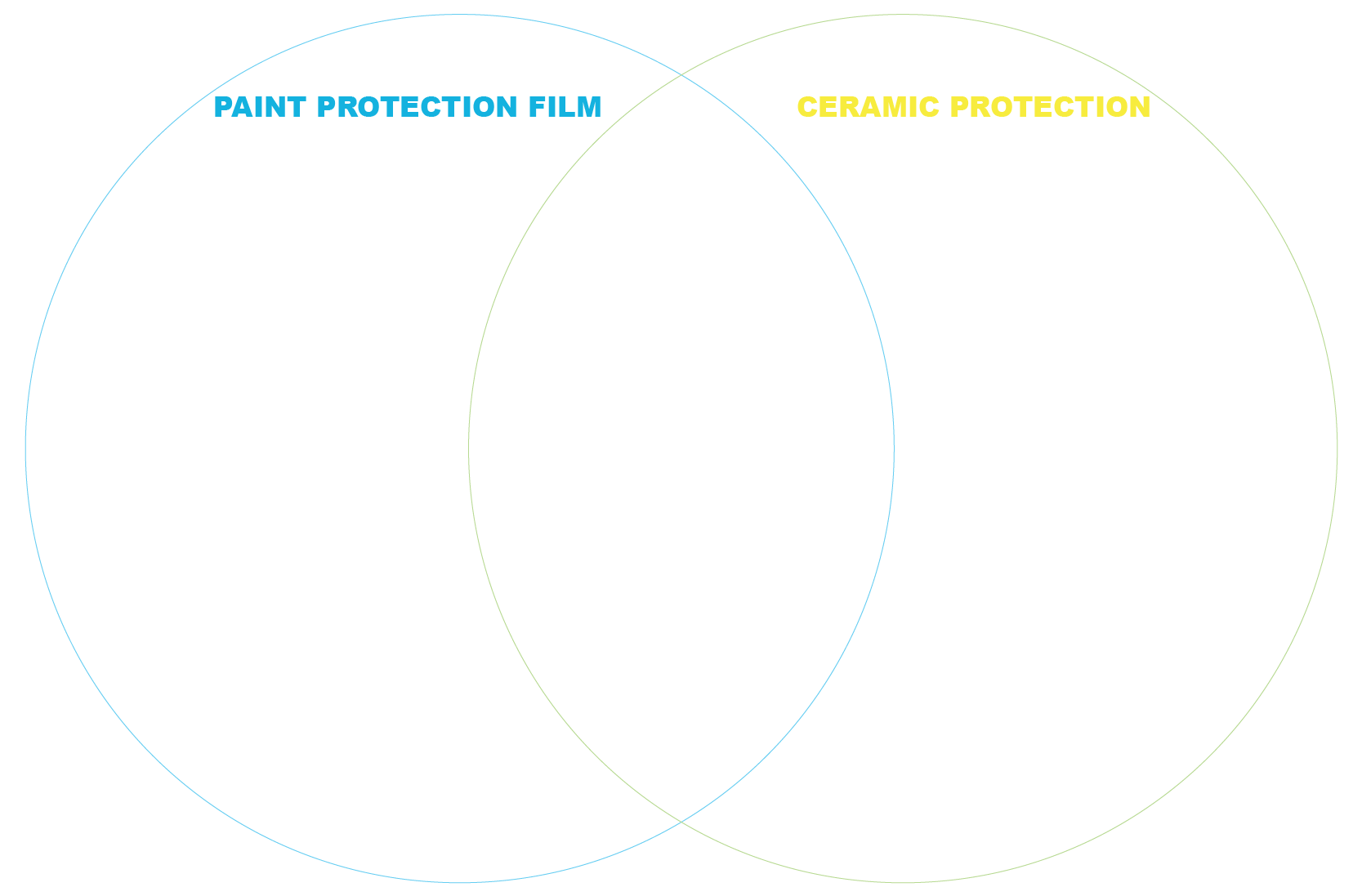 FREQUENTLY ASKED QUESTIONS
What are the main benefits of having a ceramic coating applied?

Cleaning Car Is Much Easier
One of the most significant features of a ceramic coating is that it is hydrophobic, it repels water. This means that dirt will have a more difficult time bonding to your vehicle's paint, and when you wash your car, contaminants can be removed with less effort.

Protection From Chemical Stains & Etching
Another danger for your car is chemical staining from naturally acidic contaminants. A ceramic coating can keep some contaminants from bonding to your vehicle's paint by creating a chemically resistant surface. The result is that your vehicle will be more resistant to staining and etching, provided the contaminant is removed in a timely manner.

Protection From UV Damage
If a vehicle is often exposed to the sun, its paint will begin to oxidise, resulting in dulled and faded paint. A layer of ceramic coating protects a vehicle's paint from the sun's ultraviolet rays, thereby reducing the amount of oxidisation.

Enhanced Level Of Gloss
A good ceramic coating enhances your car's paint and clear coat's reflective properties, adding to the paintwork's depth and clarity.

Will a ceramic coating prevent stone chips and scratches?

No, a ceramic coating will not prevent stone chips. If you are looking to prevent stone chips & minor abrasions from damaging your cars paintwork, you would need Paint Protection Film.

Though a ceramic coating can repel some small surface scratches, a coated vehicle will not be completely resistant to the risk of swirl marks, marring or scratches. Improper car washing techniques or automated car washes will still create swirl marks on your vehicle's surface.

How long does a ceramic coating last?

Ceramic coatings for automotive paintwork lasts between 2 – 5 years dependent on which coating is applied. Proper maintenance and care is key to getting the maximum performance and durability with any coating applied.

Ceramic coatings designed for wheels, glass, and interior surfaces last approximately 12 – 18 months.

What brands of ceramic coatings do you use?

Through relentless testing, we found that the Gtechniq, Gyeon Quartz & Titan brands of coatings met our strict criteria for performance, looks, and durability.

We are very particular with our coating brands, and we value their marketing strategies just as much as we do their performance. Many coating companies significantly overstate (over-hype) things like hardness levels, durability, and chemical resistance, hoping that unknowing detailers and consumers will follow along. On the other hand, we wish to have long-lasting relationships with our clientele and therefore chose not to work with companies that promote unrealistic performance.
PPF – PAINT PROTECTION FILM
What are the main benefits of having PPF applied?

The primary objective is to protect your vehicle from the elements. Whilst it will not stop a large stone from high speed damaging your vehicle, it will keep it protected from general stone chips and wear and tear from daily driving. This is good news for aesthetic reasons and aids the value of your vehicle by keeping it original and as new as possible. If the PPF remains undamaged, the paint beneath will look good as new if you ever decide to remove the film.

Enhanced Finish
The film is available in a gloss or matte finish. In fact, if you have a high gloss paint finish you can apply a matte film on top – to instantly create a brilliant and customized exterior look and appeal.

Superior Protection
Protective films are infused with layers of material, each of them providing roadblocks for harmful contaminants or chemicals to penetrate. It also provides superior stain resistance and reduces paint damage due to stone chips.

Self-Healing Of  Swirl Marks & Surface Scratches
The film uses a special polymer in its clear coat that flows even though it is cured. This allows the clear coat to find its natural level again after being disturbed on the surface.

Does the film have a warranty?

The film comes with a 10-year warranty and will cover defects such as yellowing, staining, cracking, blistering and delaminating.

The warranty does not extend coverage to damage caused by normal wear and tear, road debris impact, accidents, collisions, or intentional damage of any kind.

Can PPF be removed without damage?

The majority of factory paint jobs are properly cured and prepped, and it's extremely rare to have any issues with paint damage when removing PPF from OEM finishes.

On the other hand, if a car has had paint repairs/re-sprayed, then there is a high chance the film will lift the clear coat when removing it.

Can you protect matte/satin paintwork with paint protection film?

Yes, we use Xpel Stealth which is specifically designed for satin/matte paintwork such as BMW Frozen finishes and the Mercedes-Benz Designo Magno matte paint line.